Bernie Sanders Received Donations From All 50 States Within Hour of 2020 Presidential Announcement
When Senator Bernie Sanders announced his 2020 presidential run on Tuesday, it sparked an immediate wave of donations from across the country.
"I wanted to let the people of the state of Vermont know about this first," Sanders told Vermont Public Radio this morning. "And what I promise to do is, as I go around the country, is to take the values that all of us in Vermont are proud of—a belief in justice, in community, in grassroots politics, in town meetings—that's what I'm going to carry all over this country."
Shortly after his announcement, his campaign tweeted that "supporters from all 50 states have donated to our unprecedented grassroots campaign." NBC News political reporter Alex Seitz-Wald tweeted that the campaign confirmed that Sanders had received donations from all 50 states within an hour of his launched 2020 bid.
In his 2016 bid for the Democratic presidential nomination, Sanders posed a serious, and unexpected, threat to former Secretary of State Hillary Clinton by winning 23 primaries and caucuses. His people-powered campaign was record-breaking in the millions he raised from small-dollar donations. He also refused to accept money from super PACs.
Sanders, 77, said on Tuesday that he was running to oppose President Donald Trump—whom he called an "embarrassment to our country" in his interview with VPR.
"I think he is a pathological liar… I also think he is a racist, a sexist, a homophobe, a xenophobe, somebody who is gaining cheap political points by trying to pick on minorities, often undocumented immigrants," Sanders said.
After the interview aired, Sanders released a video on his social media accounts that declared his candidacy and outlined some of his key issues, such as health care for all, free college tuition and climate change.
"Real change never takes place from the top on down but always from the bottom on up," Sanders said in the video.
Sanders joins his congressional colleagues Cory Booker, Kirsten Gillibrand, Kamala Harris, Amy Klobuchar and Elizabeth Warren in the race for the Democratic nomination. If successful, Sanders would be the oldest person ever elected to the presidency.
Trump's campaign released a statement shortly after Sanders's announcement, saying that the Vermont senator had "already won the debate in the Democrat primary because every candidate is embracing his brand of socialism."
"But the American people will reject an agenda of sky-high tax rates, government-run health care and coddling dictators like those in Venezuela. Only President Trump will keep America free, prosperous and safe," the statement read.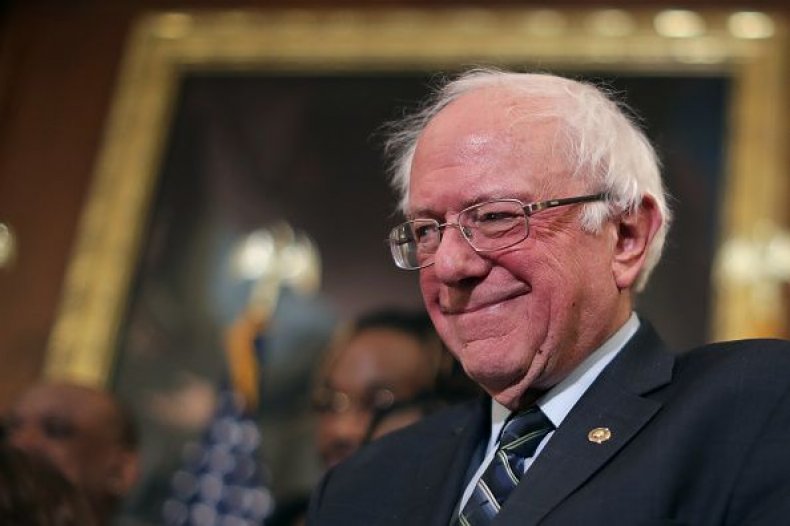 Bernie Sanders Received Donations From All 50 States Within Hour of 2020 Presidential Announcement | U.S.