Bernie Sanders and Elizabeth Warren Camps In Unity Talks As She Considers Campaign Future After Super Tuesday: Report
Allies of Bernie Sanders and Elizabeth Warren are in unity talks as they seek to rally around one agenda following poor Super Tuesday performances, it has been reported.
Congressional backers of Sen. Sanders (I-Vt.) have tried to gauge whether Sen. Warren (D-Mass.) would endorse Sanders if she were to drop out of the 2020 race, The Washington Post reported on Wednesday night.
The newspaper further reported that Warren supporters were being asked to back Sanders' campaign and drop their allegiance to the Massachusetts senator.
Two sources familiar with the discussions also told the Post that Warren allies and members of the Joe Biden camp had talked about an endorsement from the Massachusetts senator, should she decide to exit the primary race.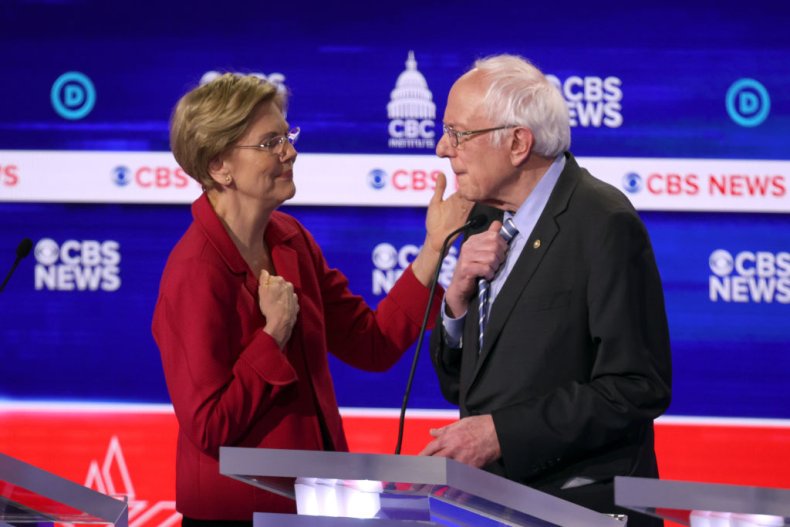 Newsweek has contacted the Sanders and Warren 2020 campaigns for comment and will update this article with any response.
After finishing no higher than third place in all 14 Super Tuesday state races this week, and picking up just 28 delegates as of 3 a.m. ET today, Warren's campaign manager Roger Lau told volunteers that the team were "disappointed" with their performance.
"Last night, we fell well short of our viability goals and projections, and we are disappointed in the results," he said. "We're still waiting for more results to come in to get a better sense of the final delegate math. And we also all know the race has been extremely volatile in recent weeks and days with frontrunners changing at a pretty rapid pace.
"But we are obviously disappointed, and Elizabeth is talking with our team to assess the path forward."
The campaign manager added that Warren would be taking time to "think through the right way to continue this fight," adding that she needed "space to consider what comes next."
The Massachusetts senator and Sen. Sanders have sparred in recent months, having once refrained from attacking one another both on and off the debate stage.
Tensions came to a head in January when Warren alleged Sanders had told her a woman could not beat President Donald Trump at the 2020 election, an accusation he repeatedly denied.
But appearing on MSNBC's The Rachel Maddow Show on Wednesday night, Sanders extended an olive branch to his progressive rival, saying he would like to sit down with her and "talk about what kind of role she can play in our administration."
Speaking about criticism of Warren coming from some of his online supporters, the Vermont senator said: "I am absolutely aghast and disgusted with any kind of vitriol online."
"We don't need ugly personal attacks against Senator Warren, or anyone else for that matter," he later added.
Asked if he would consider asking Warren to be his running mate, Sanders replied: "It's too early to talk about that. But certainly I have a lot of respect for Senator Warren, and would love to sit down and talk to her about what role she can play in our administration."