How Bernie Sanders' Plan to Cancel Student Debt Compares to Elizabeth Warren's
Vermont Independent Senator Bernie Sanders, if elected presidents, plans to introduce a federal tax on Wall Street that would be used to erase the $1.6 trillion of student debt held by 45 million Americans.

Sanders' plan, unveiled on Monday, is likely to intensify the ideological and logistical debates 2020 Democratic presidential candidates will have about student loan forgiveness plans, particularly ahead of the first candidate debates later this week.
Massachusetts Senator Elizabeth Warren released her own student debt plan in April and another was crafted by former housing secretary Julián Castro.
The plans put forth by Warren and Sanders are closer in scope, but still reveal stark differences in where the wealth used to pay for these loans would come from.
The Vermont senator's "revolutionary" student loan debt forgiveness plan, which aides told The Washington Post has the "essential" backing of House Democrats including freshman Representative Ilhan Omar, would wipe the slate clean for 45 million graduates of both public and private school debts.
Both the Sanders and Warren plans call for tuition-free public college in addition to wiping past student debt. However, Sanders has gone further than simply eliminating tuition and fees at four-year public colleges for people making under $125,000—a compromise hashed out with 2016 candidate Hillary Clinton—his plan now extends to everyone.
The Sanders plan looks to pay for the cancellation of the student loan debt through a tax on Wall Street that his team says would raise about $2.2 trillion over a decade. Sanders proposes taxing certain financial transactions, such as a 0.5 percent stock transaction tax and a 0.1 percent bonds tax. His plan aims to reduce risky Wall Street speculation while also using that money to boost those burdened by debt.
Warren's funding plan targets individuals rather than companies, and would utilize an Ultra-Millionaire Tax. This is a 2 percent annual federal tax on each dollar above $50 million in net worth that would affect 75,000 families.

Warren proposed spending $640 billion on a student debt forgiveness plan Warren's plan would cancel debt of up to $50,000 for 42 million Americans—slightly smaller in scope than Sanders' plan.
Warren calls for tiered forgiveness. Borrowers with a household income under $100,000 would be eligible for up to $50,000 in student debt forgiveness while higher-income borrowers would have their debt forgiveness reduced by $1 for every $3 above the $100,000 threshold. Household income of $160,000 would be capped at $30,000 in loan forgiveness and households with $250,000 or more in total income would not be eligible for any—leaving only about the wealthiest top 5 percent, according to Warren, as not eligible.
Sanders' plan allots $1.3 billion annually for low-income students at historically black schools and $48 billion toward eliminating tuition and fees at public universities. Warren's plan called for a minimum $50 billion fund for HBCUs that the Secretary of Education will have the authority to increase at their discretion.

In Warren's announcement in April, she noted black students owed more than their original balance after 12 years and were 20 percent more likely to have taken out federal loans in the first place.
Sanders' plan has received the support of several high-profile Democrats in the House and Senate including Omar, New York congresswoman Alexandria Ocasio-Cortez and Washington congresswoman Pramila Jayapal.
"Today the major Wall Street banks are larger than ever, their profits are soaring, their CEOs receive huge compensation packages. Our proposal, which costs $2.2 trillion over ten years, will be fully paid for by a tax on Wall Street speculation similar to what exists in dozens of countries around the world. The American people bailed out Wall Street, now it is time for Wall Street to come to the aid of the middle class," Sanders told reporters outside the Capitol on Monday.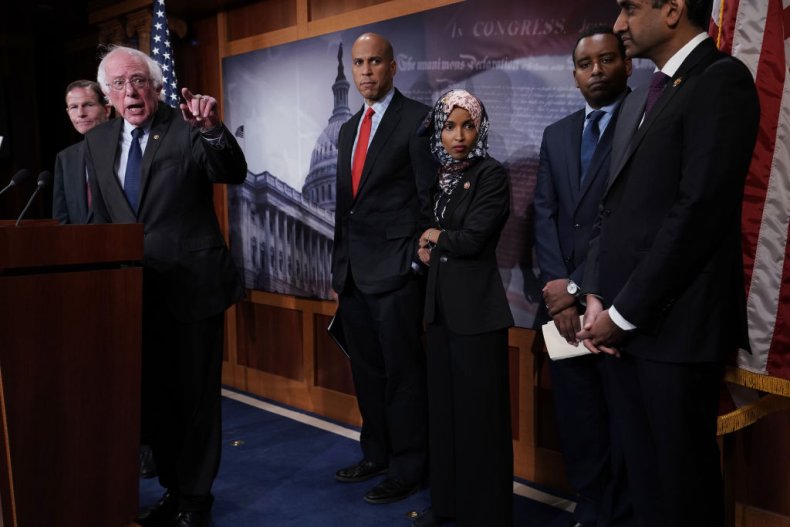 It's a sentiment shared by Warren.
"For decades, we've allowed the wealthy to pay less while burying tens of millions of working Americans in education debt," Warren wrote in April when unveiling her plan.
According to the Urban Institute, 34 percent of overall outstanding student debt affects Americans who are in the top 25 percent of income, given that wealthier households are tied to higher levels of education. Only about 12 percent of student loan debt is held by the lowest 25 percent.
Warren's plan would see the top 40 percent of income earners receiving about two-thirds of the benefits, and that number is likely to be even higher with Sanders' plan, according to a former Obama Treasury official, Adam Looney, in an interview with the Post.
The Massachusetts senator's plan would entirely erase student for more than 75 percent of all borrowers.