Under Bernie Sanders' Employee Ownership Plan, Workers Can Buy Their Company
Democratic presidential candidate Senator Bernie Sanders announced a plan on Monday designed to "put an end to the corporate greed ruining our country once and for all" by assuring workers an ownership stake and a say in corporate governance. Under Sanders' Corporate Accountability and Democracy Plan, employees would be able to buy their companies outright, under certain conditions.
Citing "greedy" CEOs who have "rigged the tax code, killed market competition, and crushed the lives and power of workers and communities across America," the Sanders campaign positioned its new plan as the extension of democratic principles into the workplace.
The Corporate Accountability and Democracy Plan is a sprawling collection of measures to hold corporations accountable to their constituent workers, with an employee ownership stake of up to 20 percent of the company as its centerpiece. Under the proposal, all publicly traded companies, corporations with $100 million in annual revenue or with a $100 million balance sheet would be required to provide 2 percent or more of company stock to workers each year, until 20 percent of the company is employee-owned. An employee elected Board of Trustees would oversee the funds and distribute dividends.
According to the campaign, the plan would affect 56 million American workers at 22,000 companies, who would receive an average dividend payment of over $5,000 a year — a partial antidote to the income inequality targeted by many of Sanders' policy proposals, from Medicare for All to his housing plan. The announcement of the new corporate ownership plan came paired with a handful of the statistics Sanders repeatedly wields on the campaign trail, such as the holding of 97 percent of all capital income among the richest 10 percent of Americans, or the stagnant wage growth that has resulted in the median American family holding less wealth than in 1982.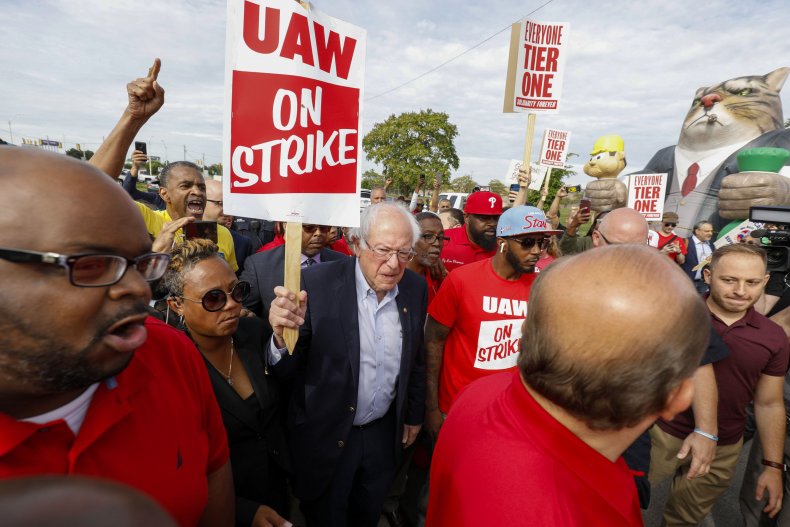 Another major component of the Corporate Accountability and Democracy Plan would see workers at the same large corporations elect 45 percent of board seats. Under certain conditions, employees could take full ownership over their companies, with a guarantee of "a right of first refusal," should a company go up for sale, propose to close or if a factory is moved overseas. In each instance, employees would have the option to transform their workplace into an employee-owned business via Employee Stock Ownership Plans (ESOPs) or a worker-owned cooperative. To support this transition, the Sanders corporate accountability plan proposes a U.S. Employee Ownership Bank, with $500 million funding to help employees transition their company to a worker-owned model via low-interest loans and other assistance.
"The broad concept of how you create a democratic society in which working people have more control over their lives is a theme that I have obviously been working on and believed throughout my entire career," Sanders told the Associated Press in a Monday interview. "But this provides some of the very specific details of how we can go forward, and it will be a major transformation of the economy in the sense of empowering working people to have control over their own lives."
While primarily aimed at large corporations, Sanders also proposed "Worker Ownership Centers," which would help retiring small business owners sell their companies directly to its employees. Modeled after programs in Ohio and Vermont, the Sanders campaign estimated that 150,000 to 300,000 small and mid-sized businesses would take advantage of the program.
The Corporate Accountability and Democracy Plan includes a number of stipulations to bring American workplaces under democratic control, including an annual diversity report to help balance white and male-dominated corporate boards, end stock buybacks, review mergers undertaken during the administration of President Donald Trump, break up monopolies, empower the Federal Trade Commission, ban non-compete clauses, ban mandatory arbitration, return the corporate tax rate to 35 percent (from the 21 percent introduced with Trump's 2017 tax plan) and eliminate the offshore tax havens and loopholes that have allowed major corporations like Amazon, Delta and General Motors to pay nothing in federal income taxes.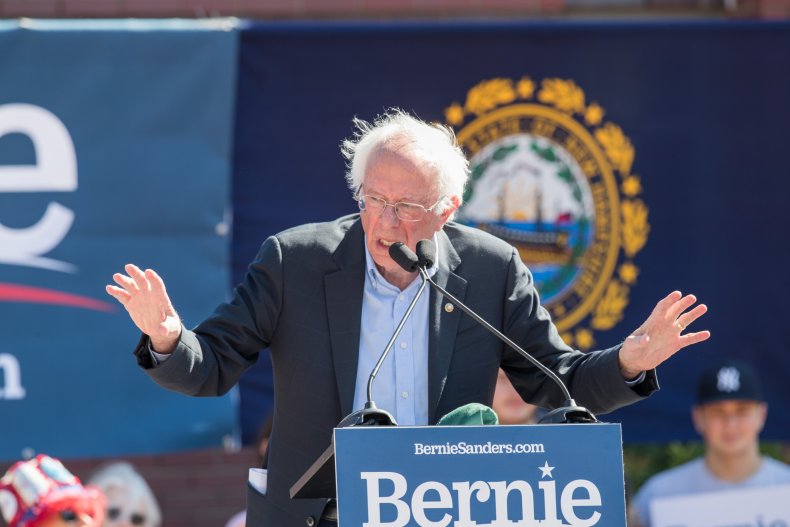 Altogether, the Sanders campaign maintains that the collection of reforms will benefit workers, communities and the economy, claiming higher productivity, lower absenteeism and increased employee loyalty will result from workers feeling and having more ownership of their workplaces.
"When workers are respected on the job as full human beings who help make decisions for a profitable company, rather than being mere cogs in the machine, morale goes up," the Sanders campaign proposal said, adding that the localized ownership stake would make companies "far less likely to pollute the communities in which workers live."
While in-line with policies and proposals Sanders has made for years, some even decades, the full package of reforms proposed by the campaign follows in some respects the Empowering American Workers and Raising Wages labor platform released by Democratic presidential candidate Elizabeth Warren at the beginning of October.
Sanders' plan shares with Warren's higher corporate taxes, employee-elected board seats (40 percent in Warren's plan) and new federal charters mandating corporations consider more than shareholder value, the stipulations regarding employee ownership represent a significant difference between the two, drawing a contrast that's sometimes lost in the Democratic primary, where Warren and Sanders have come to represent the progressive boundary among a wide field of candidates. Where Warren's approach is designed to empower workers to negotiate and have a say within the existing corporate structure, Sanders plan is meant to transition whole companies toward direct ownership, in line with the candidate's democratic socialist beliefs. Sanders highlighted their respective approaches in a Sunday interview on ABC.
"Elizabeth considers herself — if I got the quote correctly — to be a capitalist to her bones," Sanders said. "I don't. And the reason I am not is because I will not tolerate for one second the kind of greed and corruption and income and wealth inequality and so much suffering that is going on in this country today, which is unnecessary."
As for passing his plan through a likely recalcitrant Congress, Sanders told the Associated Press he anticipates some of the proposals would be possible through executive action, but also believes increased "labor militancy" will put pressure on even Republicans to support some of its initiatives.
"I think ideas like this, that say to working people, 'You know what, if you're working 40 to 50 hours a week, you should have a say in your job' ... I think all of these ideas will resonate with Americans," Sanders said. "I think it is very hard, very hard for Donald Trump or anyone else, to make the case to the American people that a company like Amazon — owned by the wealthiest person in America, made $10 billion in profit last year — didn't pay a nickel in federal income tax. Somebody wants to make that case, you go ahead. I don't think anybody in America will accept it."
Sanders will have an opportunity to pitch his plan directly in the fourth Democratic presidential debate, hosted by CNN and The New York Times and scheduled for Tuesday, October 15 at Otterbein University in Westerville, Ohio.