Bernie Sanders Endorses Joe Biden for President, Calls on 'All Americans' to Support Bid Against Donald Trump
Vermont Senator Bernie Sanders offered his official endorsement of former Vice President Joe Biden Monday during a live stream.
Sanders, who was considered the frontrunner for the Democratic presidential primary nomination at the beginning of the 2020 contests, dropped out of the race last week and on Monday afternoon gave Biden his official nomination blessing. Biden, who still must be officially nominated at the August Democratic National Convention, is set to face President Donald Trump in the November presidential general election. Biden repeatedly thanked Sanders for his endorsement and vowed to work with supporters of his campaign moving forward to defeat Trump's re-election effort.
"I know we share the understanding that we've got to go forward," Sanders told a gracious Biden Monday. "Today I am asking all Americans, every Democrat, every Independent and a lot of Republicans to come together in this campaign to support your candidacy, which I endorse."
"We must find the best minds from your campaign and my campaign to coming up with solutions," Sanders added, addressing the ongoing coronavirus pandemic. Sanders said he personally believes Trump is "the most dangerous president in the history of this country," citing the president repeatedly "ignoring" warnings from federal health officials about coronavirus pandemic warnings.
"Bernie I want to thank you for that and it's a big deal," Biden responded. "I think that your endorsement means a great deal and it means a great deal to me. I think people will be surprised we're actually a lot closer on many issues."
Alexandria Ocasio-Cortez, a Sanders supporters and a fellow self-identifying Democratic Socialist also said she would endorse Biden in an interview published by The New York Times Monday. The pair's backing of Biden appears to signal a merging of the progressive and moderate factions of Democratic Party members and Independent voters against Trump.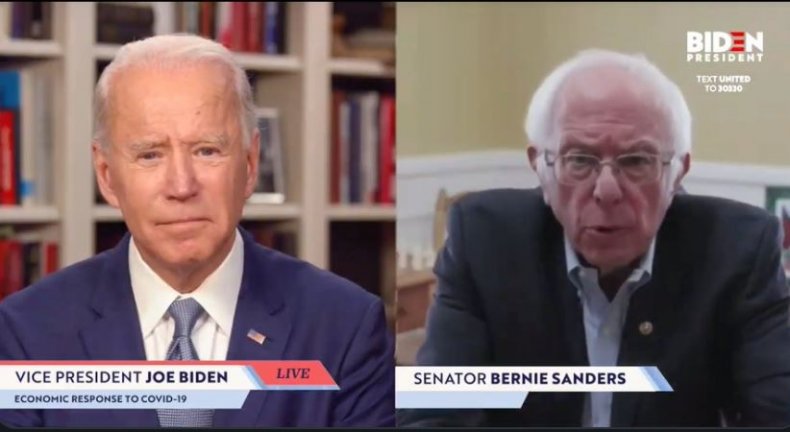 Sanders, who previously lost the 2016 Democratic presidential primary race to Hillary Clinton, also endorsed the former Secretary of State in what ultimately turned into her unsuccessful bid to defeat Trump.
The Vermont senator's campaign speechwriter and ardent social media defender, David Sirota, took on a different response Monday on Twitter: "In the last 68 years, a party's outgoing or immediate past vice president has never run for president and not won his party's nomination. Never. Not once. This does not absolve us of any responsibility for losing the primary, but it gives you a sense of how steep the odds were."