Bernie Sanders Questions Why Trump's EPA Nominee Andrew Wheeler Failed to Mention Climate Change Once in Opening Statement
Vermont Senator Bernie Sanders grilled acting Environmental Protection Agency head Andrew Wheeler about his views on climate change at his confirmation hearing Wednesday morning.
"You are the nominee to be head of the Environmental Protection Agency. You just, in your opening statement, did not mention the words 'climate change,'" he said to Wheeler, a former coal lobbyist.
Sanders then asked if the American people should have confidence in Wheeler's ability to head the agency and reduce the impacts of climate change in the future. "Yes, they should have confidence," responded Wheeler. "We are moving forward to reduce the effects of c02," he continued before outlining policy particulars.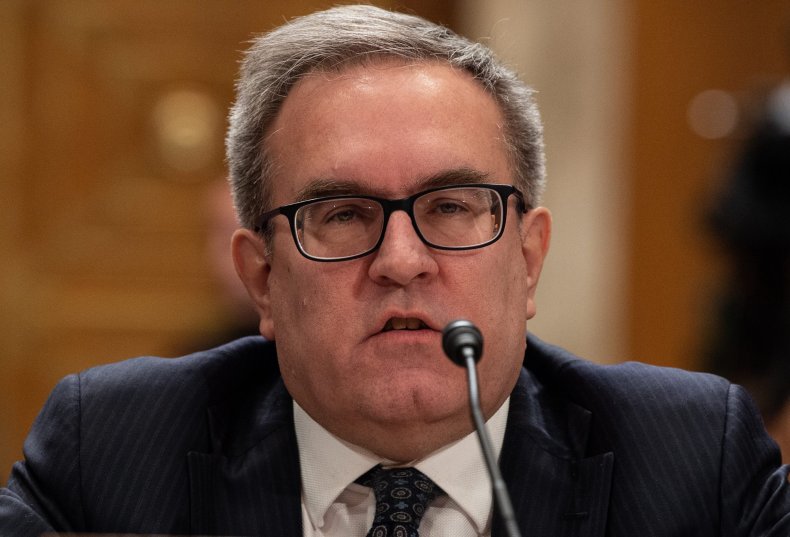 Sanders, a supporter of the Green New Deal, which would move the U.S. economy to sustainable energy sources, continued to clash with the EPA nominee. "We are the strongest economy in the world," he said. "And if the leadership of the Environmental Protection Agency in the United States says to Russia and to China and to India, and to countries all over the world, that we have to move aggressively to protect this planet for our children and our grandchildren, we can have some impact on the entire international community, are you prepared to do that?"
Wheeler responded that he was "implementing the laws that Congress has passed." But the EPA has issued a number of rule change proposals independent of Congress. Those rules include weakening the definitions of protected waters, which kinds of chemicals can be emitted into the atmosphere and aiding coal energy plants.
Throughout his testimony, Wheeler insisted he believed in climate change and was working to curb it, though he did tell Sanders that he "would not call it the greatest crisis, no sir." But he added that "I consider it a huge issue that has to be addressed globally."
President Donald Trump has repeatedly called climate change a hoax, and pointed toward cold temperatures to prove that "global warming" was not a real thing.
"Would you call rising sea levels a hoax?" Senator Sanders asked Wheeler at Wednesday's hearing.
"Rising sea levels is a concern, and we are looking at adaptation to help with rising sea levels. But absent additional Congressional authority," said Wheeler, there was not much more he could do. Wheeler also said repeatedly that while climate change did contribute to an increase in wildfires in California, he believes that they're largely due to forest mismanagement, rather than an increase in arid conditions.
Later during the hearing, Democratic Senator Ed Markey told Wheeler he was "100 percent wrong" for saying that climate change was not a crisis. When Wheeler refused to say whether he believed a recent government climate change report that found the impact of climate change to be worsening rapidly, Markey called his actions "unacceptable."