Bernie Sanders' Foreign Policy Adviser Slams Nancy Pelosi for Applauding 'Truly Awful Portions' of Trump's SOTU Speech
Matt Duss, Senator Bernie Sanders' foreign policy adviser, criticized Speaker of the House Nancy Pelosi for applauding certain parts of President Donald Trump's State of the Union address.
On Tuesday, Trump delivered his third State of the Union on the eve of an expected vote in his Senate impeachment trial. Pelosi, who has traded jabs with the president in the past, largely remained unmoved by his speech, opting mostly to read his prepared remarks or scan the room.
At the end of his speech, Pelosi took what appeared to be a hard copy of his speech, and tore it in two, prompting a flood of gifs and memes on social media.
"Pelosi applauded some truly awful portions of the speech but at least she gave you suckers a good gif at the end," Duss posted on Twitter, later clarifying that "suckers" was a reference to media in Washington, D.C.
Despite the paper tearing, which Pelosi said was the "courteous thing to do considering the alternative," Trump's speech drew praise from the Democratic leader a few times. Among those moments were the introduction of Venezuelan opposition leader Juan Guaidó, who was in the galley, and the killing of Iranian Major General Qasem Soleimani.
Neither moment was worthy of applause, according to Duss, who posted on Twitter that it was "pathetic" she applauded a "year of failed Venezuela regime change policy."
Newsweek reached out to the Sanders campaign and Pelosi through email but did not receive a response in time for publication.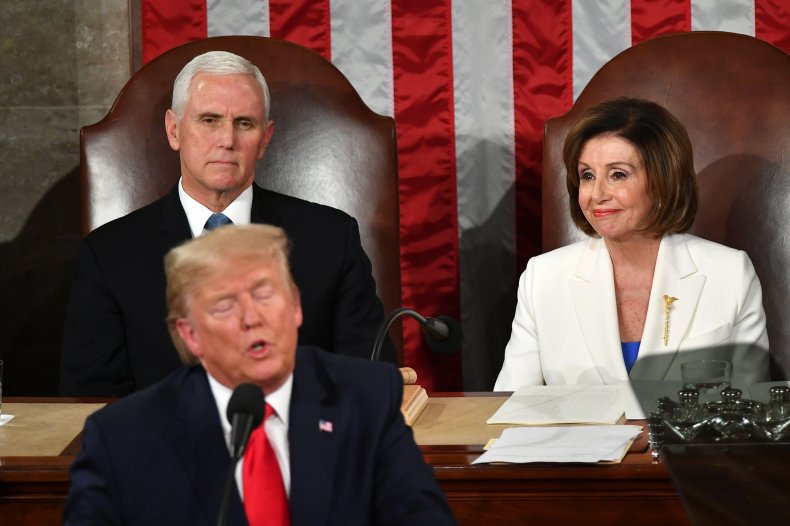 About a quarter of the way into his speech, Trump championed the United States for leading a coalition against Venezuela's Nicolás Maduro, who he labeled an "illegitimate ruler" and a "tyrant who brutalizes his people." In introducing Guaidó, whose push for democracy in Venezuela has been applauded by both sides of the aisle, Trump gave him a message to take back to his home country.
"All Americans are united with the Venezuelan people in their righteous struggle for freedom! Socialism destroys nations. But always remember, freedom unifies the soul," Trump said.
Duss claimed in applauding Trump's Venezuela regime change policy that people were praising "giving Russia an opportunity to screw with the U.S. in our own hemisphere."
Duss also disagreed with Pelosi for praising Soleimani's death, posting on Twitter that she applauded the "assassination of a foreign government official."
On January 2, Trump approved a drone strike that killed Soleimani, escalating tensions between the two countries that resulted in Iran firing missiles at two bases in Iraq that house American military personnel. Some claimed Trump didn't have the authority to order the drone strike, but the president continued to champion Soleimani's death during the State of the Union.
He characterized Soleimani as Iran's "most ruthless butcher," the world's "top terrorist," and a "monster who murdered or wounded thousands of American service members in Iraq."
"Our message to the terrorists is clear: You will never escape American justice. If you attack our citizens, you forfeit your life." Trump said.