Fox News Hosts Blast Bernie Sanders Successful Book Sales, Call Him 'Millionaire Socialist' Amid Midwest Campaign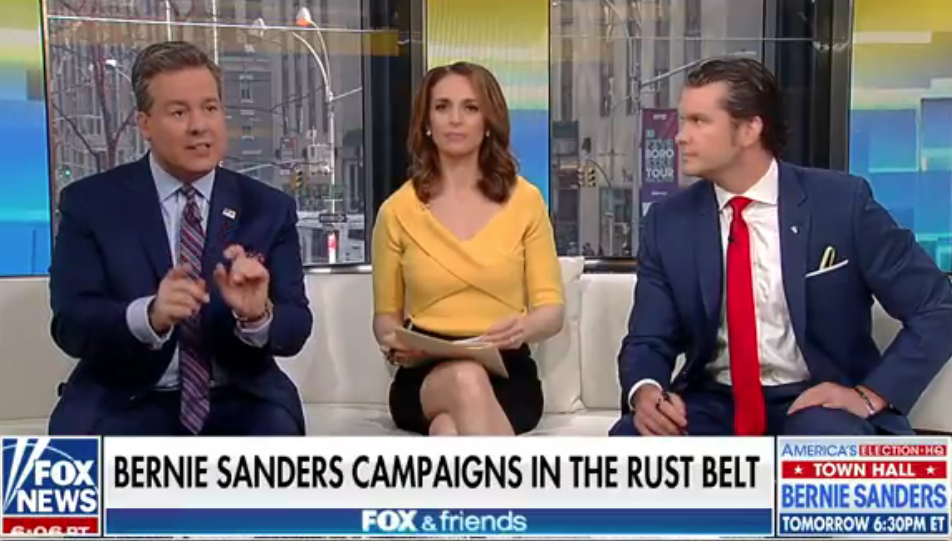 The Fox & Friends co-hosts used nearly an entire Sunday morning segment to bash Vermont Senator Bernie Sanders, labeling him a "millionaire socialist" just one day before his Fox News Town Hall Monday evening.
Fox & Friends co-hosts Pete Hegseth, Ed Henry and Jedediah Bila ridiculed the 2020 Democratic presidential candidate as offering "all rainbows and unicorns," although the trio provided little if any evidence to back up the majority of their Sanders insults.
While the Sunday Fox News crew did applaud Sanders, whose campaign swung through the Midwest this past week, for visiting the "forgotten man and woman," the co-hosts then mocked him for having written a successful book and demanded he "share" the profits.
Discussing Sanders' recent "whistle stop train tour" of Wisconsin, Indiana, Michigan, Ohio and Pennsylvania, co-host Henry said "Donald J Trump also decided to go to places that Hillary Clinton chose not to."
Henry said Trump succeeded by going after the forgotten man and woman, but that Sanders is set to fail as he seeks to convince Midwesterns "the economy [is] not working for those folks, although the economy is doing pretty darn good."
Speaking last week in Madison, Wisconsin, Sanders said Trump's "biggest lie" from his campaign was "that he was going to defend the interests of the working class of our country and take on the powerful special interests to do that. What a monstrous lie that was."
This statement prompted an angry rebuke from all three of Trump's Fox & Friends defenders.
"That was millionaire socialist Bernie Sanders," Hegseth said, unable to stop smiling.
"Wait, he's a millionaire?" co-host Henry asks.
"He, He, I -- I'm told," Hegseth responded, accusing Sanders of only visiting "urban liberal havens" inside red or purple Midwest states.
"But if that's really going to be your argument, 5 million jobs created, workers wages going up, that's a big one for me," Hegseth continued. "If you're running against reality and then you're running on this utopian view of socialism which is falling apart across the rest of the world? And then you want it to come here because you want open borders? That's a heck of a contrast."
"But Bernie Sanders is all rainbows and unicorns, I mean the stuff he really talks about is not practical," Bila said, reusing a common Fox News trope about Democrats. "And books. And he has had to defend that point about being a millionaire, about having his best-selling book. Take a listen, take a listen."
The senator has been put in the unusual position of having to defend being the author of a book that sold well.
"I wrote a best-selling book. If you write a best-selling book, you can be a millionaire, too," Sanders, author of the 2016 bestseller, Our Revolution, as well as 2018's Where We Go from Here: Two Years in the Resistance, told The New York Times last week.
Sanders made light of the criticism stemming from his successful book sales, which Fox News hosts, including Sean Hannity, used to push against former President Barack Obama's book success.
"I didn't know it was a crime to write a good book," Sanders told an Indiana audience Saturday, prompting a roar of laughter. "We need a progressive tax system that demands the wealthiest people in this country finally start paying their fair share in taxes. If I make a lot of money, if you make a lot of money, that is what I believe in. I don't apologize for writing a book that was number 3 on the New York Times Bestleller list, translated into 5 or 6 languages."
Hegseth then took a series of quick shots at Sanders, saying, "But if you remember where he honeymooned, when he got married, it was in the Soviet Union. I wonder if one of those languages his book was translated into was...Russian?"
Henry called out Sanders — without adding facts or statistics — by rhetorically asking, "Oh I thought you were all about the middle class?"
The co-hosts accused him of buying a Vermont vacation home as well as having a home in Washington, D.C. — a not uncommon practice among members of the U.S. Senate. "Multiple homes, millionaire, best-selling book."
The co-hosts then suggested that if Sanders was truly a socialist — which the senator is not, having stated publicly on numerous occasions that he is a Democratic Socialist — he should sign over his book profit checks to the hosts of Monday's Town Hall, Bret Baier and Martha Maccallum.
Finally, Henry and Bila added in a final nicety about Sanders as he prepares to appear on the cable news network tomorrow. "He's authentic, he's willing to come on the show...he really believes what he's saying." However, the Fox News crew earlier noted he will have a hard time selling the idea of "giving away free stuff" to residents of the Rust Belt, reiterating a common Fox mantra.