Bernie Sanders Supporters Gave Trump his 'Margin of Victory' in 2016, Fox News Contributor Says
Several Fox News hosts and programs are justifying Senator Bernie Sanders' upcoming Monday night town hall appearance, saying that hundreds of thousands of his "anti-establishment" supporters actually voted for Donald Trump in 2016.
On America's Newsroom Monday, Fox News contributor and Washington Post columnist Marc Thiessen stressed that while many establishment Democrats "hate" the cable news network, the Vermont senator is looking to bring Trump's anti-Hillary Clinton crossover voters back to his 2020 campaign. Thiessen, a fellow at the conservative American Enterprise Institute, said Sanders' move is a very calculated attempt to take his political outsider rhetoric straight to Trump's Midwestern general election base.
Thiessen joined several Fox News co-hosts and guests in saying tens of thousands of Sanders primary supporters voted for Trump after he was defeated by Clinton, thus giving him the "margin of victory" in the 2016 general election.
"He is coming on this network for a very specific reason: because he knows that 12 percent of Bernie Sanders supporters voted for Donald Trump in the 2016 election," Thiessen, a former George W. Bush speechwriter, told Fox News Monday morning.
A 2016 Cooperative Congressional Election Survey found fewer than 80 percent of those who voted for Sanders during the Democratic primaries followed up and voted for Clinton in the general election. At least 12 percent of Sanders supporters cast a vote for Trump that November.
"They gave him the margin of victory in three critical states that gave Donald Trump the presidency: Wisconsin, Michigan and Pennsylvania," Thiessen continued. "He needs to get those voters back. So for example, in Pennsylvania, 16 percent of Sanders supporters voted for Donald Trump. That's a total of about 116,000 voters, Trump won by 44,000 votes. So in all those states it was the Sanders supporters who gave Trump the margin of victory and gave him the presidency if you just do the math."
Sanders' decision to appear on a Fox News town hall angered many Democratic National Committee members and Clinton holdovers. In March, the DNC announced it would exclude Fox News from hosting any of its debates in the 2020 news cycle due to its increasingly pro-Trump rhetoric and fears the hosts could not hold a fair event.
"The Democrats hate Fox News and you just had Tom Perez earlier on the show explaining how they don't trust us to host a Democratic debate," Thiessen continued. "We've got lots of Democratic viewers, but the official Democratic establishment hates us—but Bernie is not part of the Democratic establishment."
Thiessen said Sanders is looking to get his message out to working class, blue collar Fox News viewers as they tune into watch the Bethlehem, Pennsylvania town hall Monday. "If he gets the nomination, which I think he could, he needs to fight for those voters and the best place to do that is Fox News."
"What attracted these Bernie supporters to Donald Trump was he was the outsider who was fighting for the working class, just like Donald Trump," Thiessen said, adding Sanders must argue Trump has failed to fight for them in Washington.
Sanders, speaking at rallies in Wisconsin, Indiana and Ohio, has repeatedly blasted Trump's for promising he'd go to Washington and fight for working class families. Sanders' "rust belt" campaign swing has largely targeted manufacturing workers and supporters of Medicare for All.
"The biggest lie was that [Donald Trump] was going to stand up for working families and take on the establishment," Sanders told Pittsburgh rallygoers Sunday during his first visit of 2019 to the critical election battleground state of Pennsylvania. "That was a monstrous lie."
Numerous polls show Sanders as a frontrunner among the nearly 20 Democratic presidential candidates, trailing only behind former Vice President Joe Biden, who has not yet announced if he will run.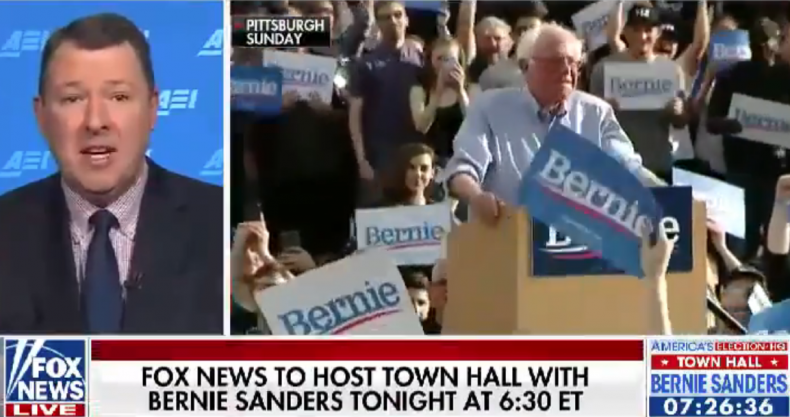 "The reason we are visiting these states is very simple: Donald Trump won them two-and-a-half years ago and we're not going to let him win in 2020," Sanders told supporters at the Pittsburgh rally.
A heated discussion on Fox News' Outnumbered also saw several conservative and moderate guests arguing over whether the cable news network should even be "giving attention to Sanders." Co-host Melissa Francis said Sanders can "recapture" the 12 percent of voters who crossed over to Trump in 2016 after his primary elimination and will be watching Monday night: "They reject the system, they reject the status quo, they reject the establishment."