Bernie Sanders Has A Florida Problem
Florida has the fourth largest number of pledged delegates up for grabs during the Democratic primaries and caucuses, and presidential hopeful Bernie Sanders appears to be lagging far behind former Vice President Joe Biden in the state.
On March 17, Florida's Democrats will cast their ballots in their primary, and current polling shows Biden ahead of Sanders by double digits. The latest survey from St. Pete Polls showed the Vermont senator with the support of just 13 percent of the state's Democratic voters, while Biden was backed by more than a third (34 percent) and Mike Bloomberg by a quarter (25 percent).
Notably, that poll was released February 26, meaning it was conducted before Biden's big win in South Carolina and his successes on Super Tuesday. That poll also included former Mayor Pete Buttigieg of South Bend, Indiana, and Senator Amy Klobuchar of Minnesota, who placed a distant fourth and fifth, respectively. Buttigieg and Klobuchar suspended their campaigns and endorsed Biden following his South Carolina victory.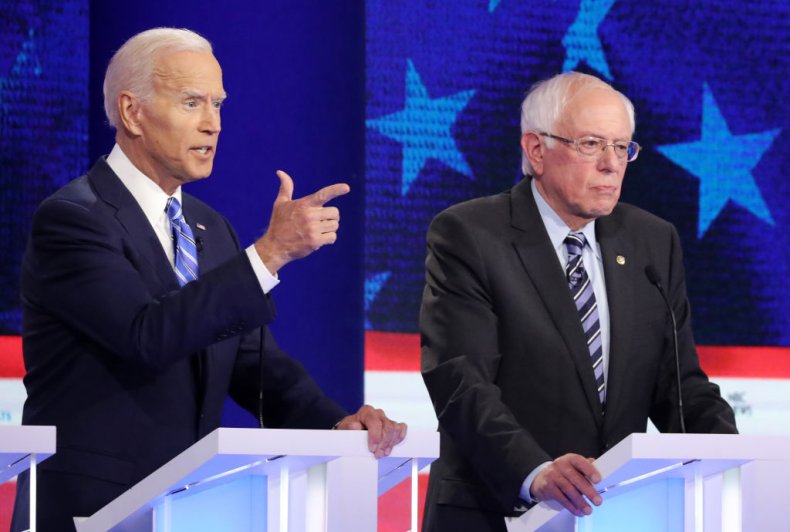 Bloomberg, a former Republican, suspended his campaign on Wednesday after failing to win any states on Super Tuesday, although he did win the caucus in American Samoa. He endorsed Biden's campaign as well.
Current polling data by FiveThirtyEight also shows Sanders at a significant disadvantage in Florida. The senator has an average of 16.7 percent support, while Biden is at 27.7 percent. Bloomberg, while no longer in the race, placed second with 24 percent.
As Biden has pulled ahead as the new front-runner, and as moderates line up to endorse his campaign, Sanders appears to be facing an increasingly uphill battle to secure the party's nomination. Florida's 219 delegates would be a big prize for any candidate, and it increasingly looks as if they could largely go to Biden. If Sanders fails to garner at least 15 percent of the Democratic vote in the state, all of those delegates would go to his more moderate rival.
Newsweek reached out to the Sanders campaign for comment but did not hear back before publication.
The senator drew condemnation from Democratic and GOP lawmakers in Florida last month after comments he made about Cuban leader Fidel Castro's social policies. While Sanders said that authoritarian leaders should be condemned, he also noted that Castro had drastically improved the island nation's education system.
"We're very opposed to the authoritarian nature of Cuba, but, you know, it's unfair to simply say everything is bad," Sanders told Anderson Cooper in an interview with CBS News' 60 Minutes in late February. "When Fidel Castro came into office, you know what he did? He had a massive literacy program. Is that a bad thing? Even though Fidel Castro did it?"
Florida has a sizable Cuban-American population, which is largely critical of Castro and the communist government he established in their former country, and state lawmakers were quick to criticize the remarks.
"The Castro regime murdered and jailed dissidents, and caused unspeakable harm to too many South Florida families. To this day, it remains an authoritarian regime that oppresses its people, subverts the free press, and stifles a free society," Democratic Representative Debbie Mucarsel-Powell tweeted.
"I'm hoping that in the future, Senator Sanders will take time to speak to some of my constituents before he decides to sing the praises of a murderous tyrant like Fidel Castro," Democratic Representative Donna Shalala said in a tweet.
But Sanders supporters jumped to his defense, noting that the candidate's comments mirrored remarks previously made by President Barack Obama. Biden was Obama's vice president.
National polls have shifted in favor of Biden following his win in South Carolina. The latest polling data from Morning Consult showed him reclaiming the lead, with 36 percent support nationwide compared with Sanders' 28 percent.