Democrats Face Off in Final Debate Before Iowa Caucuses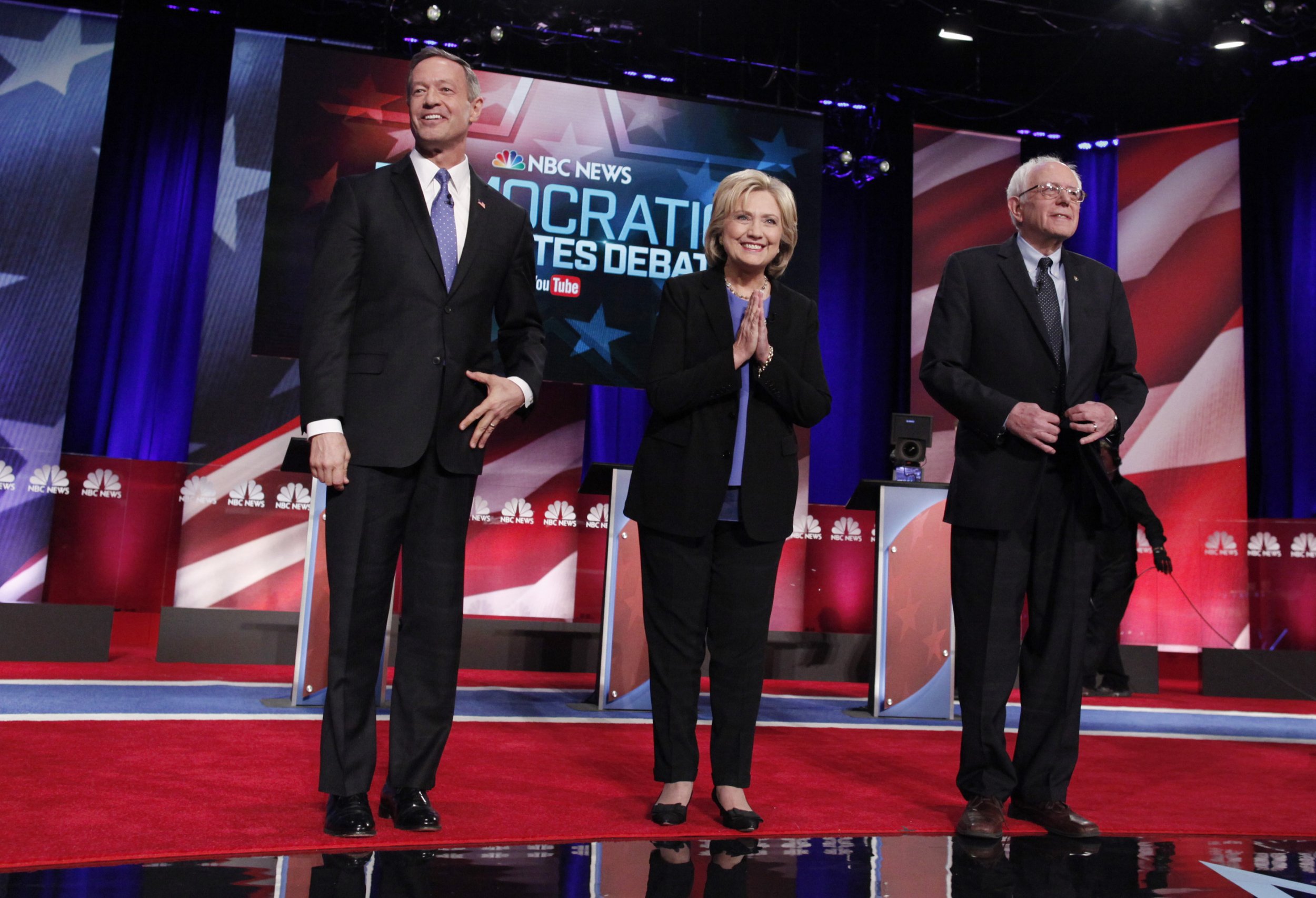 Health care, gun control, Wall Street and foreign policy were the topics of the day as candidates Hillary Clinton, Bernie Sanders and Martin O'Malley took the stage in Charleston, South Carolina on Sunday night for the fourth Democratic debate in the run-up to the 2016 presidential election.
For Clinton, gun control has proven an effective avenue of attack against Sanders. The senator from Vermont, where sport hunting is popular, runs to the right of his party on the issue. Sanders has voted against a number of gun control bills, including the Brady Handgun Violence Prevention Act — but recently reversed his position that gun manufacturers should be immune from criminal prosecution if their guns are used in violent crimes.
"I am pleased to hear that Senator Sanders has reversed his position on immunity," Clinton said Sunday night. But, she noted, Sanders also voted for what Clinton called the "Charleston loophole," which allows a gun seller to proceed with a sale if, after three days, the FBI has not responded to a background check.
Related: Who is Lester Holt, moderator of Sunday's NBC News Democratic debate?
Hours before the candidates took the stage, Sanders released details of an ambitious single-payer healthcare plan. He said the plan would save most Americans thousands of dollars per year on healthcare costs.
"Universal health care is an idea that has been supported in the United States by Democratic presidents going back to Franklin Roosevelt and Harry Truman," Sanders said in a statement. "It is time for our country to join every other major industrialized nation on earth and guarantee health care to all citizens as a right, not a privilege."
But Clinton tried to position herself as the pragmatic choice when it comes to healthcare. "I respect Senator Sanders' intentions, but in healthcare, details matter," Clinton said. She continued the line of attack her campaign began last week that, as president, Sanders would dismantle Obamacare, a claim Sanders called "nonsense."
"I am not going to tear up the Affordable Care Act, but move forward," Sanders said.
Related: Bernie Sanders released his Medicare-for-all health plan hours before debate
Sanders proposes to pay for his plan through higher income taxes, with a special focus on the very wealthy, according to The Washington Post.
In recent days, Clinton and her surrogates have hammered Sanders on healthcare, calling his push for a single-payer system unrealistic with today's Congress.
Health, too, was a topic of discussion in the lead-up to Sunday night's face-off. On Friday, longtime Clinton confidante David Brock called on Sanders to release his medical records. Correct the Record, a Super PAC headed by Brock, plans to release ads questioning the 74-year old Sanders' health.
Perhaps afraid of the backlash such ads would cause, Clinton campaign chairman John Podesta attempted to distance the campaign from Brock, tweeting at him to " chill out" on Friday.
Clinton, long thought a shoe-in for the nomination, has struggled to put Sanders away. A recent Wall Street Journal/NBC poll shows Clinton with the lead nationally, 59 percent to 34 percent, but recent polls from the bellwether states of Iowa and New Hampshire show Clinton and Sanders neck-to-neck.
But Clinton and Sanders aren't the only two Democrats who took the stage Sunday. Also present was the longshot former Maryland governor Martin O'Malley. Touting his record as governor, O'Malley attempted to wedge himself into the debate alongside Clinton and Sanders, to limited effect. O'Malley did win some rare applause when he challenged moderator Lester Holt for additional speaking time after NBC went to commercial without giving O'Malley an opportunity to answer a question.
As part of its partnership with YouTube, NBC News had the candidates field questions from popular YouTube stars. Francesca Ramsey, a vlogger and podcaster who focuses on racial inequality, asked the candidates about police brutality. All three candidates agreed that police who break the law should be prosecuted — a far different tenor from Thursday's Republican debate, where the prevailing attitude was that Americans should trust police more.
Later, Conor Franta, a vlogger who touts around 5 million subscribers, asked Clinton why Sanders is beating her two-to-one among young voters. Clinton said she respects Sanders' supporters, and that she will try to win their votes. And Marques Bronwlee, who vlogs about technology, asked the candidates if they support government backdoors into private data.
In what has become a major topic whenever they meet, Clinton and Sanders butted heads on policing Wall Street. Sanders sniped at Clinton for accepting money from donors in the world of finance, while Clinton, as usual, declined to engage Sanders head-on, instead pointing to her record of regulating the big banks. But Clinton tried a new tactic Sunday night, arguing that President Barack Obama also accepted money from Wall Street and attempting to place Sanders in opposition to Obama, a strategy Sanders called "disingenuous."
Moderators also attempted to bait Sanders into attacking Clinton over her husband's affairs, citing Sanders' past comments on the subject. But Sanders attempted to dodge, insisting he wants to run an issues-focused campaign — though he did call former president Clinton's past behavior "deplorable," as his wife nodded along sedately.
The second half of the debate focused on foreign policy, an area where Clinton excels and Sanders has far less experience. Both praised Obama's success in securing the release of four American hostages this weekend, including Washington Post reporter Jason Rezaian, and the administration's successful negotiations to return 10 sailors captured by Iran this week.
On the question of the ongoing Syrian civil war, the Democrats offered a clear distinction with the Republicans. Clinton and Sanders both argued against inserting U.S. troops into the region. Clinton said the U.S. should lead an air coalition against the Islamic State militant group (ISIS), while Sanders argued that putting American troops into Syria would entangle the U.S. in another interminable war, much like the 2003 invasion of Iraq — which Sanders voted against and Clinton voted for.
Clinton, touting her foreign policy experience, described her relationship with Russian President Vladimir Putin as "interesting" and described him as "a bully."
"[Our relationship is] one I think of respect," she said slowly. "We've had some very tough dealings with one another and I know that he's someone that you have to continually stand up to because like many bullies he is someone who will take as much as he can unless you do."
Flint, Michigan, where the local water supply has been flooded with lead, did not come up until the end of the debate, as the candidates made closing comments. In closing, Sanders also cited the need to do away with Super PAC group and overturn Citizens United, the Supreme Court decision that allows such groups to exist.