The Myth of the Divided Democrats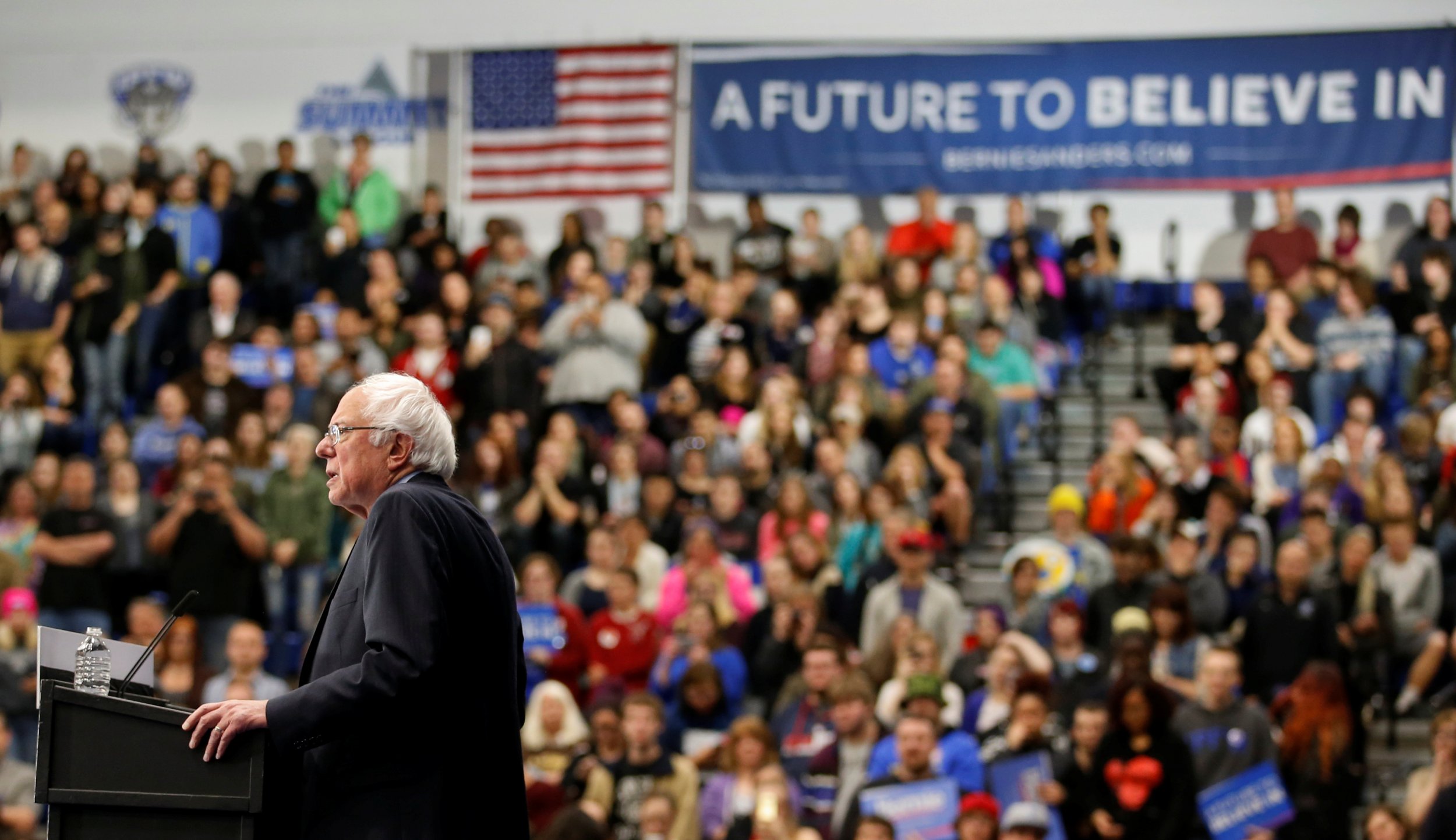 Updated | The unsettled presidential primaries of 2016 have now entered May, and to hear some Democratic worrywarts tell it, their party is now perniciously divided. They fuss that Vermont Senator Bernie Sanders's decision to prolong the race—declaring at a press conference on Sunday it could go to a contested convention where there is no clear nominee—is feeding the antipathy between his supporters and all-but-certain Democratic nominee Hillary Clinton. They feel the palpable divisiveness of the Democratic primary could cost the party the White House come November. Even a quarter of Democratic voters are predicting the party will be divided come November, per a new CNN/ORC International poll.
These worried Dems need to take a collective deep breath. By any number of measures, the 2016 primary contest isn't nearly as heated as 2008's neck-and-neck race between Clinton and Barack Obama. And as that race and its aftermath demonstrated, primary wounds almost always heal quickly.
"When you get to the general election, it's very clarifying," says Democratic pollster Anna Greenberg, senior vice president at polling firm Greenberg Quinlan Rosner Research. The campaigns in the fall are centered on a message that boils down to, "if the other party takes the White House, the world's going to fall apart," she says. "People who have been holding back from their party's nominee are going to come back."
The Sanders campaign can certainly make that nominating process more or less prolonged and painful. The results of Tuesday's Democratic primary in Indiana—in which Sanders emerged victorious—will also impact just how much further the race drags on. But Greenberg points out that despite all the emphasis on establishment versus non-establishment, on "most fundamental core values for Democrats," Sanders and Clinton are "in the same place." And even if they don't make nice the way Clinton and Obama ultimately did in 2008, the Democrats have a major factor working in their favor: the likely Republican presidential nominee.
"Donald Trump will present such a clear and present danger. I think it will do a lot to get people on board," says Dan Pfeiffer, President Obama's former communications director in the White House and a 2008 campaign alum. "In many ways, Donald Trump is a solution to a lot of Hillary Clinton's problems."
Hard feelings out of primaries are nothing new. The losers' most fervent supporters are inevitably going to feel disappointed and even embittered that their candidate didn't come out on top. Clinton had her "PUMAs" in 2008—middle-aged women who were so upset about her loss they said they'd refuse to vote for Obama, and assigned themselves a label—short for "Party Unity My Ass." It didn't end up being a problem for Obama in the general election, as he won the women's vote by a double-digit margin. So the reports that some Sanders supporters are buying into conspiracy theories to explain the campaign's losses aren't terribly surprising. Neither are Clinton's high unfavorables with Sanders voters right now—an April NBC/Wall Street Journal poll had her "underwater," so to speak, with his backers, ranking more negatively than positively.
Here's a more relevant figure: an April poll from Suffolk University/USA Today found that 12 percent of Democrats said if their chosen candidate isn't nominated, they'd vote for the Republican nominee or stay home. Compare that to the results of a CBS News/New York Times poll conducted in April 2008, in which 38 percent of Clinton supporters said in that they would either vote for Republican nominee John McCain, or not vote. That boiled down to about 14 percent of the Democrats surveyed. Ultimately, exit polls showed that about 10 percent of Democrats who voted in 2008 supported McCain.
That's pretty minimal damage after a 2008 primary that was much harder fought than what we've seen in 2016. Eight years ago, Obama and Clinton ended up only being separated by just a little over 100 pledged delegates, and the race was genuinely competitive for a full four months before Obama's inevitability set in in May. This year, in contract, Clinton built up a commanding lead on Super Tuesday (the first Tuesday in March), just a month into the race. And despite a string of caucus wins, Sanders hasn't really threatened since. At this point, the former secretary of state has a lead of more than 300 pledged delegates.
The tone of the 2008 primary reflected the competitiveness of the race, with the campaigns lobbing personal attacks and negative ads throughout April. Clinton and her surrogates went on the attack against Obama for his relationship with his controversial pastor, the Reverend Jeremiah Wright, and the leak of comments Obama made at a fundraiser in which he suggested small-town Pennsylvania voters "cling to guns and religion" in response to adverse economic circumstances.
"I think the 2016 primary is basically a lovefest compared to the 2008 primary," says Pfeiffer. And he says it took a lot of work to get over the lingering bad blood between the Clinton and Obama campaigns. But it did evaporate, he says, for a couple of reasons.
Once it became clear that Clinton couldn't win in 2008, Pfeiffer says, her campaign shifted its tone. "She helped build a bridge for her supporters" so that by the time she actually got out of the race, many of them were prepared to move their support to Obama. For his part, the then-Illinois senator made a concerted effort to woo her supporters.
"This will be slightly different if Bernie Sanders continues to talk about the legitimacy of her win," says Pfeiffer, for example, raising questions about her support from the vast majority of Democratic super delegates, as he did at his press conference this past Sunday in Washington.
"I think we've seen some measure of him beginning to tone down," he adds. "We'll see after Tuesday."