What Happened To Bernie Sanders? Campaign Events Canceled After Candidate Enters Hospital For Heart Procedure
Senator Bernie Sanders hit the pause button on his presidential campaign after undergoing a heart procedure to fix a blockage in his artery.
Sanders' campaign confirmed to multiple reporters that, at a campaign event on Tuesday, the senator started experiencing chest discomfort. This led him to undergo medical evaluations at an undisclosed location, where doctors found a blockage in one artery.
He underwent a procedure to place two stents, tubular supports placed in a blood vessel, canal or duct meant to relieve obstructions, which his campaign said were successfully inserted. As of Wednesday when the statement was released, Sanders was in "good spirits" and having conversations, according to the campaign.
"He will be resting up over the next few days. We are canceling his events and appearances until further notice," the campaign said.
Sanders' campaign concluded its statement with the notice that appropriate updates would be provided.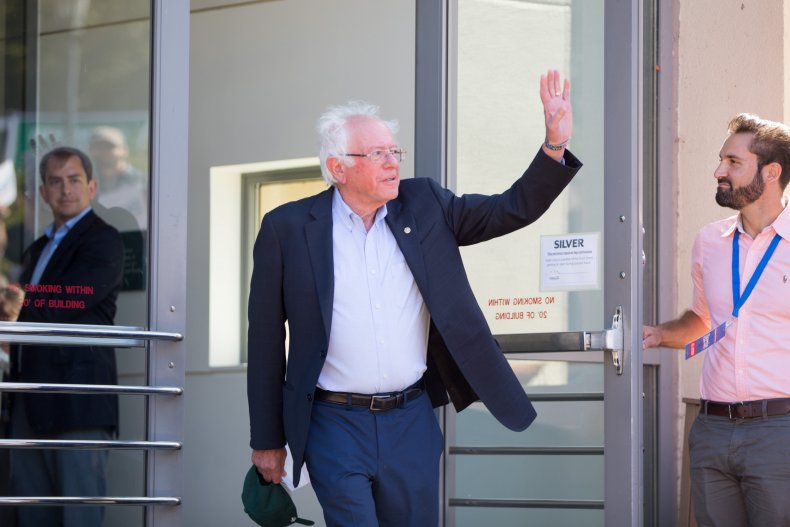 On Wednesday, Sanders was scheduled to be in Las Vegas as the host of a Medicare for All Town Hall, followed by a community meeting. He had additional town halls scheduled for Thursday and Friday in the California towns of Riverside, Bakersfield, Fresno and Los Angeles.
Currently, Sanders, 78, is a top contender for the Democratic nomination for president, as polls often put him either ahead of or neck and neck with Senator Elizabeth Warren.
The two share similar positions when it comes to the cost of higher education. Although, Sanders' plan for student loan debt takes Warren's a step farther.
Instead of forgiving student loan debt, which an estimated 45 million Americans have, on an income-based scale, as Warren's plan would, Sanders' would outright forgive all $1.6 trillion in student loans. He would also establish tuition-free public colleges and universities and reduce student loan interest rates.
After news of his procedure spread, Warren posted on Twitter that herself, her husband and her entire team were sending their best wishes for a speedy recovery to Sanders.
"I hope to see my friend back on the campaign trail very soon," Warren wrote.
Several other candidates for president also sent good thoughts to the senator, including Senators Kamala Harris and Cory Booker, South Bend, Indiana, Mayor Pete Buttigieg, former Congressman Beto O'Rourke and Andrew Yang.