Bernie Sanders in the House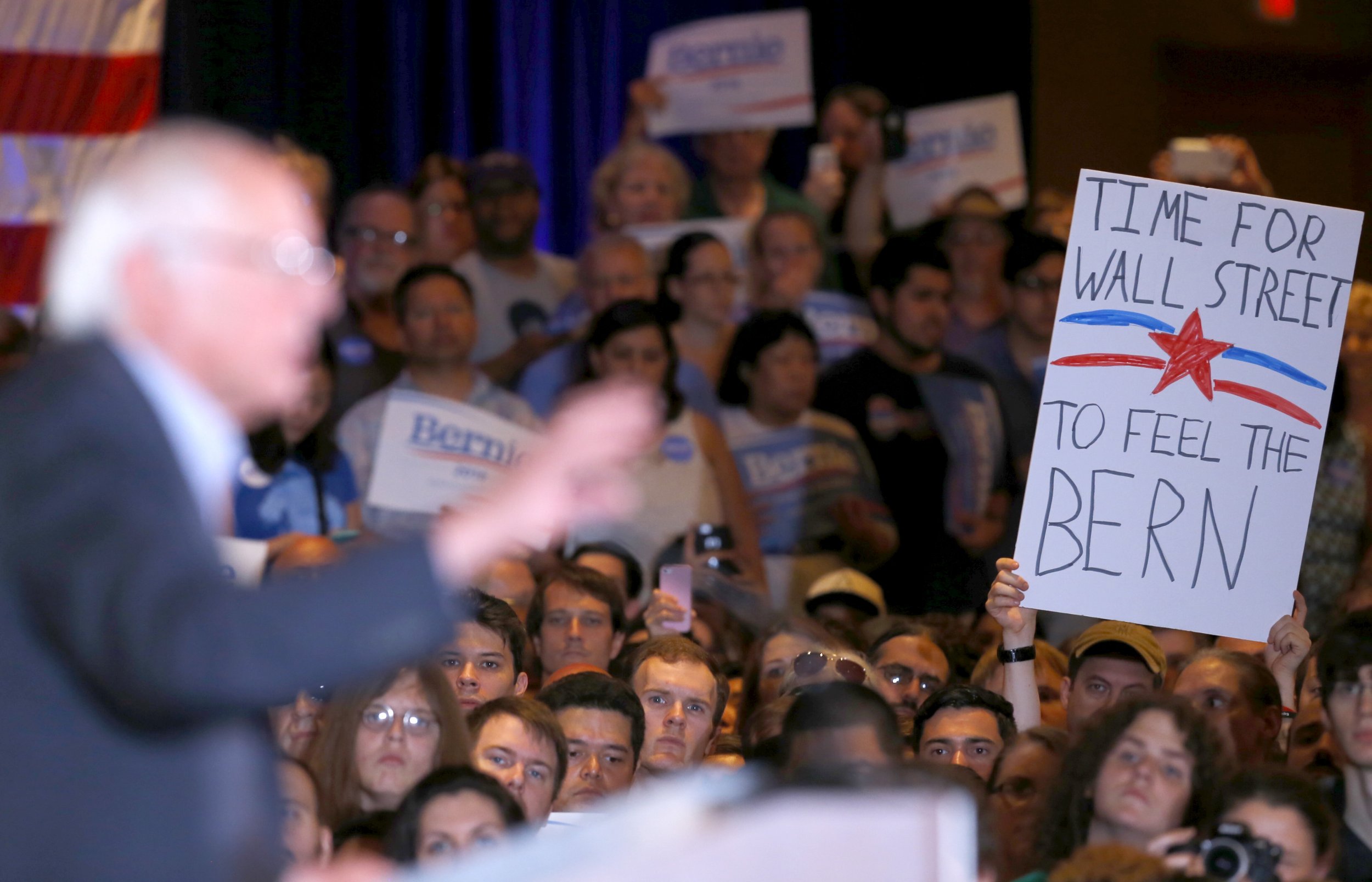 On Wednesday the Bernie Sanders presidential campaign held hundreds of house parties across the country to build grassroots support. Newsweek reporters visited one in New York City and one in Washington, D.C. that Sanders attended.
A few blocks south of Union Square in New York City, where apartments can rent for $38,000 a month, about 300 New Yorkers passed a pair of young women holding a painted sheet emblazoned with the words "Feel the Bern" and walked into a meagerly air conditioned, packed sports bar called The Royal. They were among 100,000 people attending Bernie Sanders house parties across the nation, an effort by the grassroots-funded presidential campaign to ramp up its ground organizations.
The event organizer, Winnie Wong, a self-described "technologist" who founded People for Bernie Sanders, was an organizer for the Occupy Wall Street movement, though she never lived at Zuccotti Park during the encampment. "I am committed to using the Internet for good," she said. She takes credit for coming up with the #FeeltheBern campaign. "Ask anyone," she said, perched on a small stage, waiting for Sanders to beam into the dozens of flat screen TVs affixed to the ceiling, which at that moment were streaming the Reds at Cardinals. "Nobody will dispute it!"
Like Wong, many people in the room had participated in or supported Occupy Wall Street, but the Sanders campaign was different. "Occupy Wall Street was not organized," said Nick Bailey, a 21-year-old film and politics major at NYU. "The reason I'm excited about Bernie is that this is an opportunity to institute massive change through the system."
A few feet away, public sector labor organizer Stan Williams held court at a table. Williams described himself as a core organizer of People for Bernie Sanders, and head of African Americans for Bernie Sanders and Labor for Bernie Sanders. As a labor organizer, Williams conceded unions were not showing Bernie all the love, which he blamed on Hillary Clinton's superior organization, not true sentiment. "Bernie Sanders has a big problem with name recognition. The goal of Labor for Bernie is, number one, to have labor not endorse Hillary Clinton," he said. "[AFL-CIO President] Rich Trumka has to listen to his members. [American Federation of Teachers President] Randi Weingarten came out in support of Hillary and faced a huge backlash that day. We are trying to open up space for that to happen."
As an African-American, Williams said Sanders probably needs to do more to win black voters, especially after the Netroots Nation debacle in Phoenix earlier this month, in which the candidate was shouted down by African-American protesters for not saying the name of Sandra Bland who died in a Texas jail cell after a traffic stop. "I support Bernie but I'm also skeptical," Williams said. "I think he only has one black person on his campaign."
Most of the attendees wore jeans, T-shirts and casual sundresses. A young man in business clothes looked a bit out of place. He declined to allow his name to be published. No, he hadn't strolled up from Wall Street to do opposition research, he worked at the U.N., but he was on a "fact-finding mission" he said. "I'm not sold on any candidate, but obviously he's a beacon of hope for progressives."
Nearby, Laurens Hunt, clad in a pink T-shirt reading "This is what a FEMINIST looks like" was digging into a plate of fish tacos. Hunt is a human services specialist who serves the working poor in New Jersey. Unlike Bailey, Wong and Williams, who said that they probably would vote for Clinton in the general election if Sanders lost, Hunt said voting for Hillary was "out of the question." "She takes corporate donations, she can't answer questions about the TPP, she takes contributions from AIPAC [the American Israel Public Affairs Committee] and she's not committed to the $15 minimum wage." Hunt added that, "In some ways, Bernie is a little conservative, actually!"
Eventually the man himself appeared on the dozens of screens, clad in a suit, flanked by an American flag.
Sanders was at a house party, this one in Washington, D.C. at the home of Manisha Sharma, a 34-year-old attorney who came to the U.S. from India when she was a teenager. In a talk streamed to all of the house parties, Sanders offered his usual denunciation of big money in politics and thanked his supporters, After his short speech, Claire Sandberg, the campaign's digital organizing director, came onscreen and exhorted supporters to pull out their phones and to volunteer via text. In Manhattan, the event emcee, Public Radio International host Julianna Forlano, called out: "Bernie needs a headcount! You don't even have to give your email if you think the NSA is following you. But he needs you!" About half of the crowd did.
Off camera in Washington, Sanders spoke to reporters. The septuagenarian Senator seemed genuinely surprised by the breadth of his support. "If you had asked me three months ago whether we would have 100,000 people in 3,500 events in 50 states in this country, I would have told you you were nuts."
In contrast to the brawl among the Republican nominees, Sanders and Hillary Clinton have kept it remarkably civil and that was true on this evening. The independent senator declined to take a shot at Clinton for her waffle on building the Keystone XL pipeline, which most progressives oppose. "Tonight what we're going to focus on is building a strong grassroots. That is how we're going to win this election," Sanders said. "So I'm going to take a night off from Hillary Clinton."
Sanders was asked if he's seeing a need to put more focus on institutional racism in his campaign. "What we are seeing with the case Sandra Bland and what we are seeing just today an indictment made in Cincinnati is clearly an outrage....So we will certainly be talking about the need for police reform, criminal justice reform, what I have been talking about for a long time and repeated tonight. And clearly as a nation we have to do everything we can on institutional racism."
Near Union Square, the evening ended quietly. Supporters drifted out onto sidewalks far below the windows of the 1 percent. A man sobbed next to a piece of battered luggage on the subway steps, security guards seemed to have nabbed some teen shoplifters, a halal truck vendor was wrapping up for the day, the crosswalks blinked red, green, red, green, as the 99 percent strolled the steaming city.
Nina Burleigh reported from New York City. Emily Cadei reported from Washington, D.C.