Bernie Sanders, Ilhan Omar Highlight Death and Destruction of Iraq War 16 Years After It Was Launched
Progressive politicians Senator Bernie Sanders and Representative Ilhan Omar have critically highlighted the anniversary of the Iraq War, which was launched on March 20, 2003, or 16 years ago on Wednesday.
Sanders, who is running for the Democratic Party's nomination to take on President Donald Trump in 2020, posted to Twitter to remind his followers that he never supported the U.S. invasion of Iraq.
"In the 16 years since the Iraq war began, we've lost many thousands of American and Iraqi lives and spent trillions of dollars," Sanders pointed out on Twitter. "I opposed the war and it gives me no pleasure to say that much of what I feared came true. Our foreign policy must focus on diplomacy, not endless war."
Sanders co-sponsored a resolution that passed in the Senate last week rebuking U.S. support for the Saudi-led war in Yemen. The progressive senator has long argued that Congress needs to reassert its "war powers" that have often been disregarded by Republican and Democratic leaders for many years.
Omar also reminded her Twitter followers about the death and devastation caused by the Iraq War: "16 years ago the U.S. illegally invaded Iraq, leaving a trail of destruction and lives lost," Omar wrote. She then shared several statistics about the war's toll, pointing out that "4,496 U.S. troops lost their lives" and "100,000+ Iraqi civilians [were] killed."
Omar also argued that the country should hold members of former President George W. Bush's administration to account, because they "repeatedly lied in the run up to the war."
"In October 2002, President Bush said that Saddam Hussein had a 'massive stockpile' of biological weapons. It was a lie," the representative pointed out. "[Former Vice President] Dick Cheney repeatedly cited a nonexistent meeting between a 9/11 conspirator and Iraqi intelligence. It was a lie," Omar continued. "In August 2002, Cheney said, 'Simply stated, there's no doubt that Saddam Hussein now has weapons of mass destruction.' That too was a lie," she wrote.
"All of these statements were not only false, they were known by intelligence agencies to be lies at the time. To this day they have not been held accountable," Omar concluded the thread.
According to a Vox article, which Omar also shared, "the best estimates available suggest that more than 250,000 people have died as a result" of the decision to invade Iraq. The Bush administration's fabrications and outright lies to justify the invasion have also been well chronicled and documented. No weapons of mass destruction (WMD) were ever found in Iraq, despite their alleged existence being the primary reason the administration used to justify the war.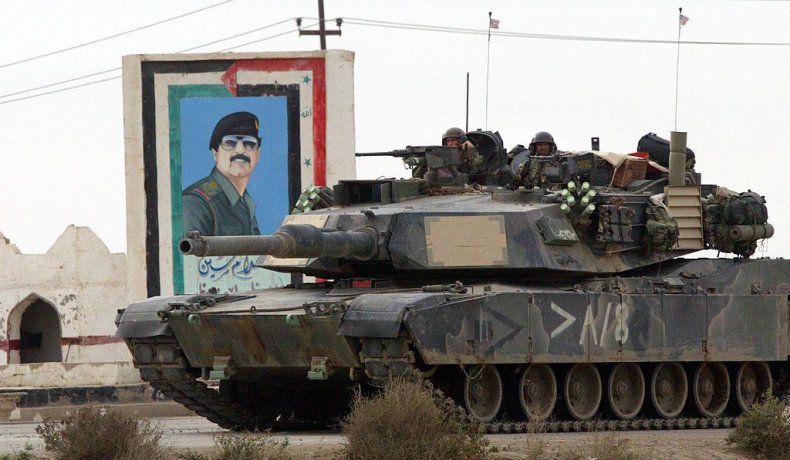 Although former President Barack Obama officially declared the Iraq War had ended in 2011, U.S. troops remain stationed in the Middle Eastern nation. The U.S. also became involved in the fight against the Islamic State (ISIS) extremist group in Iraq and Syria. Although the group now appears to be largely defeated, analysts argue it still poses a significant threat in the region and that the invasion of Iraq directly contributed to its rapid growth.
During his presidential campaign, President Donald Trump was a harsh critic of the Iraq War, and routinely criticized U.S. involvement in costly overseas conflicts. Although he has pushed for a significant reduction of troops in Syria as well as the U.S. withdrawal from Afghanistan, where American troops have been fighting since 2001, he recently said he prefers to keep U.S. forces in Iraq.
"We have an unbelievable and expensive military base built in Iraq. It's perfectly situated for looking at all over different parts of the troubled Middle East rather than pulling up," Trump said in a February interview with CBS News. "One of the reasons I want to keep it is because I want to be looking a little bit at Iran because Iran is a real problem."
The comments drew harsh criticism from Iraq's President Barham Salih, who said American troops were "operating [in his country] based on the agreement between the government of Iraq and the United States for the specific mission of combating terrorism." He also said Iran was a "neighbor," taking issue with Trump's suggestion that the U.S. was spying on the country from Iraq.
Several progressive members of Congress recently signed a pledge put forward by a large group of veterans to end U.S. involvement in a "forever war." Omar and Sanders both signed the pledge and were joined by a group of Democratic lawmakers, which included Senator Elizabeth Warren from Massachusetts, Senator Jon Tester from Montana, Representative Alexandria Ocasio-Cortez from New York, Representative Rashida Tlaib from Michigan, Representative Ro Khanna from California and Representative Mark Pocan from Wisconsin.
"The United States has been in a state of continuous, global, open-ended military conflict since 2001. Over 2.5 million troops have fought in this 'Forever War' in over a dozen countries—including Afghanistan, Iraq, Syria, Yemen, Jordan, Niger, Somalia, and Thailand," said the pledge, put forward by the more than 20,000 member strong group Common Defense.
"The American people do not want endless war," Sanders wrote on Twitter at the time. "Congress must reassert its Constitutional authority over the use of force and responsibly end these interventions."