Bernie Sanders Declares Victory in Iowa Caucuses
Vermont Senator Bernie Sanders declared victory in the Iowa caucuses Thursday despite the close race results while he campaigned in New Hampshire ahead of the primary in that state.
The Iowa caucuses suffered a long delay after a glitch in the app used to report results was only returning partial data. The glitch was fixed, but the Iowa Democratic Party used paper documentation that Iowa caucusgoers used to submit their data to compile accurate data.
During a press conference, Sanders thanked Iowa voters for their support. With 97 percent of precincts reporting, the senator said he led the popular initial vote by about 6,000 votes. During the realignment process, Sanders lead was only by about 2,500 votes, which Sanders acknowledged in his speech.
"When 6,000 more people come out for you in an election than your nearest opponent, we here in Northern New England call that a victory," he said.
Sanders also said the "screw-up" in the caucuses was "unfair" to Iowans, the candidates, and their supporters.When asked whether people should support the Iowa Democratic Party following the caucus debacle, Sanders called it an "outrage," but said he does not think that another issue like that will happen again.
"What has happened with the Iowa Democratic party is an outrage," Sanders told reporters. "That they were that unprepared. That they put forth such a complicated process, relied on untested technology. And also to be honest with you, they have relied on thousands of volunteers, good people who have to get up and go to work the next day to do what is enormously complicated, and I think there is very little doubt that what happened on Monday night, that type of process, that complicated process, that is never ever going to happen again."
The Vermont senator also said that either he or South Bend Mayor Pete Buttigieg will end with slightly more state delegate equivalents (SDEs).
Early results showed Buttigieg leading Sanders in the caucuses, and with 97 percent of precincts reporting, Buttigieg still leads Sanders by SDEs. Still, Sanders said the SDEs were most important to his campaign.
"This difference, no matter who inches ahead in the end, is meaningless because we are both likely to receive the same number of national delegates to the Democratic National Convention in Milwaukee," he said. "I think right now, it's at about 11 each. It'll probably go up a bit. Those national delegates, not the state delegates are the ones that really matter in the nominating process."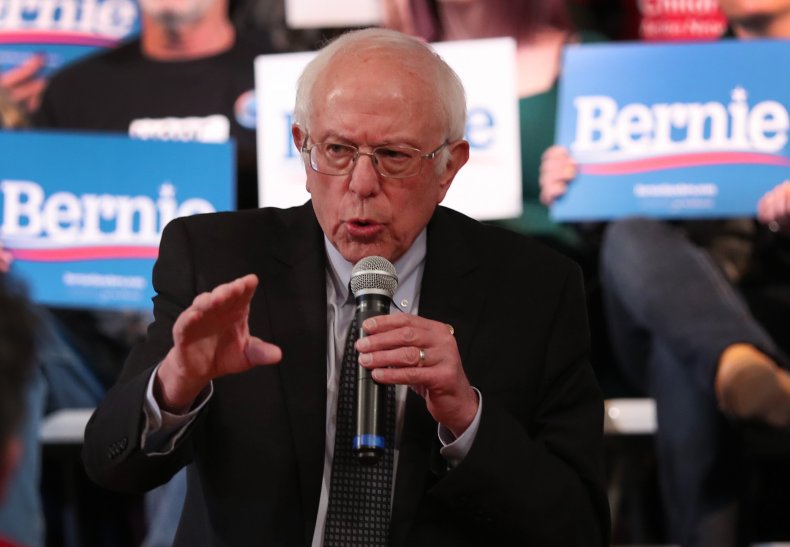 On Thursday, Democratic National Committee chairman Tom Perez called on the Iowa Democratic Party for a recanvass of the caucus results. "A recanvass is a review of the worksheets from each caucus site to ensure accuracy," Perez explained over Twitter.
When asked if he would support a "recount," Sanders said that a recount would not affect his campaign or victory. "We won an eight person election, by some 6,000 votes that is not going to be changed," he said. "What may be changed in this so-called recount is a few SDEs here."