Bernie Sanders Isn't Going Anywhere
Bernie Sanders wants to make one thing clear: He's not done yet.
"Donald Trump must be defeated, and I will do everything in my power to make it happen," the senator declared in a press conference in Burlington, Vermont, on Wednesday afternoon, putting an end to any thoughts that he would drop out of the race after his poor performance in Super Tuesday 2.
The speech, designed to rally his base, opened with a direct line of fire aimed at the president. Sanders started off by calling Trump a "racist, a sexist, a homophobe, a xenophobe and a religious bigot" who "must be defeated."
But the senator did acknowledge his less-than-stellar performance on March 10. As of Wednesday morning, results showed him losing to former Vice President Joe Biden by roughly 150 delegates.
"Last night was obviously not a good night for our campaign from a delegate point of view," Sanders said. But he claimed his campaign was winning two things: the generational debate and the ideological debate.
He also took aim at Biden, whom, he said, he looks forward to debating on Sunday in Arizona. It will be the first time in the race that the two candidates will go head-to-head on stage. The senator spoke as if the debate is more of a test for Biden as he rattled off a list of issues he feels the former vice president is not as strong on.
"Joe, what are you going to do to end the absurdity of the United States of America being the only major country on Earth where health care is not a human right? Are you really going to veto a Medicare for All bill if it is passed in Congress?" Sanders asked.
He also said he intends to ask Biden how he'll handle issues like the climate crisis, college access, student debt, mass incarceration, childhood poverty, immigration and much more.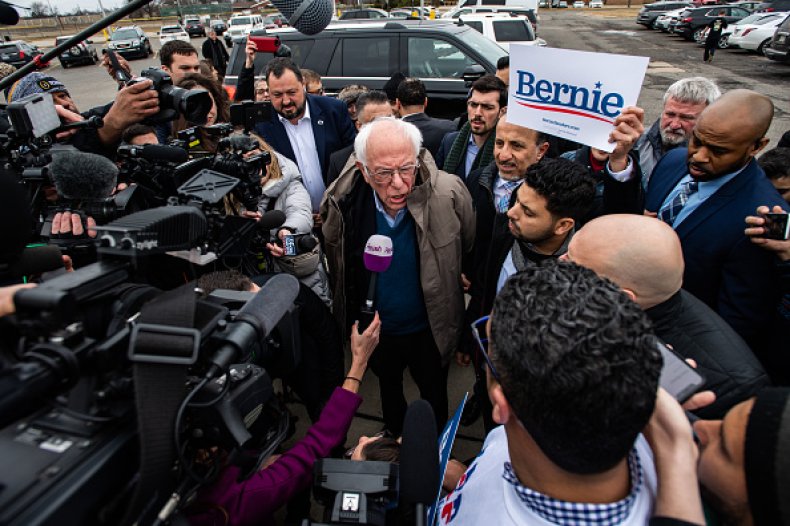 Sanders was once considered a Democratic favorite after winning some early voting states in February. But his campaign has been struggling ever since Biden's surge following decisive victories in South Carolina and Super Tuesday.
The two candidates entered Tuesday separated by only 80 delegates. But the night quickly got away from Sanders after Biden notched three quick, decisive victories in delegate-rich states: Michigan, Missouri and Mississippi. The former vice president also went on to win Idaho, while Sanders picked up a victory in North Dakota. The only state that has not been called is Washington, which has 89 delegates to award. Sanders is currently in the lead there with 67 percent of precincts reporting.
Sanders' loss in Michigan was one of the most disappointing of the night considering he had had an upset victory there in 2016 against Hillary Clinton. The state was seen as make-or-break moment for him, and experts have said it's hard to imagine a path to the White House if he wasn't successful in the area.
But there's still over 2,000 delegates up for grabs, and both candidates are a long way from the 1,991 needed to clinch the party's nomination.
Supporters of Sanders expressed disappointment in Tuesday's results but said that he should continue on in the race, stating that he may be down but he's not out.
Sanders echoed that view on Wednesday, ending his press conference by stating that "Donald Trump must be defeated and I will do everything in my power to make sure that happens."
Biden is currently in first place in the Democratic primary with 823 delegates. He's followed by Sanders, who has 663 delegates. Hawaii Representative Tulsi Gabbard, the only other candidate remaining in the race, still only had two delegates after failing to pick up any more on Super Tuesday 2.
Update: This story has been updated to add Sanders' statements about the upcoming debate and his thoughts about President Donald Trump.
The graphic below, provided by Statista, illustrates the delegate count as of March 11, 6 a.m. ET.