Bernie Sanders Says Jeremy Corbyn is Feeling the Bern Ahead of U.K. Election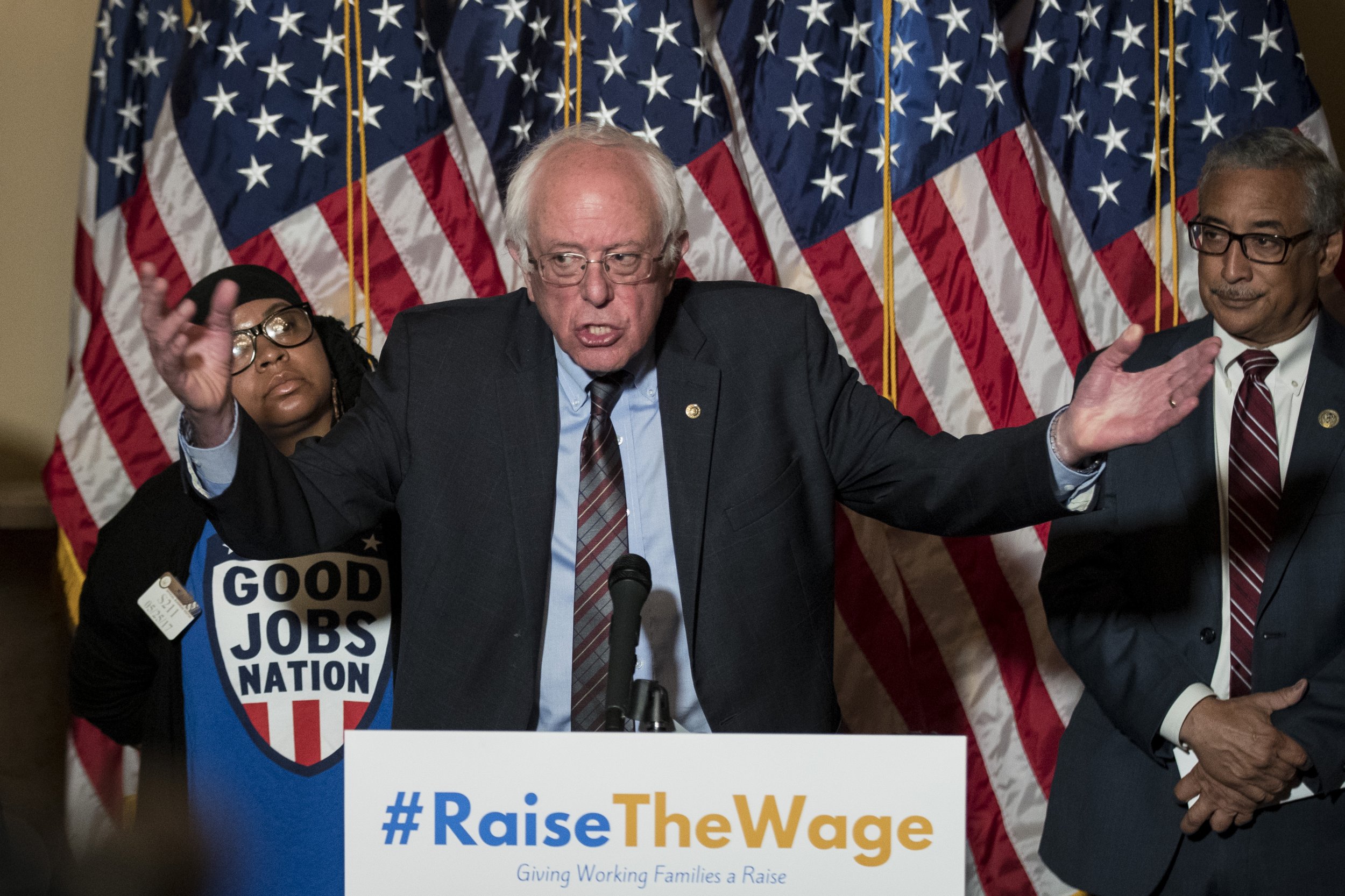 Bernie Sanders has praised Jeremy Corbyn, the leader of the U.K.'s Labour Party, for going "to the grassroots" to transform his party ahead of a British general election on June 8.
The Vermont senator, who was speaking Thursday at a festival in Brighton, southeast England, added that he had been "very impressed" by Corbyn's campaign but declined to give an official endorsement.
"I don't think Jeremy Corbyn needs my advice," said Sanders, The Guardian reported. "I think he is doing quite well. Nor do the people of the U.K. need my advice on who to vote for. I think they understand. But I have been very impressed by the campaign that he has been running and I wish him the very best."
After initial predictions pointed to an easy win for the Conservative party, led by British Prime Minister Theresa May, Labour has clawed itself back into the race. A June 1 poll by YouGov put the Conservative lead at 4 percentage points and predicted that May's party would lose their majority in the 650-seat British Parliament. Other pollsters have estimated a larger gap: Kantar Public published a poll Wednesday that claimed that the Conservative lead had increased to 10 percentage points.
Sanders said he saw "a real similarity" between Corbyn's campaign and his own bid for the Democratic nomination in the 2016 U.S. presidential election, which ultimately ended in defeat to Hillary Clinton.
Read more: Bernie Sanders is far more popular than Donald Trump in Europe, as well as the U.S.
The left-wing senator said he was particularly impressed by Corbyn's focus on class issues. "Too many people run away from the grotesque levels of income and wealth inequality that exist in the United States, the U.K. and all over the world," said Sanders. "We will never make the kind of changes we need unless we take on the levels of inequality that exist."
Sanders is currently undertaking a three-day speaking tour in the U.K. He also spoke in Berlin Wednesday, where he received a warm welcome and slammed Trump for his recent criticisms of Germany.
While he sought to avoid U.K. policy issues, Sanders did say on Thursday that he recognized a similarity between the election of Trump and the U.K.'s decision to vote to leave the European Union.
"What I think Brexit was about was a lot of people who felt left behind by the global economy and their voices and their pain was not being heard," said Sanders. He pointed out that the Democratic party had failed to address this phenomenon in the U.S.
"Trump understood that reality and spoke to that reality. Unfortunately, he lied, but that reality exists. It wasn't so much that he won the election; it was that the Democrats lost the election," said Sanders.
The Democrat is speaking at a sold-out event in London on Friday and will travel to Dublin for a talk on Sunday.