The Bernie Sanders campaign's use of Joe Rogan's endorsement has divided his supporters on Twitter.
Comedian Rogan said on his highly successful podcast that he would "probably" vote for the independent Vermont senator in the Democratic Party's 2020 race, in which Sanders is a front-running candidate.
The Joe Rogan Experience YouTube channel alone has 7.28 million subscribers and the podcast is downloaded tens of millions of times every month.
Rogan is a popular but controversial figure. He is outspoken in his views and does not self-censor, and his choice of guest sometimes reflects this no-holds-barred style.
However, this approach has earned him many fans as well as critics, and his audience is a valuable target for political campaigns trying to win over voters, particularly young ones.
On Thursday the Sanders campaign tweeted a video clip of Rogan giving his endorsement on his podcast with commentator Bari Weiss a few days ago.
"I think I'll probably vote for Bernie. Him as a human being when I was hanging out with him, I believe in him. I like him, I like him a lot," Rogan, who has interviewed Sanders on his podcast, says in the clip.
"Look, you could dig up dirt on every single human being that's ever existed if you catch them in their worst moment and you magnify those moments and you cut out everything else and you only display those worst moments.
"That said, you can't find very many with Bernie. He's been insanely consistent his entire life. He's basically been saying the same thing, been for the same thing his whole life. And that in and of itself is a very powerful structure to operate from."
The campaign's decision to cut a video of Rogan's endorsement and use it divided Sanders supporters.
"I really like Bernie and am disappointed to see the campaign boost Rogan, who has made some very anti-trans comments. I really hope the campaign reconsiders," wrote activist Alexis Goldestein on Twitter, responding to the video posted by Sanders.
The cartoonist Eli Valley tweeted: "Seconded: Rogan can vote for whomever he wants but I don't think the Bernie campaign should be touting a transphobic creep who gives a platform to Nazis."
Another Twitter user responded to Valley: "Rogan has a *massive* audience with idiosyncratic views many of which Sanders can uniquely appeal to among Democrats. It's precisely a piece of the case for why he is stronger against Trump than other Dems. It's playing to win."
Valley replied: "But Rogan already touted Bernie to his massive audience. The campaign didn't need to amplify it on its feed, which isn't directed at Rogan's audience in any event."
Hether Fortune, a musician, tweeted: "Joe Rogan sucks, Bernie's campaign is just using the endorsement to get his message through to Rogan's audience. this is politics 101 folks."
Travis Reilly tweeted: "I'm glad he supports Bernie & hope his right-wing followers do the same. Bernie has good ideas that everyone should support! And I'd rather have Rogan's many, many listeners voting for Democrats than Republicans.
"However, that doesn't make Rogan's transphobic comments or red pill crap okay. Reading up on it now—he's said awful stuff.
"Considering his platform, he has a responsibility to do better. Hopefully the more Joe learns about progressive values the more he'll evolve in the right direction."
Briahna Joy Gray, national press secretary for the Sanders campaign, told Newsweek in a statement: "The goal of our campaign is to build a multi-racial, multi-generational movement that is large enough to defeat Donald Trump and the powerful special interests whose greed and corruption is the root cause of the outrageous inequality in America.
"Sharing a big tent requires including those who do not share every one of our beliefs, while always making clear that we will never compromise our values. The truth is that by standing together in solidarity, we share the values of love and respect that will move us in the direction of a more humane, more equal world."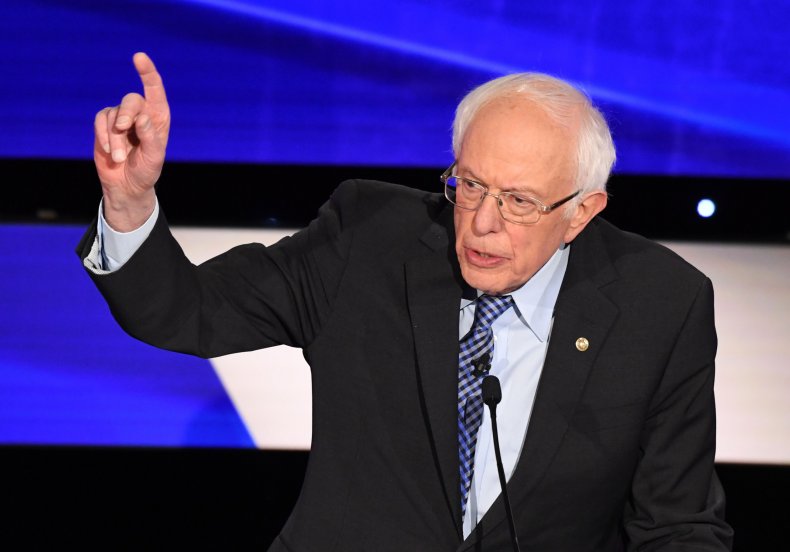 This article was updated with a statement by Briahna Joy Gray.