Elizabeth Warren 'Gaining Ground' at the Expense of Bernie Sanders 'Losing Ground' Ahead Of Debate, Pollster Says
Things look considerably different for senators Bernie Sanders and Elizabeth Warren as they head into the fourth Democratic debate.
Warren, 70, has surged in the polls since the September debate while supporters of Sanders, 78, are wondering if he can keep up his rigorous campaigning for the Democratic nomination following a heart attack earlier this month.
The concerns could shape Tuesday's Democratic debate into a last stand of sorts for Sanders before the Democratic primary for president becomes a two-horse race where recent polling suggests Warren will face former Vice President Joe Biden.
"Bernie Sanders is losing ground and it's coming, I think, at the expense of Warren gaining ground," Florida-based pollster Fernand Amandi told Newsweek on Tuesday.
Warren has surpassed Sanders in various polls for weeks and reached a new high in the Real Clear Politics average of major national polls last week, coming out ahead of front-runner Biden for the first time so far in the race.
A Quinnipiac University poll released two days before the fourth debate showed that only 11 percent of Democratic and Democratic-leaning primary voters would pick Sanders, down from 16 percent on October 8 and September 25, and 15 percent on August 28. Meanwhile, Warren reached a high of 30 percent in the latest poll, up from 29 percent on October 8, 27 percent on September 25 and 19 percent on August 28.
More bad news for Sanders is that a recent CBS News poll of Democrats in early voting states found that 43 percent felt he is "too old to serve effectively as president," while only 4 percent said so about Warren.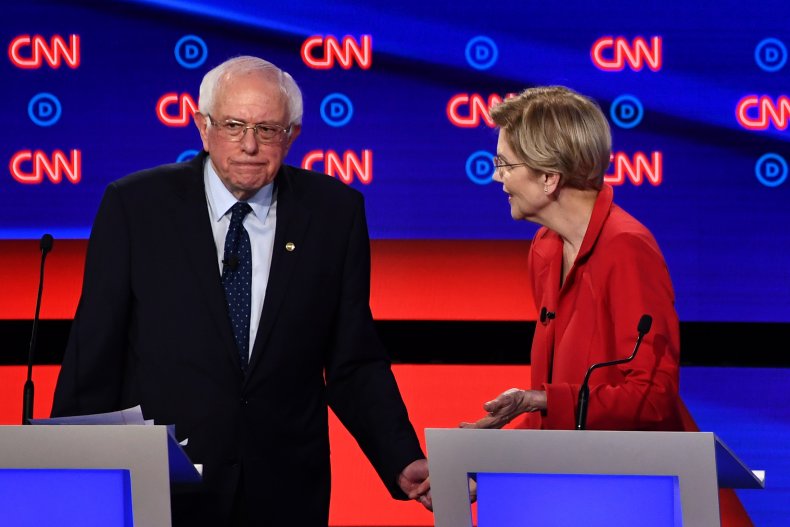 On ABC News' This Week on Sunday, chief White House correspondent Jonathan Karl asked Sanders what he would say to Americans who would choose Warren over him "because she is eight years younger, she didn't just have a heart attack and look, in the positions you're pretty much the same."
"There are differences between Elizabeth and myself," Sanders replied. "Elizabeth, I think as you know, has said that she is a capitalist through her bones. I'm not, and the reason I am not is because I will not tolerate for one second, the kind of greed and corruption, income and wealth inequality, and so much suffering, that is going on in this country today, which is unnecessary."
But apart from Warren's past connections to corporations, ties she has since broken, Sanders' response did not establish much of a distinction between the two progressive Democrats.
While polls have not reflected exactly where Warren is pulling support from, Amandi, a political science lecturer at the University of Miami, said, "I don't think there's any question" that some of it is coming from Sanders' camp.
"Clearly what is moving her support is not just cannibalizing Sanders' base, but also those of some of the other candidates running as well," Amandi said.
The pollster and principal at the public opinion research firm Bendixen & Amandi International added that there are only five or six candidates with a shot at capturing the nomination, and "you could argue it's really down to two or three people, given historical trends and historical positioning."
According to some polls, Sanders is increasingly falling to third behind Warren and Biden.
On Tuesday morning, Sanders tweeted, "We are the strongest campaign to take on Donald Trump," but he will have to stave off Warren's momentum in order to prove it.
The Independent senator has not revealed his strategy for the debate. His options could be to attack Warren for a perceived lack of integrity, such as taking big money donations that set a financial foundation for her campaign, which now fights corporations. Sanders could also criticize what he feels are problems in her capitalist policies, or hope Warren digs herself into a hole.
Democratic strategist Mark Longabaugh, who worked on Sanders' 2016 presidential campaign, told The New York Times that Sanders should have "only one objective in this debate, and that's just to show that he's healthy."
Sanders campaign spokesman Mike Casca told The Times that the Vermont senator "will do what he's always done" and that "the pressure of doing right by the working class on Tuesday night is bigger than any boring conventional wisdom about the importance of his 'performance' pushed by political pundits in D.C."
But Amandi noted that Sanders's candidacy has been "a slow erosion" since announced and "it's hard to see him turning that dynamic around" because he is so well defined among primary voters, whereas many Americans are just starting to discover Warren.
The only thing Sanders can do to position himself in the top two, Amandi opined, is win the Iowa or New Hampshire primaries.
"If he is unable to get either," Amandi said, "He's going to have to come to terms that just like 2016, 2020 might not be his year either."