Bernie Sanders Leads Among Democratic Voters on Who Can Best Unify the Party: Poll
Bernie Sanders is the best candidate to unify the Democratic party as it heads into the 2020 elections, according to a new poll.
The latest survey by Reuters and Ipsos found that a plurality (22 percent) of registered Democratic voters felt Sanders was the primary candidate most-suited to unify the party, putting him two points ahead of Joe Biden.
Independent voters put the Vermont senator and the former vice president neck-and-neck when asked who was best-placed to unify the Democratic party, with both candidates receiving 15 support on the issue.
When polling from both sets of voters was combined, Sanders polled four points ahead of Biden on the ability to unify the party, with 21 percent of Democrats and Independents saying the congressman was best-placed to bring the party together overall.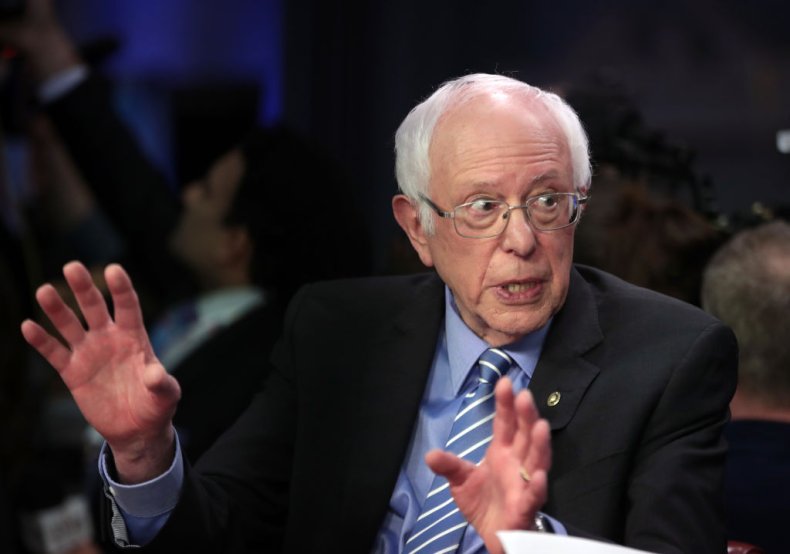 But a plurality of polled voters (22 percent) said they didn't know who was the best candidate on the issue of unifying the party.
The former New York City mayor Mike Bloomberg was considered the unification candidate by 13 percent of polled Democrats and Independents, putting him four points ahead of Sen. Elizabeth Warren (D-Mass.) and former South Bend Mayor Pete Buttigieg, who shared fourth place.
At the bottom of the pile, Sen. Amy Klobuchar (D-Minn.) and billionaire Tom Steyer were viewed as the best candidates to unify the party by 5 percent and 3 percent of those polled, respectively.
A further 2 percent of surveyed voters said "some other candidate" was most likely to bring Democrats together.
Republican voters polled on other issues for the survey were not asked for their view on who would best unify the Democratic party.
The latest Reuters/Ipsos findings came as Buttigieg argued during the Tuesday night primary debate in South Carolina that Sanders would be a divisive nominee.
"If you think the last four years has been chaotic, divisive, toxic, exhausting, imagine spending the better part of 2020 with Bernie Sanders versus Donald Trump," the former South Bend mayor said. "Think about what that will be like for this country."
He later added, "There's a majority of the American people who I think, right now, just want to be able to turn on the TV, see their president and actually feel their blood pressure go down a bit instead of through the roof."
When asked who they would vote for in the Democratic primary election, a quarter of Democrat and Independent voters backed Sanders, giving him an 11-point lead over second-place Mike Bloomberg.
Biden polled in third place with 13 percent of the projected vote, while Warren and Buttigieg came in fourth place having picked up just 8 percent support among those questioned.
The Reuters/Ipsos poll was conducted between February 19 - 25 and surveyed a sample of 4,439 adults—including 1,808 registered Democratic voters and 334 Independent voters.
Pollsters put the survey's margin of error among Democrats at 2.6 percent and 6.1 percent with registered Independent voters.
Bernie Sanders Leads Among Democratic Voters on Who Can Best Unify the Party: Poll | U.S.