Sanders Gets Cool Reception on Christian Campus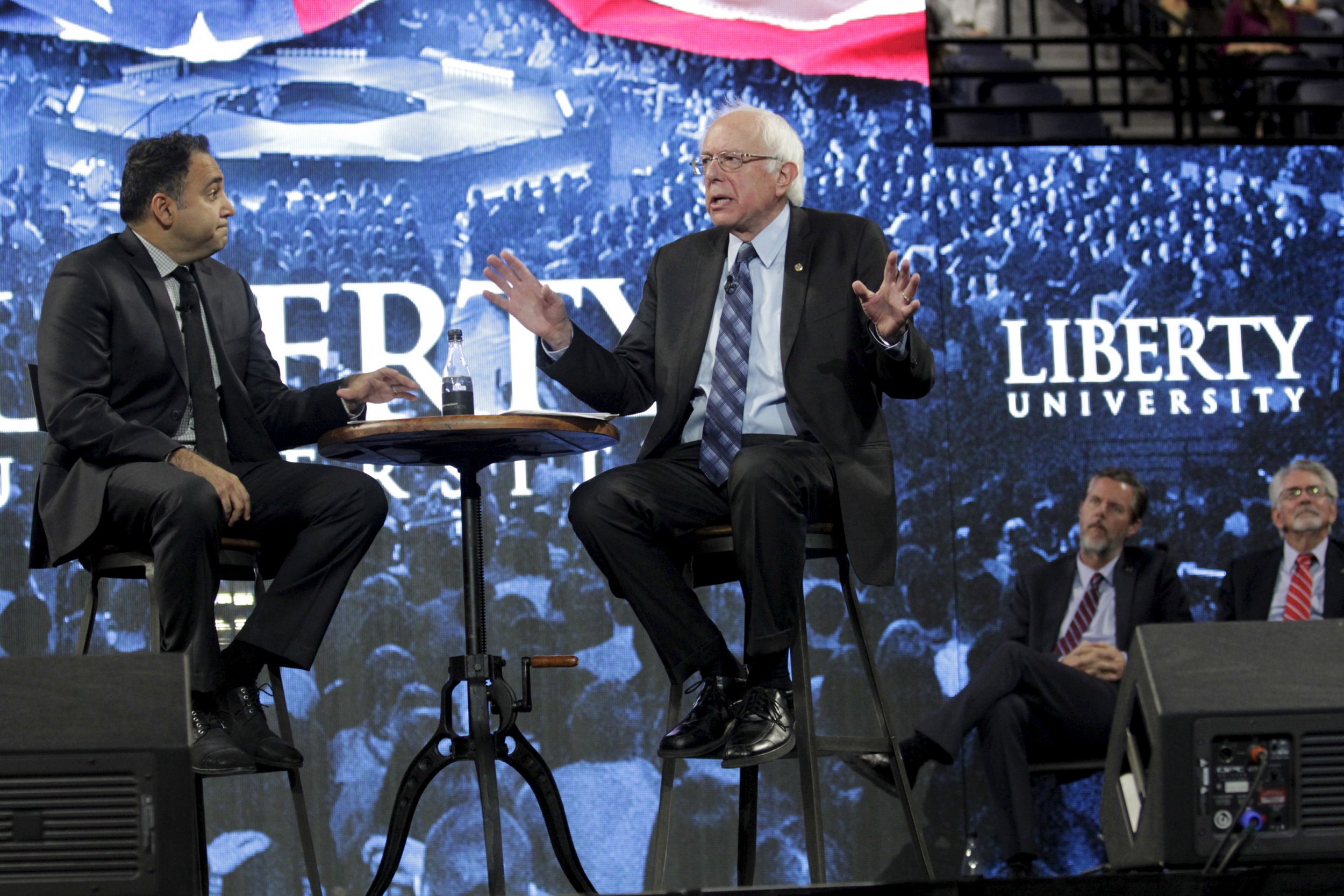 In one of the most unconventional presidential campaigns in memory, Vermont Senator Bernie Sanders made the most unconventional of campaign visits for a candidate seeking the Democratic nomination.
On Monday morning, the self-described democratic socialist appealed to students and faculty at Liberty University, the religious college founded by Jerry Falwell, the conservative religious broadcaster, to join him in what some might call a crusade against poverty and wealth inequality. Based on the respectful but muted response of his hosts—the most raucous cheers of the morning were for a question posed to Sanders about protecting children in the womb, as well as outside it—it's unlikely he won over many followers. But officials at the Lynchburg, Virginia, college expressed warm appreciation for his outreach, a rare moment of comity in a season of hyper-partisanship that only burnishes Sanders's reputation as a renegade.
Still hoarse from speaking to a much friendlier crowd in Greensboro, North Carolina, Sunday evening, Sanders didn't mince words in the Liberty University stadium, right off the bat. "I believe in the right of a woman to control her own body.... I believe in gay rights and gay marriage. Those are my views, and it is no secret," the senator told a mostly silent crowd, save for a few shrill cheers from a small crop of enthusiastic Sanders boosters seated in the front rows. "But," he continued, "I came here today because I believe it is vitally important for those of us who hold different views to be able to engage in a civil discourse."
The senator then launched into his standard condemnation of the country's increasing concentration of wealth in the hands of just a tiny portion of Americans. But he appealed specifically to his audience's commitment to morality and justice to help him combat inequities that leave children in poverty, prevent the sick from getting health care and force working mothers to go back to their jobs only weeks after giving birth because they lack paid leave.
"I am not a theologian, I am not an expert on the Bible, nor am I a Catholic," Sanders observed. "I am just a United States senator from the small state of Vermont, but I agree with Pope Francis, who will soon be coming to visit us in the United States...when he says the current financial crisis originated in a profound human crisis."
As he wrapped up his remarks, he said, "I hope some of you will conclude that if we are honest in striving for an equal and just society, that we have the courage to stand with the poor...and take on very wealthy people."
But the audience didn't appear to be content with simply "agreeing to disagree" on divisive issues like abortion. After remaining polite but unmoved, the crowd awoke when David Nasser, Liberty University's senior vice president for spiritual affairs, pressed Sanders on protecting children who've been born when "children in the womb need our protection even more."
Saying he respected those views, Sanders replied, "I would hope other people respect that painful and difficult choice that many women feel they have to make and don't want the government to tell them what to do."
He added, "I don't want to be too provocative here, but very often a lot of conservatives say, 'Get the government out of our lives.'" Sanders then tried to steer the discussion back to "common ground," issues like budgeting for government programs to feed poor children and provide them with health care. That didn't get nearly the same reception.
The senator has been promising that he would take his economic message to conservatives, and this appearance was part of that. "It is easy to go out and talk to people who agree with you," Sanders, who is Jewish, said in his opening remarks, referring to politicians on the campaign trail.
Liberty University is a frequent host for conservative speakers. Ted Cruz opened his campaign there. Donald Trump, Rick Perry, Sean Hannity, Michele Bachmann, Scott Walker and Ben Carson have all spoken at the school. Nasser explained that the student body at Liberty, which he referred to as "our congregation," aims to create a platform for ideas, with respect for all views.
Liberty is the largest nonprofit private university in the U.S. It bans extramarital sexual relations between students and requires faculty to affirm their Christian beliefs. Just how Christian is it? By way of example, Sanders's speech was preceded by a Christian rock band performing "This I Believe (the Creed)."
The surging Sanders, who is overtaking presumptive front-runner Hillary Clinton in early primary states, according to recent polls, drew a large crowd that included a small contingent of vocal supporters.