When Is Bernie Sanders, Lindsey Graham Debate? Time and How to Watch
Senators Bernie Sanders and Lindsey Graham are set to square off in a debate on Monday. The hour-long event will start at 12 p.m. ET as the Democrat from Vermont and Republican from South Carolina economic policy.
The debate will be moderated by Fox News Channel's Bret Baier and streamed on Fox Nation, a subscription video-on-demand service, with a replay airing on Fox News on June 18 at 7 p.m. ET.
The Bipartisan Policy Center, the Orrin G. Hatch Foundation, and the Edward M. Kennedy Institute for the United States Senate are launching a series of Oxford-style debates between leading U.S. senators.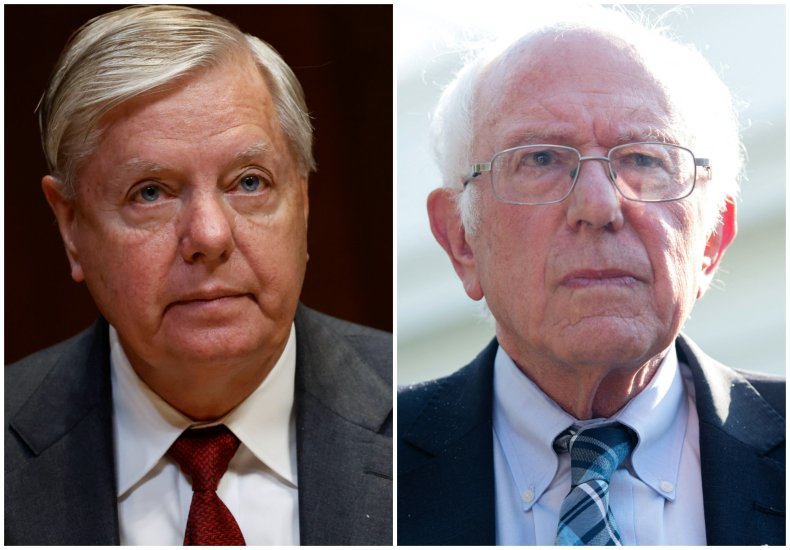 Steve Scully, the senior vice president of communications for the Bipartisan Policy Center, said in a statement that the point of the debate between Sanders and Graham is to reintroduce the culture of seeking common ground and consensus in the Senate.
"We hope it will inspire policymakers to not only make the case for their points of view, but to then work towards the example set by Senator Ted Kennedy and Senator Orrin Hatch for bipartisan bridge-building," Scully said before the debate.
"In describing their relationship, Senator Hatch once said 'When we did agree, everyone turned to get out of the way. They thought if Kennedy and Hatch can get it together, it must be good.'"
Bruce A. Percelay, chairman of the board of the Edward M. Kennedy Institute, offered similar words of political compromise.
"We initiated this idea in response to what is the most serious division in this country in decades," he said.
"It is our hope that this effort will help demonstrate that compromise in the U.S. Senate is actually possible.
Hatch Foundation executive director Matt Sandgren echoed these sentiments.
"The Senate Project is a core component of the Orrin G. Hatch Foundation's central mission: to reinvigorate the civic discourse," he said.
"All too often, network programming, whether on television or online, sows division and contempt among viewers by exaggerating the differences between us.
"But the Senate Project seeks to do the exact opposite. It seeks to forge compromise and consensus while still respecting substantive disagreements that exist between the two parties."
Speaking to publication Roll Call, Graham joked that he agreed to do the debate because he had '"nothing else to do." before adding he thinks the debate will be fun.
Sanders had a more stern comment regarding the debate but also said he would be looking forward to it.
"Democracy in America is under assault from right-wing Republican extremists. There's no question about that. But I look forward to sharp discussion."