Bernie Sanders Pockets $1 Million For Second Year in a Row, Thanks to Book Deals and Political Revolution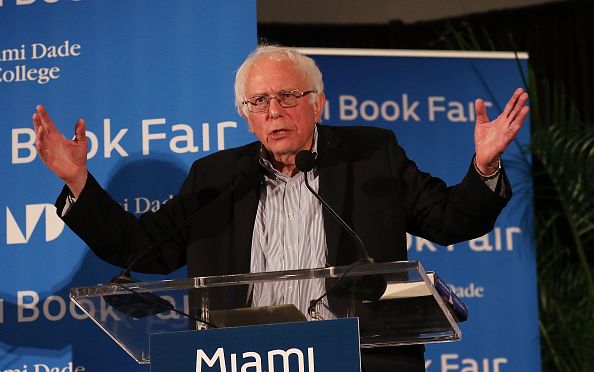 Bernie Sanders made more than $1 million in 2017, making it the second year in a row that the senator has earned a seven-figure income.
The popular independent lawmaker from Vermont has done well for himself since conceding to Hillary Clinton in the Democratic primary.
In 2016, Sanders became a millionaire for the first time largely due to royalties from his book Our Revolution. The book, which shares his personal experiences on the campaign trail and outlines a progressive policy agenda, quickly became a New York Times best-seller and involved a 19-stop book tour across the country.
Along with Our Revolution the senator also penned a young adult book titled Bernie Sanders Guide to Political Revolution, which urged his young voters to participate in progressive political movements.
Then in 2017, Sanders did it again. Financial disclosure reports filed in May show that the senator pocketed about $1.06 million last year. Most of his income, $885,767, came from book royalties and advances as Sanders has another book in the works with Macmillan-St. Martin's Press. The book is titled Where We Go From Here and will be released on October 30.
Historically, Sanders has been one of the least wealthy members of Congress, making little above his Senate salary of $174,000. In 2013, he was the 86th richest senator of the 100-person chamber, according to a report by NPR.
Sanders has long rallied against the nation's "one-percent" and has called income inequality a threat to democracy and "the great moral issue of our time."
When asked if Sanders' increased income undermines this message, the senator's campaign manager Jeff Weavers told VTDigger.com that it was a "pretty ridiculous question" and that the lawmaker "continues to fight for working class people across this country."
It is has not been said how Sanders will use this increased nest egg or if he will donate any of the money to his nonprofit organization Our Revolution, which aims to help progressive candidates get elected to office.
Sanders is currently running for re-election to the Senate in Vermont and is predicted to win easily. But Weavers has hinted that Sanders may be eyeing a 2020 presidential bid.
In an interview with C-Span in late May, Weavers said that while Sanders is focused on the Senate for now he is "considering another run for the presidency."
If he were to go up against President Donald Trump in 2016, polling by CNN show that Sanders is already a leading candidate, beating Trump by a 55-to-42 percent margin among registered voters.