In the Senate Tuesday, Bernie Sanders responded to a counteroffer from Joe Manchin—who will cast a critical vote in the ongoing coronavirus relief negotiations—to raise the minimum wage to $11 per hour.
"We have tens of millions of workers working for starvation wages," the Vermont independent told reporters on Tuesday afternoon. "It is an absolute national disgrace. $15 an hour is not a radical idea."
He added, "A number of states have moved in that direction. Over 60 percent of the American people think that is where we should go. And that's what I want to see."
Congressional Democrats are working hard to keep their $15 federal minimum wage proposal in President Joe Biden's $1.9 trillion stimulus plan. Biden has proposed raising the minimum wage to $15 an hour by 2025 gradually, starting with a jump to $9.50 this year.
There has been widespread debate over whether the minimum wage hike meets the necessary requirements to be passed via reconciliation—a legislative route Democrats are pursuing to pass Biden's COVID-19 relief plan without Republican support. The Senate's Byrd Rule does not allow anything extraneous to be added to a budget bill. It's ultimately up to the Senate parliamentarian to decide what is considered extraneous.
Biden himself has reportedly expressed doubt it can happen, but Sanders and other Democrats have signaled their confidence that the minimum wage proposal will be included in the package. Sanders also said Tuesday he expected to hear the parliamentarian's ruling on Wednesday or Thursday.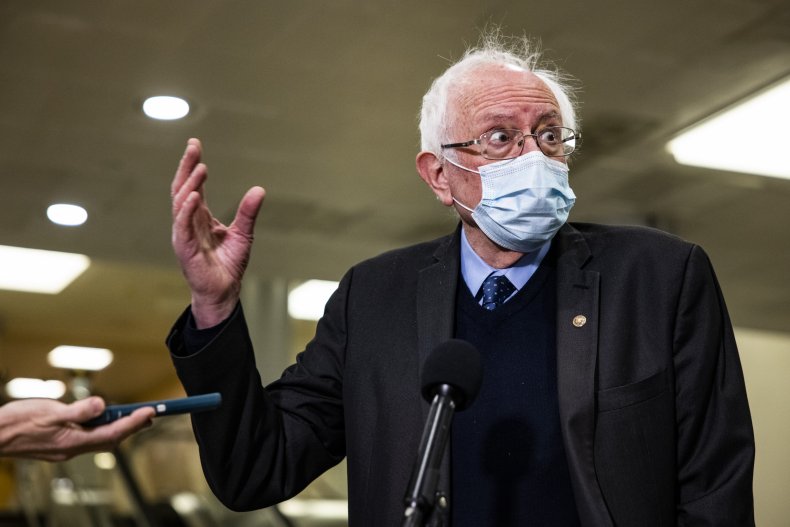 The other problem for Democrats is opposition to a $15 minimum wage from moderate members of their party. Manchin of West Virginia and Kyrsten Sinema of Arizona have both objected to including the $15 minimum wage in the reconciliation bill, though Manchin has offered the $11 compromise.
"$11 is the right place to be," Manchin told reporters on Monday. "Throwing $15 out there right now just makes it very difficult in rural America."
Democrats cannot afford to lose a single member of their caucus in the final vote on the reconciliation bill. They control the 50-50 chamber by the slimmest of majorities, with Vice President Kamala Harris as the tiebreaker.
Senate Majority Leader Chuck Schumer said Tuesday he wouldn't consider a minimum wage less than $15 per hour until the parliamentarian rules whether it can pass through reconciliation.
"The first step is to go before reconciliation before the parliamentarian. That will occur on Wednesday," said the Democratic senator from New York. "Bernie Sanders and I are arguing very strongly for $15 and for it to be reconcilable. We are going to await her judgment before we go any further."
Newsweek reached out to Manchin's office for a response but did not hear back in time for publication.