In Greenwich Village, Washington Square Park Feels the Bern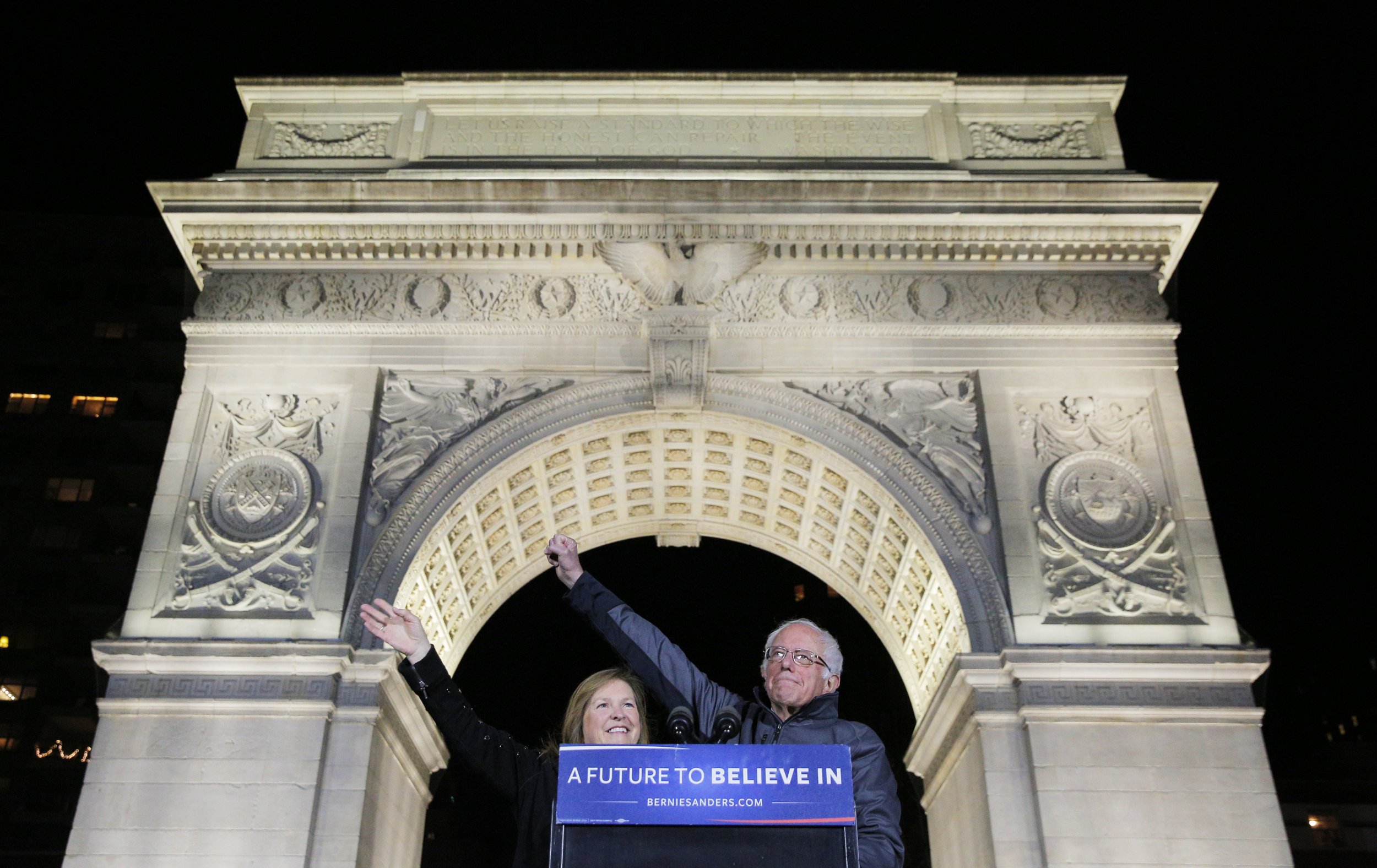 Bernie Sanders ruined at least one person's plans on Wednesday night. A young woman in a purple NYU sweatshirt and black miniskirt was late, clearly—perhaps for class, perhaps for dinner—but the cordon of security that descended on Washington Square Park, where the self-professed socialist running for the Democratic presidential nomination was scheduled to speak in a couple of hours, was impervious to her protestations. Lacking a press pass, she would have to take the long way around. She would be late. But most of the hundreds gathered in the park Wednesday night were happy to be there.
Dozens of NYPD officers barricaded every entrance and managed the line, which stretched from the southeast entrance all the way around the park. Even the line for members of the press spanned an entire city block, from the northern tip of the park to Eighth Street in Manhattan.
The crowd that gathered to hear the senator speak included BDS protesters, activists handing out copies of socialists newspapers, students looking for a way to pass the time ("It's more of a body high," explained one, exhaling acrid smoke) and their parents ("Somebody's smoking dope, George!").
Inside the park, the crowd was predominantly white, but more diverse than the one that came out to hear the senator speak in the Greenpoint neighborhood of Brooklyn last week. Oscar Salazar, 20, a student at Westchester Community College, said he got there at noon and waited five hours to get inside.
The Vermont senator had a star-studded opening act. Rock band Vampire Weekend warmed up the crowd with its hit "Cape Cod Kwassa Kwassa," and frontman Ezra Koenig joked with the crowd. "I know we're down in NYU territory," said Koenig, who went to Columbia, its uptown rival. "But if there's one place to put aside the bourgeois rivalries of private universities, it's a Bernie Sanders rally."
Actor Tim Robbins, actress Rosario Dawson and director Spike Lee also spoke to the crowd before Sanders took the stage.
"I'm here to talk to the Democrats who feel Bernie in their hearts but who support Hillary in their pragmatic side," Robbins said. The crowd booed. "No, no, no, these are not bad people," the actor said, quieting the Bernie Bros. But "Bernie is not the obligatory progressive that will keep the left in line until the presumptive moderate nominee emerges," he added. It was a clear message for Hillary Clinton: Don't take our support for granted if Sanders doesn't win the nomination. The sentiment was echoed by many in the crowd.
Judith Ackerman, 73, a self-described "actress, political activist and raging grannie," wearing a lavender "Free Mumia" baseball cap, said she believes that "Bernie will return the Democratic party to what it was before Kennedy was assassinated by the CIA." And, for her, backing Hillary is a painful proposition. "I need to have a Democrat to select the next justice of the Supreme Court," she said with a sign. "So I don't know, I'm stuck over a barrel."
Ana Verastegui, 41, a social worker who came to the rally with her 7-year-old daughter, Mia, said, "It's Bernie or bust."
"I think Bernie Sanders is a national treasure," said Isabel Madden, a writer. "I wouldn't vote for Hillary Clinton. I would write in Bernie Sanders. I don't trust her, plain and simple. And I'm 68, so I'm a baby boomer just like she is. And it's not true that Bernie Sanders is supported only by young people. Look around here," she said, gesturing at the crowd, which did indeed contain a fair number of older people.
Tristan McQueen, 18, a high school student from the East New York neighborhood of Brooklyn, said he might support Clinton if Sanders doesn't get the nomination, but "it would be so tough."
Sanders's speech was a longer version of the one he delivered in Brooklyn last week. "Our campaign today has the momentum," he said, touting two polls in the past two weeks that show Sanders leading Clinton nationally. Sanders's many attacks against his Democratic rival Wednesday night demonstrate just how critical winning the upcoming New York primary is to his staying in the race. With 247 delegates at stake, the state is a must-win for Sanders, who trails Clinton by around 300 pledge delegates nearly 500 unpledged "superdelegates."
Sanders spoke of "profound differences that exist" between his campaign and that of former Secretary of State Clinton. "You can tell a lot about a candidate from the campaign they run and how they raise the money they need to run those campaigns," Sanders said, citing Clinton's affiliated super PACs and their multi-million dollar haul from the first quarter of 2016.
Sanders also hammered Clinton her closed-door speeches to Goldman Sachs, for which she was paid $250,000 apiece.
He also criticized Clinton for her support of the North American Free Trade Agreement and other free-trade deals, which he said are costing American workers their jobs.
And, of course, he reminded the crowd of Senator Clinton's vote to invade Iraq in 2003. "I not only voted against that war, I led the opposition to that war. She voted for that war," he said.
The senator also used his opposition to fracking to contrast himself with Clinton, who pushed fracking as secretary of state. Sanders promised a fracking ban if elected president.
Sanders spoke for about an hour. After he finished, the crowd filed out, a trail of abandoned banners, signs and other detritus marking their path toward Union Square. None of the denizens of the condos that line Fifth Avenue emerged to watch them pass. And, for all of Sanders's insistence that times are a changin', in Greenwich Village, things continued much as they had.
I don't know if that NYU student ever got to dinner.