Bernie Sanders Says U.S. Must Guarantee Healthcare for All Americans, Touts Medicare-for-All
Senator Bernie Sanders of Vermont said the U.S. healthcare system should no longer be an embarrassment around the world and that it should guarantee medical coverage as a right for every American.
Appearing on ABC News' This Week Sunday morning, Sanders reiterated his calls for Medicare-for-all and told host George Stephanopoulos the time is now to remove private insurance from the Medicare system and replace it with a single-payer program.
Sanders said his Medicare-for-all plan would dismantle former President Barack Obama's Affordable Care Act — which sought to expand Medicaid and keep premiums affordable by requiring that everyone obtain coverage — by creating a government-run, single-payer system that does not include out-of-pocket costs or deductibles for patients.
The 2020 Democratic candidate for president has been pushing for the Medicare-for-all policy since his 2016 run and support of universal healthcare has become a test among left-leaning politicians ever since.
"We need more changes in our healthcare system, you talk about a public option many people will not be able to afford a public option," Sanders said Sunday.
"What the American people have got to decide is one simple question, do we create a healthcare system, guaranteeing healthcare for all people without insurance companies and drug companies making huge profits and distorting healthcare in America? That is the issue," he continued.
Sanders said the Medicare-for-all push ahead of the 2020 election is long overdue and reiterated his frequent accusation that the U.S. should be embarrassed for not offering its citizens guaranteed health coverage.
"By the way, Medicare today is the most popular health insurance program in the country. Private health insurance is not particularly popular," Sanders said. "The United States must end the international embarrassment of being the only major country on Earth not to guarantee healthcare for all people as a right."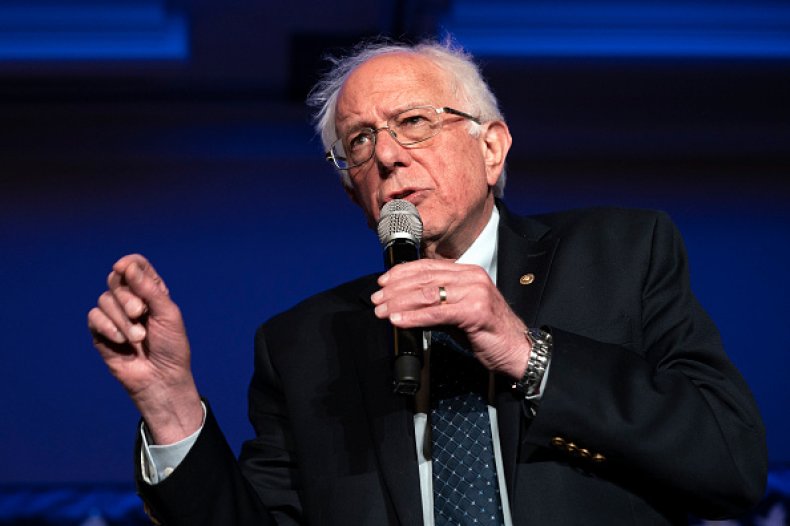 Speaking in New Hampshire last week, Sanders touted his own longtime push for Medicare-for-all, saying the Democratic Party went from labeling the idea "crazy and wild and extreme" to offering it a full embrace.
During last Thursday's 2020 Democratic candidate debate, only California Senator Kamala Harris raised her hand when the 10 presidential hopefuls were asked who, alongside Sanders, would dissolve private insurance in order to implement Medicare for all. But the next day, speaking on MSNBC's Morning Joe, Harris backtracked and said she only supports Sanders' single-payer, government-run insurance plan, but not the elimination of private insurance.
Sanders pushed back against Harris' walking back of her original indication, issuing a statement Sunday about committing to the elimination of private health insurance.
"If you support Medicare-for-all, you have to be willing to end the greed of the health insurance and pharmaceutical industries," Sanders wrote.
"That means boldly transforming our dysfunctional system by ending the use of private health insurance" Sanders wrote. "It is imperative that we remain steadfast in our commitment to guarantee healthcare as a human right and no longer private corporations to make billions of dollars in profits off Americans' healthcare."