Bernie Sanders Goes After Joe Biden With Quiz Comparing Former VP to Donald Trump
Bernie Sanders has jumped on 2020 rival Joe Biden's criticism of his signature Medicare for All proposal by creating an interactive quiz asking voters to guess whether the former vice president, Donald Trump or Mitch McConnell said negative things about the health care plan.
The quiz—Who Said It?—was launched on Sanders' campaign website on Tuesday. It includes six questions, each asking people to match a quote about Medicare for All with the lawmaker that said it.
"Joe Biden is attacking Medicare for All with lies straight out of the playbook of Donald Trump, Mitch McConnell and the health insurance industry. Can you guess who said it?" the website reads.
The first quote to appear in the quiz reads, "Medicare goes away as you know it. All the Medicare you have is GONE." Participants are asked to guess who said it, listing Trump, McConnell, Biden and UnitedHealthcare CEO David Wichmann as options.
"That was Joe Biden," the quiz states. The test then gives a fact-check on the quotation: "Medicare for All expand Medicare to cover everyone and provide the services seniors need most, including dental care, hearing aids, routine vision exams, podiatry, and more."
Similar statements that have been made by Trump and McConnell are also used throughout the quiz to highlight similarities between the former vice president and the top Republicans.
Biden unveiled his 2020 health care plan on Monday, which would essentially preserve and build on former President Barack Obama's Affordable Care Act. The proposal would allow Americans to buy into a public option similar to Medicare that would exist alongside private insurance options.
"I knew the Republicans would do everything in their power to try and repeal Obamacare," Biden said in an email to supporters Monday. "But I'm surprised that so many Democrats are running on getting rid of it."
Sanders quickly fired back at Biden, tweeting that he "fought to improve and pass Obamacare" and "traveled all over the country to fight the repeal of Obamacare."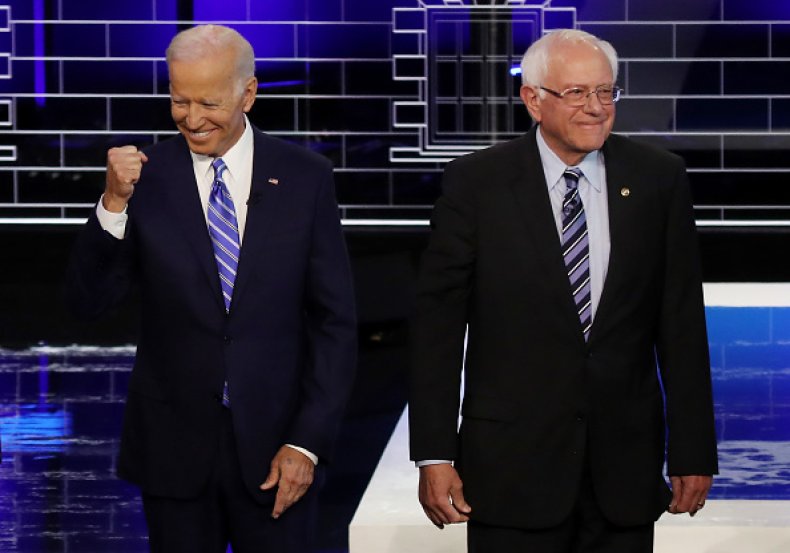 Sanders and Biden have been going back and forth constantly over Medicare-for-All since the first Democratic primary debate in June. Sanders repeatedly had to defend his socialist policies on stage, using his relatively high poll numbers to refute criticism that his proposals are too radical to win over American voters.
"The last poll I saw had us 10 points ahead of Donald Trump because the American people understand that Trump is a phony, that Trump is a pathological liar and a racist and he lied to the American people during his campaign," he said during the debate.
Following the first debate, Biden told CNN in an interview that he believed a more moderate Democratic candidate would have the best chance of defeating Trump in the 2020 general election. The former vice president argued that most liberal voters are "center-left" not "way-left." Biden also swiped at Sanders' universal health care proposal, saying that he has a plan that's "rational" and will "cost a hell of a lot less."
Sanders quickly rebuffed Biden's remarks, tweeting that he is "proud" to work with Ocasio-Cortez to craft the "agenda America needs" and the one that will take down Trump in 2020.
"I'm proud to be working with @AOC and so many other Democrats to pass Medicare for All, debt free college and a Green New Deal. This is the agenda America needs — and that will energize voters to defeat Donald Trump," he wrote.