Bernie Sanders Unveils Medicare for All 2019: Here's Which 2020 Democrats Support Plan and Which Don't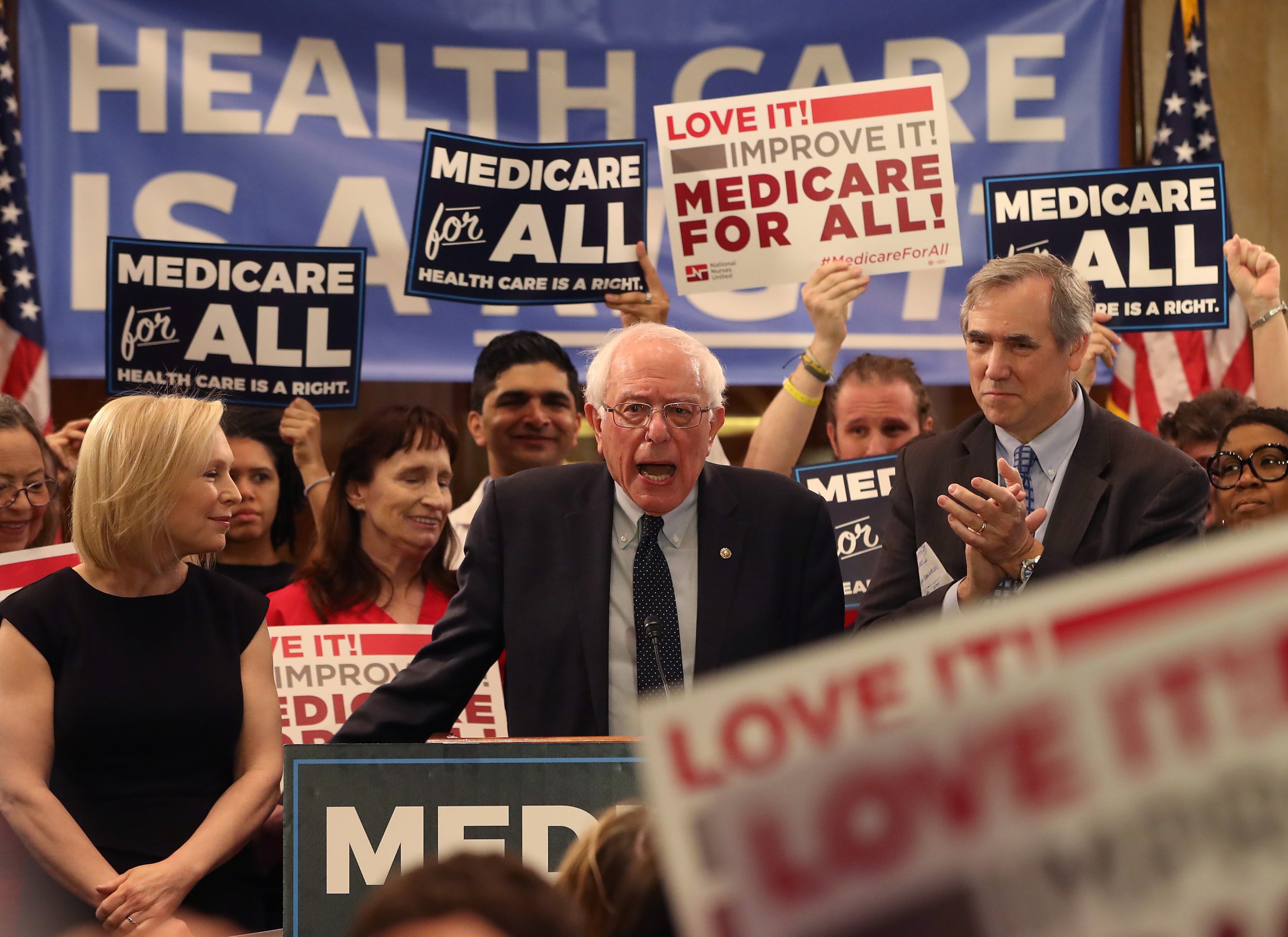 Vermont Senator and 2020 presidential candidate Bernie Sanders launched his updated Medicare for All plan Wednesday morning, just days after President Donald Trump announced his renewed efforts to dismantle the Affordable Care Act.
"This is a struggle for the heart and soul of who we are as American people," said Sanders, who compared the struggle for health care to the civil rights movement. "The American people are increasingly clear: They want a health care system that guarantees health care to all Americans as a right."
Sanders' bill, which will be co-sponsored by 14 senators including four of his fellow presidential contenders—Senators Kamala Harris, Elizabeth Warren, Cory Booker and Kirsten Gillibrand—would work to "get rid of insurance companies and drug companies making billions of dollars in profit every single year," the senator said in an interview with CBS News.
The democratic socialist senator also said the plan would provide free, government-backed coverage to everyone in the U.S. Sanders insisted that the plan was not socialist and that it was similar to programs in Europe and Canada. He also said it would be paid for with ideas like raising taxes on the wealthy, imposing fees on large financial institutions and creating new progressive taxes on employers.
Critics argue that while the program sounds great, it comes with an unrealistic price tag. Estimates put the cost of Medicare for All to be between $25 and $32 trillion over the next decade.
Sanders said that the upfront cost of universal health coverage would eventually be paid off by preventing costly medical expenses down the line.
"What's expensive and what's unsustainable is the current health care system," Sanders told CBS News. "We are spending twice as much per capita as any other nation."
White House press secretary Sarah Sanders spoke out against the plan Wednesday, tweeting, "Democrats just announced their government takeover of health care plan which confiscates every American's private health insurance. Stand with President Trump so America will never be a socialist country!"
But Sanders told CBS News that insurance companies would still exist, but their roles would be limited.
"Under Medicare for All, we cover all basic health care needs, so they're not going to be there to do that. I suppose if you want to make yourself look a bit more beautiful, you want to work on that nose, your ears. They can do that," he said.
"So basically Blue Cross Blue Shield would be reduced to nose jobs?" asked CBS News' Ed O'Keefe.
"Something like that," replied Sanders.
The plan will likely bring the health care debate back to the forefront of presidential race coverage, which could be bad news for Republicans who have not yet crafted their own plan to dismantle the Affordable Care Act, also known as Obamacare.
The question is whether more moderate Democrats will come on board with Sanders' ideas. Although they've co-sponsored the bill, 2020 candidates like Harris and Booker have indicated that they'd be willing to compromise on a comprehensive health care bill.
Here's which 2020 candidates support the plan and which don't.
Senator Cory Booker
In his first press conference as a presidential nominee, Booker had an unclear answer about his position on health care. When asked if he wanted to do away with private insurance, Booker replied that "even countries that have vast access to publicly offered health care still have private health care, so no."
Senator Kamala Harris
Harris has also wobbled on her position. During a CNN Town Hall, Kamala said of private insurance, "Let's eliminate all of that; let's move on."
Later, her campaign backtracked and said they would support other plans as well. "Medicare for All is the plan that she believes will solve the problem and get all Americans covered. Period," Harris' press secretary, Ian Sams, told CNN in late January. "She has co-sponsored other pieces of legislation that she sees as a path to getting us there, but this is the plan she is running on."
Senator Elizabeth Warren
Senator Elizabeth Warren, meanwhile, has said she supports Medicare for All but has so far been vague about how she intends to get there. During her CNN Town Hall, she said that she would work to "get everybody at the table" to "figure out how to do Medicare for all." She also said she pictured insurance companies occupying a "temporary role" in her plan.
Senator Kirsten Gillibrand
Gillibrand has made Medicare for All a major issue in her presidential campaign, and accompanied Sanders to his press conference to announce the bill Wednesday. "Health care should be a fundamental right, and the American people deserve leaders who won't rest until we meet that goal," she tweeted. "I'm proud to co-sponsor Medicare For All as we re-introduce it in the Senate today."
Beto O'Rourke
Beto O'Rourke, one of the 2020 frontrunners, has also offered vague approval of the plan. He has said he approves universal health care but is not campaigning on Medicare for All.
Senator Amy Klobuchar
Klobuchar has been reluctant to sign on to Medicare for All, and instead said the policy was a good discussion-starter around the future of health care. Klobuchar told Anderson Cooper in February that while she did want to see universal health care, there are "many ways to get there." Klobuchar recommended Medicaid and Medicare. And while she said she was happy to look at Medicare for All "as an option," she wouldn't be signing her name to that bill just yet.
Mayor Pete Buttigieg
Buttigieg has said he wants to expand Medicare to those who want it, but isn't ready to part with the idea of private insurers just yet. "The best way to do [expand health care is to make] a Medicare for all who want it," he said during his CNN Town Hall in March. "We take some flavor of Medicare, you make it available on the exchange as a public option. And you invite people to buy into it."
The Rest
Congressman Tim Ryan has said he supports Medicare for All as an option, but is also happy with Obamacare. Former Colorado governor John Hickenlooper has said he supports universal health care but worries about Sanders' plan, he told a crowd it was better to support the general idea and weigh specific options later.