Bernie Sanders' Mittens Steal the Show at Biden's Inauguration
Pictures of Senator Bernie Sanders went viral on Wednesday due to his very Bernie-like attire. When he's not photographed in baggy suits, the senator from Vermont typically wears somewhat frumpy, workmanlike clothes, and at the inauguration of President Joe Biden, his outfit was no different. Sanders was dressed for the weather in a winter coat, but the real stars of the show were his mittens.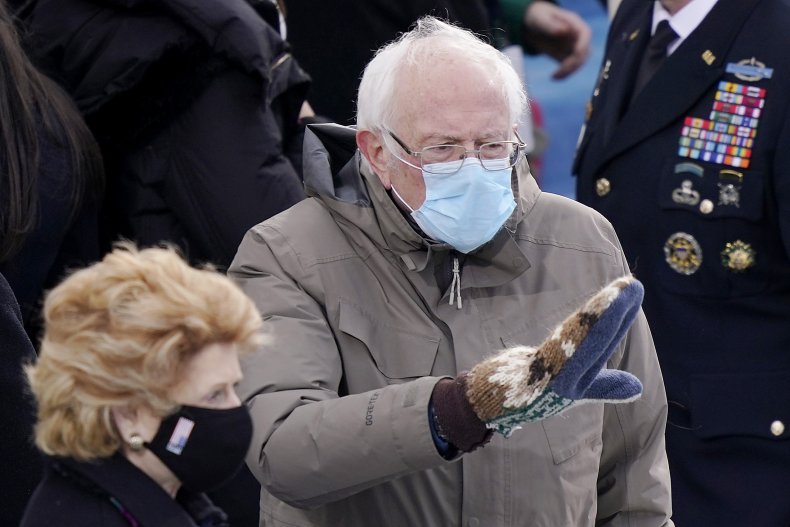 Sanders' mittens quickly caught the eye of viewers, and social media users sought out the manufacturer. But anyone looking to find a company—or even a website—from which they could order the same mittens were left empty-handed. That's because they came from humble origins as a gift to the senator.
Jen Ellis of Essex Junction, Vermont, reportedly made the mittens and gave them to Sanders more than two years ago. Ellis is a second-grade school teacher, and her daughter's daycare is run by Sanders' daughter-in-law, Liza Driscoll. Ellis made mittens for all of the teachers at the daycare a couple of years ago for the holiday season, and included an extra pair for Bernie.
Ellis uses repurposed wool from sweaters for her mittens and lines them with fleece that uses recycled bottles. Last year, she spoke with Seven Days, an independent newspaper in Vermont, after noticing photos online of Sanders wearing the mittens while he was campaigning for the Democratic nomination for president.
"I just put in a little note that was like, 'I believe in you, I've always believed in you and I hope you run again,'" Ellis told Seven Days, discussing how she gave the senator the mittens two years ago. "And now he is running again, and he apparently is wearing the mittens that I made for him!"
After seeing he was wearing them, Ellis sent Sanders' campaign more pairs of mittens to distribute on the trail as a way to show her support. Good luck snagging a pair of the mittens for yourself, though. Ellis mostly sells the mittens at local craft fairs in Vermont or gifts them to friends; however, she noted on her Twitter account last February that she takes requests for orders.
Sanders himself addressed the online chatter about his fashion choices, when speaking with CBS News following the inauguration on Wednesday. He stated that "In Vermont, we dress warm, we know something about the cold, and we're not so concerned about good fashion..."
With all the mainstream attention, she may want to consider expanding her business. Today isn't even the first time the mittens have gone viral. After Sanders wore them on January 18, 2020, at an event called the Women's March in Portsmouth, N.H. the mittens—dubbed by some as "oven mitts"—trended online, and one fan even started a Twitter account for them, with the handle @BerniesMittens.
Fans today were equally enthusiastic about the mittens. Like the one below, who welcomed the change from what she usually sees in her Twitter feed.
Another Twitter user jokingly stated that the real major development on January 20 was the reveal of Sanders' mittens—and that it should now be referred to as "Bernie Mittens Day."
No less than the fashion director and chief fashion critic for The New York Times, Vanessa Friedman, also applauded Sanders on his hand accessories.
For now, those seeking a similar pair of those memorable mittens can look up Ellis via her own Twitter account, where they can find information about how to email her and request their own pair.
Newsweek contacted Jen Ellis for further comment, but hadn't heard back in time for publication.