Bernie Sanders Is the Most Popular Candidate Among College Students, While Donald Trump Is No. 2, Poll Says
American college students have chosen Bernie Sanders as their candidate of choice according to a new Axios/CollegeReaction.com poll, outpacing President Donald Trump, who sits in second place, by 5.2 percent.
Sanders captured 22.5 percent of the approval of those polled while incumbent Trump received 17.3 percent. Senator Elizabeth Warren came in third with 15.9 percent.
Former Vice President Joe Biden, who led the poll with almost 19 percent in April, dropped to fourth place in the most recent poll with 12.3 percent. His ranking in this poll has hovered around 13 percent in each of these polls taken since April.
Entrepreneur Andrew Yang collected 9.3 percent to take fifth place while South Bend, Indiana Mayor Pete Buttigieg came in sixth place with 8.2 percent.
"Buttigieg was the only other candidate to gain more than one point in this poll since October," according to Axios.
Other candidates in the 2020 presidential race came in at under 3 percent in the poll including Senator Kamala Harris who dropped out of the running on Tuesday.
Newsweek reached out to the campaigns of both Sanders and Trump but did not receive a response in time for publication.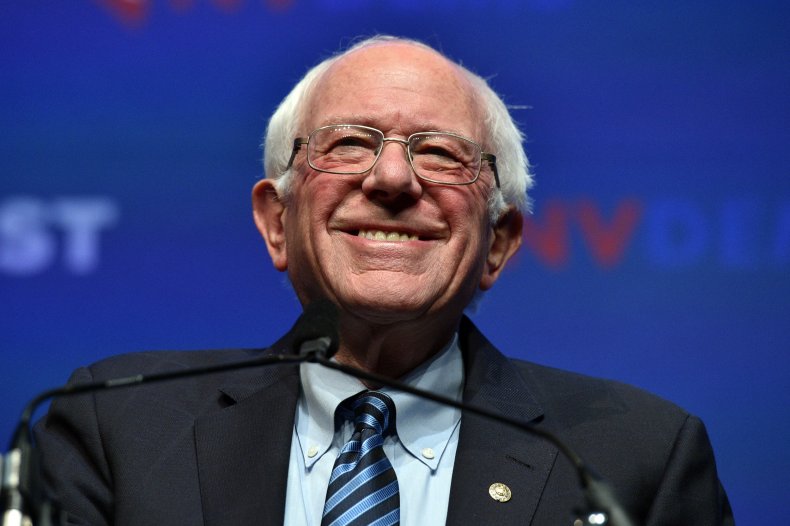 This marks the first time Sanders has taken the lead in the poll. In September, Warren was solidly in the lead with 19.5 percent. However, Warren's poll numbers have declined as of late.
Warren's numbers in this poll echo the November nationwide Quinnipiac poll that also found her in third place with 14 percent of voters throwing her their support. Her dropping poll numbers may coincide with her proposal for how to pay for her Medicare for All plan.
Warren's proposed Ultra-Millionaire Tax would serve to help finance her health plan. "By asking billionaires to pitch in six cents on each dollar of net worth above $1 billion, we can raise an additional $1 trillion in revenue and further close the gap between what middle-class families pay as a percentage of their wealth and what the top one-tenth of one percent pay," the Medicare for All plan reads.
Sanders, however, has said his Medicare for All plan is more "progressive" than Warren's.
"I think we have a better way, which is a 7.5 percent payroll tax," Sanders said to ABC News in November, "which is far more I think progressive, because it'll not impact employers of low wage workers but hit significantly employers of upper income people."
Nationwide, a November poll by Emerson Polling placed Sanders in a tie for first place with Biden with 27 percent approval apiece. Those results prompted Sanders to tweet, "We're going to win."