Bernie Sanders Is the Most Popular U.S. Politician, Even as Some Blame Him for Clinton's Loss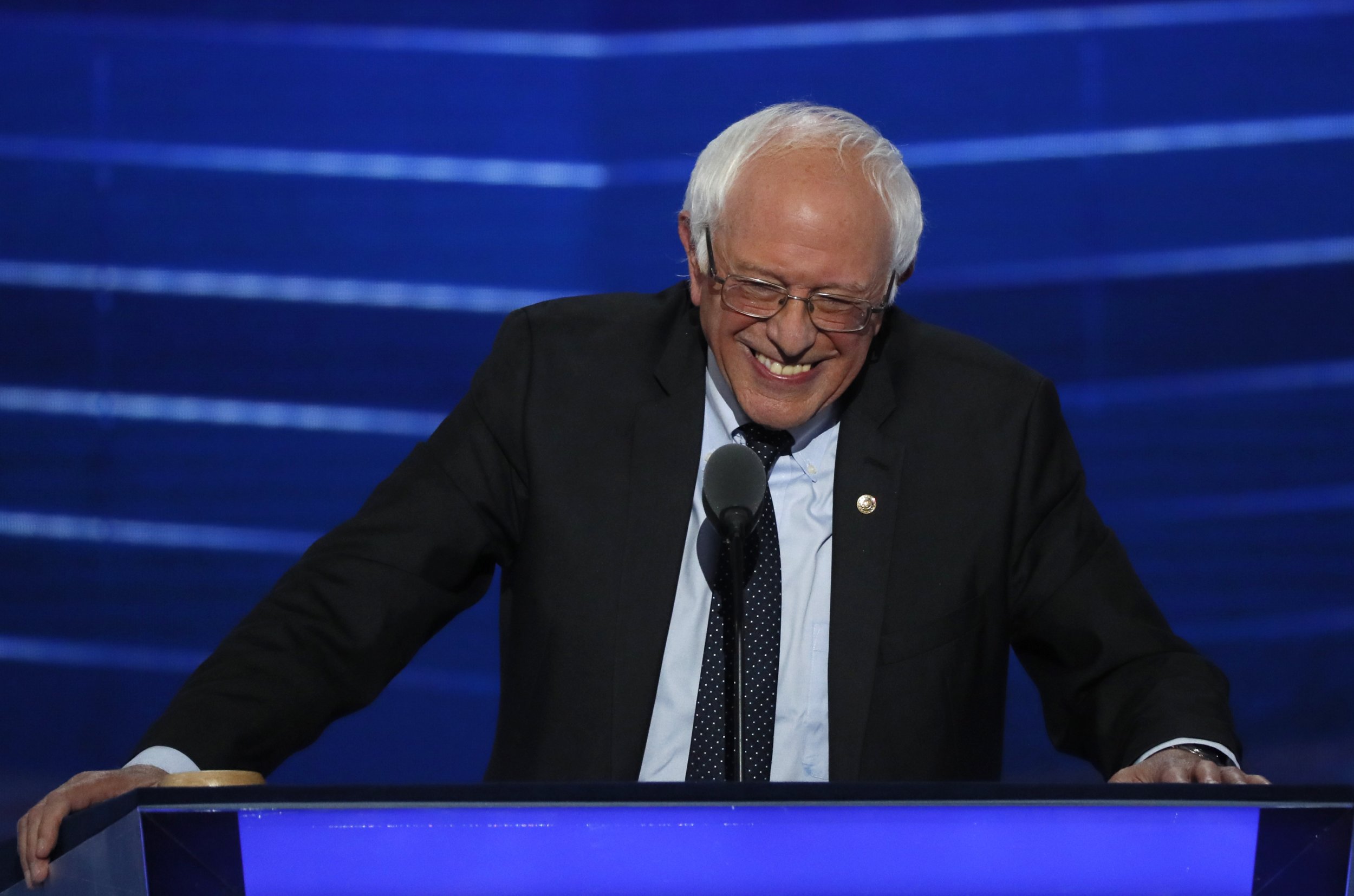 Senator Bernie Sanders is the most popular politician in America, according to a new Harvard-Harris poll. In fact, the Vermont senator and former presidential candidate is the only politician in the U.S. who a majority of voters like.
The poll, which drew responses from 2,263 voters across the political spectrum August 17 to 22, found 54 percent have a favorable view of Sanders, while 36 percent view him unfavorably.
Vice President Mike Pence was the runner-up, with a favorability rating of 44 percent. He was followed by former Secretary of State Hillary Clinton, who had a 42 percent favorability rating, and President Donald Trump, who received a 41 percent favorability rating.
Sanders has been named the most popular politician in the U.S. in previous polls, but it is notable he continues to be the front-runner, even as some in the Democratic Party continue to blame him and his supporters for Clinton's stunning election loss to Trump.
There are many theories regarding why Clinton didn't win, despite her experience and qualifications (and who she was up against). While many might blame it on factors such as Russian election interference, some of her more fervent supporters have insisted on pointing to Sanders as the primary culprit.
Former Clinton adviser Peter Daou, for example, frequently takes to Twitter (even recently) to blame the Vermont senator for the result of the 2016 election.
Is it fair to blame Sanders for the end result of the election? There is evidence, at least, that a significant portion of Sanders' supporters played a big role in Clinton's loss.
According to an analysis of voter data by the blog Political Wire, less than 80 percent of those who voted for Sanders in the primaries voted for Clinton in the general election.
Meanwhile, 12 percent of those who supported Sanders ended up voting for Trump in the end.
In short, it could be argued Sanders voters helped swing the election to Trump.
Meanwhile, the question of whether Sanders did enough to sway his voters to Clinton's side is open to debate.
Despite a contentious primary season and the fact he's not actually a Democrat (he ran for president as one, but he's an independent), Sanders ultimately endorsed Clinton. He was also one of the most vocal supporters of the Democratic Party's agenda after he dropped out of the race.
Moreover, at the Democratic National Convention in July 2016, Sanders asked the delegates to accept Clinton's nomination, which was a highly symbolic move at the time in terms of attempting to bring his supporters to her side. Along these lines, it's arguably unfair for people to point to the Vermont senator as the main catalyst for Clinton's ultimate defeat.
It's also not uncommon for people to defect from one party to another between the primary and the general. In 2008, for example, 24 percent of voters who supported Clinton in the primary ended up voting for Senator John McCain over former President Barack Obama.
Sanders certainly did what he could to present Clinton as far too cozy with Wall Street as they vied for the Democratic nomination. Yet his attacks on her were hardly extraordinary in the context of a U.S. presidential campaign.
Regardless, the fact remains Sanders is the most popular politician in the country, and it could be said Democrats should be doing more to leverage this. He's especially well-liked among millennials, who comprise the largest share of the electorate next to baby boomers, at roughly 69 million eligible voters.
If Democrats hope to do well in the 2018 midterms and beyond, some in their ranks should perhaps consider the negative impact continued attacks on Sanders and his supporters could have on the party's future.