Bernie Sanders Leads All Democratic Candidates in New Hampshire, Poll Shows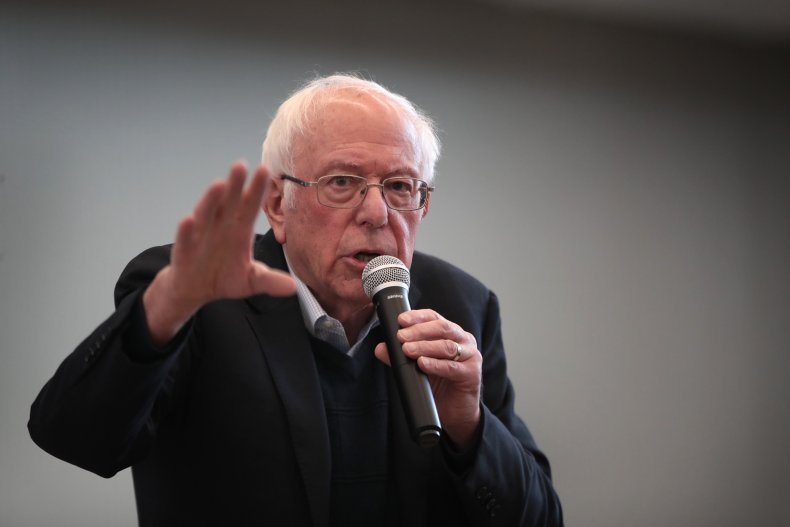 A new Emerson College poll of New Hampshire Democrats has found that Vermont Senator Bernie Sanders is maintaining a strong lead in the Democratic Party's presidential primary race.
Sanders is leading the field in New Hampshire at 23 percent, followed by former South Bend, Indiana, Mayor Pete Buttigieg at 18 percent, and former Vice President Joe Biden and Senator Elizabeth Warren both at 14 percent.
"While Bernie Sanders remains in the lead in New Hampshire, it appears his supporters are doubting that he will be the actual nominee, with only 49 percent expecting him to win the nomination," Spencer Kimball, Emerson College's polling director, said in a press release. "On the flip side, Joe Biden supporters are confident, with 87 percent thinking he will be the nominee."
Senator Amy Klobuchar succeeded Warren at 10 percent, followed by entrepreneur Andrew Yang at 6 percent, Congresswoman Tulsi Gabbard at 5 percent, and billionaire Tom Steyer at 4 percent.
On February 11, New Hampshire will be the second state to decide which Democratic candidate voters prefer to nominate on the 2020 ballot, and it will be the first to do so via primary.
Just days earlier, St. Anselm College in Manchester, New Hampshire, will host the party's eighth primary debate. The Democratic National Committee (DNC) has not yet released criteria for determining who will get to appear on stage. However, the roster will be substantially smaller than the unwieldy 20-candidate performance from last June.
Only six Democrats—all white—managed to qualify for this past Tuesday's debate in Iowa underneath the DNC's ever-tightening standards, which include unique donor thresholds and poll number minimums.
The Emerson poll, released Friday, found that Sanders has maintained his lead among younger voters, earning the support of 28 percent of Democratic primary voters under 50. Buttigieg and Warren, who garner the next-highest share of support from younger voters, were tied at 15 percent.
Biden's overall support is cut in half when narrowed to younger voters only. However, among voters 50 and older, Biden leads with 21 percent.
As the candidates have sparred in recent weeks over contentious policy issues that have deepened ideological rifts within the party, Democratic primary voters in New Hampshire made clear that Sanders is the preferred candidate on many of these disputes.
The Vermont senator earned the highest show of support—at 35 percent—on the question of which candidate has the best approach to healthcare. Despite Warren having the most proximate healthcare plan to Sanders, she only garnered the support of 12 percent of primary voters on this question. Healthcare was chosen as the single most important policy issue to voters in the Emerson survey.
At 23 percent, Sanders also led the field on the question of which candidate has the best plan to bolster the economy. Warren followed closely behind with the support of 20 percent of the field.
On foreign policy, however, it was Biden who was far and away voters' chief preference, earning the endorsement of 36 percent of the primary electorate.
As the party establishment continues to debate how reformist its ideas and proposals should be, New Hampshire Democrats are indicating that the 2020 race should not serve as a moment for the party to moderate its positions.
Sixty-nine percent of New Hampshire Democrats said that the party should either stay where it is on policy issues or move to the left. Fewer than one in five believes the party should shift its views to the right.
While Democrats in the state may believe in the inevitability of Biden's nomination, Sanders and the former vice president perform almost identically in head-to-head match-ups against President Donald Trump. A recent Morning Consult survey found that Biden would beat Trump in the popular vote by five percentage points, while Sanders would defeat the president by four percentage points.
The Emerson College poll was fielded from January 13 to January 16, and has a credibility interval of 3.8 percentage points.