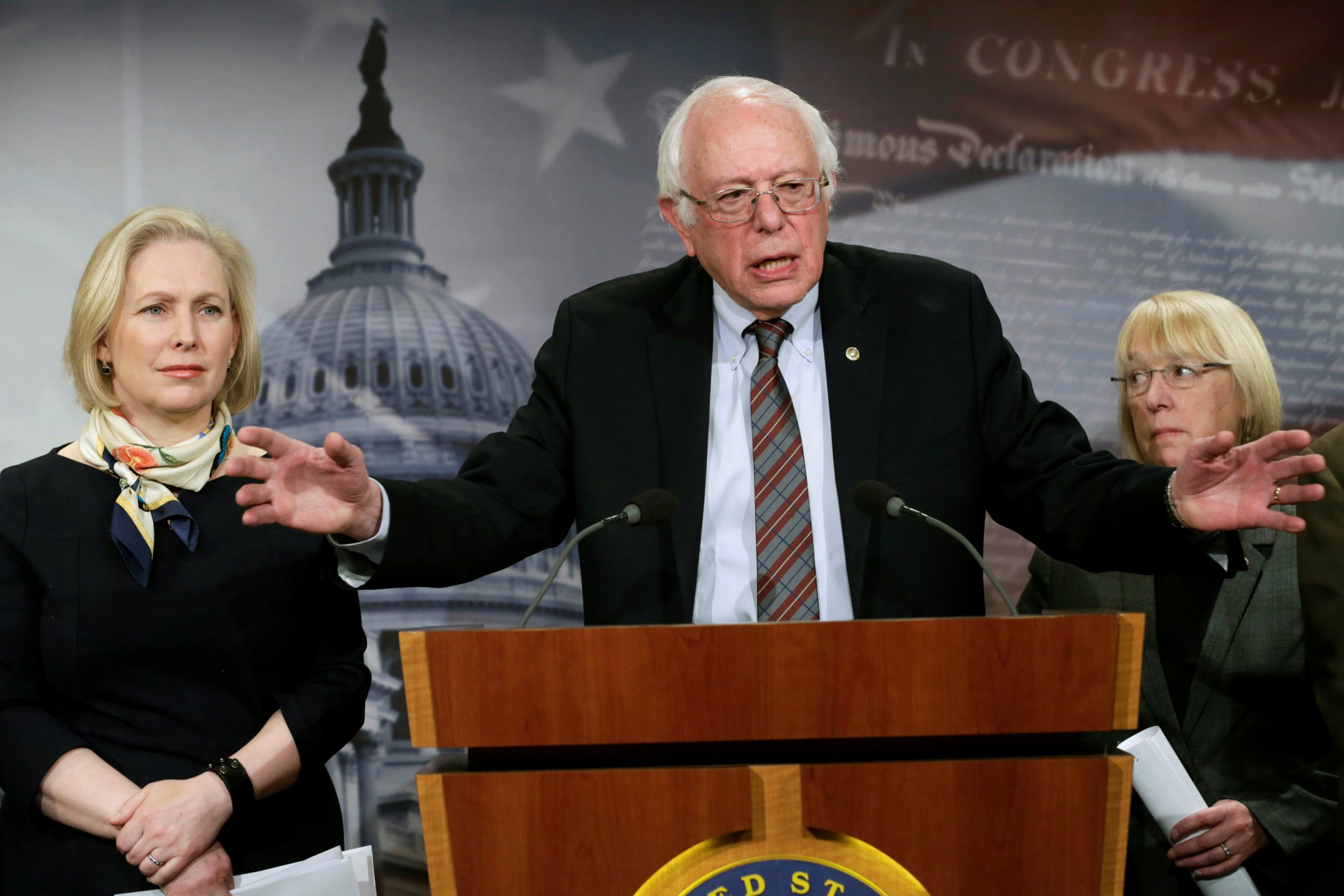 Vermont Sen. Bernie Sanders was defeated in last year's Democratic primary, but his impact on the party could be felt in the 2018 midterm elections. Several groups of former Sanders campaign staffers are ready to put up primary challengers to run against establishment Democrats next year, according to a report released Monday from NBC News.
Frustrated by a perceived lack of change in the Democratic Party following its crushing loss in the 2016 presidential election and in the House and the Senate, some on the left of the party have already been issuing threats against party incumbents.
Two groups of one-time Sanders aides, Justice Democrats and Brand New Congress, this week joined forces ahead of the midterms.
"The point is, we've watched this party over the last decade lose over 1,000 seats, lose a national election to the least popular nominee in history, Donald Trump, and now we've seen poll after poll showing the Democratic Party less popular since election day," Brand New Congress' Corbin Trent told NBC News. "What we think is, the American people are ready for a new direction."
Trent's group states on its website that it will put more than 400 candidates forward in 2018 in an effort to "pass an aggressive and practical plan to significantly increase wages, remove the influence of big money from our government, and protect the rights of all Americans."
Another group of Sanders staffers, #WeWillReplaceYou, announced last month that it planned to fund primary challengers to Democrats.
Despite his loss, Sanders has remained a prominent voice on the national stage. A Fox News poll released last week showed him to be the most popular political figure in the United States, with a favorability rating of 61 percent.
Following the election, the independent senator was welcomed into the ranks of the Democratic leadership by Senate Democratic leader Chuck Schumer. Still, Sanders himself has expressed frustration with what he perceives as the party's stagnation and its failure to learn from its 2016 losses.
Last month, Sanders ally Keith Ellison lost the race for the leadership of the Democratic Party to former Labor Secretary Tom Perez. And when asked by The New York Times earlier this month what the Democratic Party stood for, Sanders struggled to provide an answer.
"You're asking a good question, and I can't give you a definitive answer," he said. "Certainly there are some people in the Democratic Party who want to maintain the status quo. They would rather go down with the Titanic so long as they have first-class seats."