Bernie Sanders Surges to Nine Point Lead Over Biden in Iowa a Week Before Caucus: Poll
Bernie Sanders is going into the Iowa caucus next week with a nine point lead over second place Joe Biden, according to a new poll.
The Iowa Emerson College survey of Democratic and Independent state voters between January 23 and January 26 found that 30 percent backed Sen. Sanders while just 21 percent supported the former vice president ahead of the February 3 caucus.
Minnesota Sen. Amy Klobuchar and her Massachusetts colleague Elizabeth Warren came in third and fourth place with 13 and 11 percent support respectively.
Fifth place Pete Buttigieg was the only other candidate to hit double figures support, with 10 percent of respondents leaning toward the former South Bend, Indiana mayor.
Sen. Sanders' lead in the latest Emerson College Iowa poll puts him eight points up on his December performance in the same survey. By comparison, Biden and Buttigieg have seen their numbers plunge by two and eight points respectively.
Among Iowa voters under 50 years old, Sanders commands 44 percent support according to the Emerson poll, giving him a 34 point lead over Warren.
But Hawkeye State voters over 50 were found to favor Biden, with 32 percent saying they would back the former vice president while 18 percent weighed-in behind Sanders.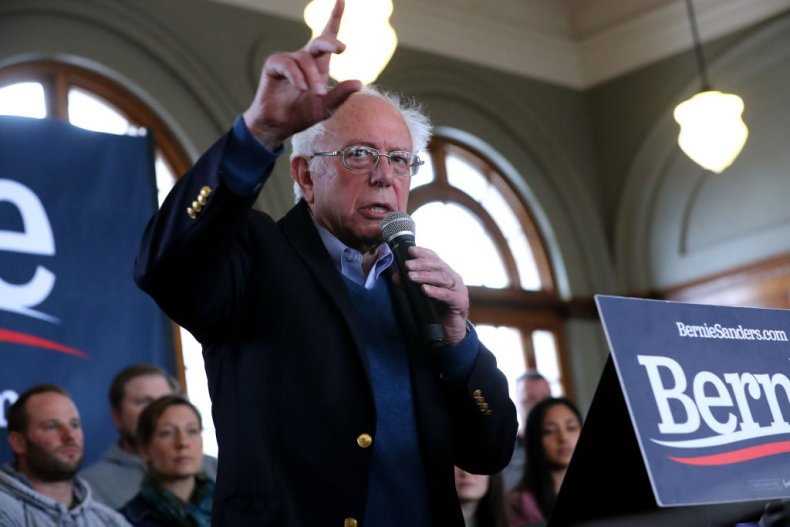 "Younger voters have coalesced around Sanders, but older voters seem to be having cold feet on Mayor Pete and are taking a serious look at Amy Klobuchar," Emerson College Polling director Spencer Kimball said in a release. "This is Pete's lowest level of support since he surged onto the Iowa stage in March."
He also pointed out that only two candidates had topped 15 percent support among party voters in the state.
"This means that at the caucus, the second and third-tier candidate supporters will have an impact on the eventual winner, even if the winner is not their first choice," Kimball added. "There is still over a week until the Caucus and as we saw in 2016 with Trump ahead a week out but losing the final vote to Cruz, that is enough time to see significant changes in the race."
The latest Emerson College Iowa polling data is built on a survey of 450 voters and has a 4.6 point margin of error, according to the pollsters.
A little under two-thirds (62 percent) of respondents said they were definitely going to vote for their favored candidate. The remaining 38 percent said they were open to changing their minds.
Sen. Sanders' backers were found to be the most set on their choice (69 percent), with Biden and Warren supporters just one point behind. The Iowa base of Klobuchar was found to be less solid, as only 43 percent told pollsters they would definitely vote for the Minnesota senator.
When asked for their second choice preferences, the majority of Klobuchar backers said they would move over to Buttigieg and Biden.
Real Clear Politics' average of Iowa caucus polling puts Sanders and Biden almost neck-and-neck heading into the first nominating contest, with the Vermont senator commanding a one-point lead over the former vice president.
The FiveThirtyEight Democratic primary forecast puts the two candidates at an even tie in the Hawkeye State, with both projected to win 27 percent of the vote on average.