Fear, Hatred and un-American: Bernie Sanders, Alexandria Ocasio-Cortez Ridicule Trump's Address
President Donald Trump's roughly 8-minute speech from the Oval Office Tuesday night advocating for a southern border wall because of an ongoing "crisis" was immediately followed by several high-profile Democrats offering their own rebuttals.
In addition to the joint rebuttal given by Democratic leaders Speaker of the House Nancy Pelosi and Senate Minority Leader Chuck Schumer, in which Schumer said "we don't govern by temper tantrum," Independent Senator Bernie Sanders of Vermont delivered live remarks on his social media accounts.
The self-described Democratic-Socialist and former presidential candidate slammed the president for speaking on an "emergency and crisis that he himself created." The government shutdown stalemate, which could soon eclipse all previous shutdowns and become the longest in American history, is over Trump's demand for $5.7 billion in border wall funding. The demand came only after the GOP-controlled Senate passed a spending bill last month that did not provide money for the wall, causing many to briefly think Congress would avert a shutdown.
"Sadly, what President Trump is trying to do is create fear and hatred in our country," Sanders said. "Instead of trying to bring us together as a people, he is trying to divide us up."
Sanders suggested the real "crises" and "national emergency," terms the president has used when threatening to order a national emergency declaration, were the immmigrant families who were separated after illegally crossing the border under the administration's "zero tolerance" policy, the lack of immigration reform, wealth inequality and those without adequate health care.
Sanders, similar to what many Democrats have said, added the country did not need to "waste billions of dollars on a wall."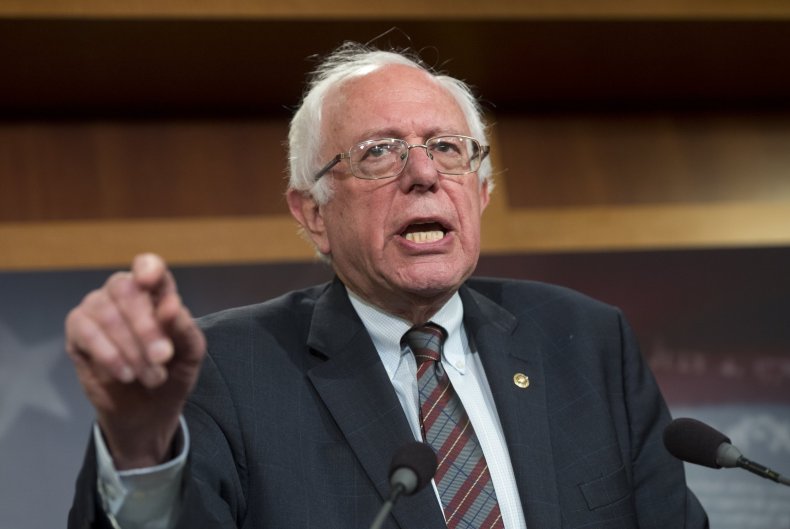 The freshman congresswoman from New York, who received the endorsement of Sanders on the campaign trail, Democrat Alexandria Ocasio-Cortez, took to MSNBC's The Rachel Maddow Show to respond to Trump's Oval Office address.
"The one thing that the president has not talked about is that he has systematically engaged in the violation of international human rights on our border," she said.
Like Sanders, Ocasio-Cortez pointed to the president's former child separation policy. She also referred to two young migrant children who died in the custody of U.S. Customs and Border Protection last month after being detained with their parents for illegally crossing the southern border.
"Those women and children trying to come here with nothing but the shirts on their back to create an opportunity and to provide for this nation are acting more in an American tradition than this president is right now," Ocasio-Cortez said.
The president's address, which featured many of the same talking points that he, his administration officials and top Republican leaders have used since the government shut down more than two weeks ago, called the southern border "a crisis of the heart and a crisis of the soul." His speech aired on NBC, ABC, CBS, PBS, Fox, MSNBC and CNN.
"Some have suggested a barrier is immoral. Then why do wealthy politicians build walls, fences, and gates around their homes?" Trump questioned. "They don't build walls because they hate the people on the outside, but because they love the people on the inside. The only thing that is immoral is the politicians to do nothing and continue to allow more innocent people to be so horribly victimized."
The president did not mention the roughly 800,000 federal workers who are being forced to forgo paychecks as a result of the partial government shutdown.
Trump also made several false or misleading claims, some new and some old.
He said the "southern border is a pipeline for vast quantities of illegal drugs, including meth, heroin, cocaine, and fentanyl," but failed to specify that the majority of drugs come through legal ports of entry and would not be stopped by a wall.
In addition, Trump claimed that "at the request of Democrats, it will be a steel barrier rather than a concrete wall."
Drew Hammill, Pelosi's deputy chief of staff, told Newsweek in an email that claim was untrue.
The president also falsely said, as he's repeatedly done, that "the wall will also be paid for, indirectly, by the great new [United States-Mexico-Canada Trade] we have made with Mexico." The revamped NAFTA trade deal does not pay for the wall, and such a claim has been labeled as false by numerous outlets, including PolitiFact.
Congressional leaders will again meet with the president on Wednesday, in hopes of finding a spending solution to end the government shutdown.