Bernie Sanders Passes Joe Biden for Top Democratic Candidate in 2020: New Poll
Senator Bernie Sanders has taken the lead nationally in the run for the Democratic presidential nomination, surpassing longtime frontrunner former Vice President Joe Biden in a new survey from The Economist/YouGov.
The poll, released on Wednesday, shows Sanders with 22 percent support among likely Democratic primary and caucus voters—an increase of 3 percentage points from a similar Economist/YouGov poll conducted last week.
Biden, meanwhile, experienced a 5-point drop in the poll. He slipped from first place with 18 percent of voters saying they'd back his White House bid. Rounding out the top three candidates was Massachusetts Senator Elizabeth Warren, who captured 15 percent support.
The survey suggests that Sanders is benefiting from his performance in the first-in-the-nation Iowa caucuses. While he was narrowly defeated in the delegate count by former South Bend, Indiana, Mayor Pete Buttigieg, he won the popular vote by netting support from roughly 6,000 more caucus-goers.
After his strong showing in Iowa, Sanders told supporters in New Hampshire that his team is "the strongest campaign to defeat the most dangerous president in modern American history."
Sanders followed his positive Iowa performance with a win in the New Hampshire primary on Tuesday, defeating the rest of his Democratic rivals by 2 percentage points. The Economist/YouGov survey showing Sanders rise nationally was conducted before the results of the New Hampshire primary were released.
The poll surveyed 1,500 registered voters from February 9 to February 11. The margin of error for the survey is plus or minus 3 percentage points.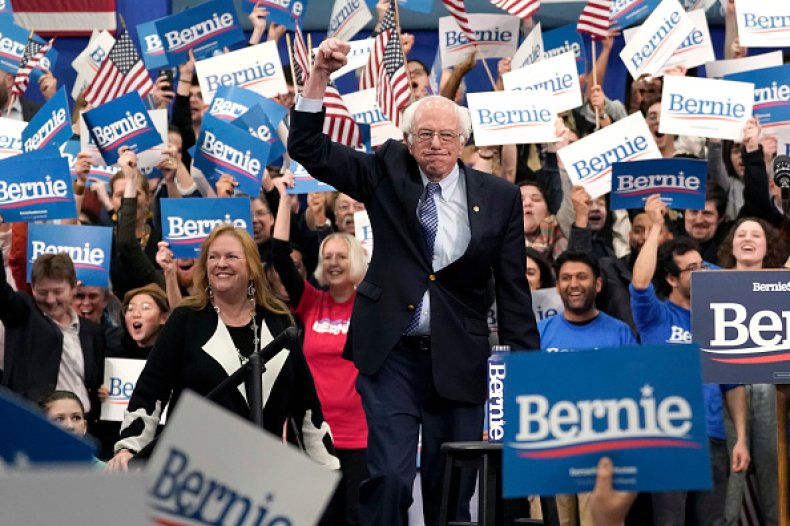 The poll also showed that Sanders was the top second choice candidate for voters considering more than one contender in the 2020 race. Ten percent of registered voters say the 78-year-old senator would be their second option.
Warren and Buttigieg were also high on the list for voters open to more than one candidate. Nine percent of those polled said the Massachusetts senator would be their second choice, while 8 percent said Buttigieg would be their backup pick.
Buttigieg has emerged as a top rival for Sanders so far in the early-voting primary fight. Buttigieg came in second in New Hampshire's primary, losing to Sanders by only 3,600 votes in a state that Sanders won by over 20 percentage points in 2016.
Buttigieg told MSNBC on Wednesday morning that unlike Sanders, he can offer a "unified" Democratic front to take on President Donald Trump in the general election.
"There's going to be a very clear choice here. Senator Sanders who I respect.… He's got an approach that says you're either for a revolution or you got to be for the status quo. Most people don't see where they fit in that message," Buttigieg said.