Could It Be Bernie Sanders? Vermont Senator in Second Place As 2019 Ends
Democratic presidential candidate Senator Bernie Sanders of Vermont is the clear second place contender for the party's nomination as 2019 draws to a close, with an aggregate of national polls showing him several points ahead of progressive rival Senator Elizabeth Warren of Massachusetts and double digits above Mayor Pete Buttigieg of South Bend, Indiana.
The Real Clear Politics average of national polls through December 19, showed former Vice President Joe Biden with a commanding lead, as he held 27.8 percent of support among Democratic primary voters. Sanders followed with 19.3 percent, while Warren lagged about 4 points behind with 15.2 percent and Buttigieg trailed in the single digits with just 8.3 percent. Notably, former New York Mayor Michael Bloomberg, a billionaire who entered the race just last month, is polling at 5 percent, in fifth place overall.
Candidates have begun vying to take an early lead as the nomination process officially kicks off with the Iowa caucuses on February 3, followed by the New Hampshire primary on February 11. In both states, Sanders appears within potential striking range of clinching the most delegates ahead of the Democratic National Convention.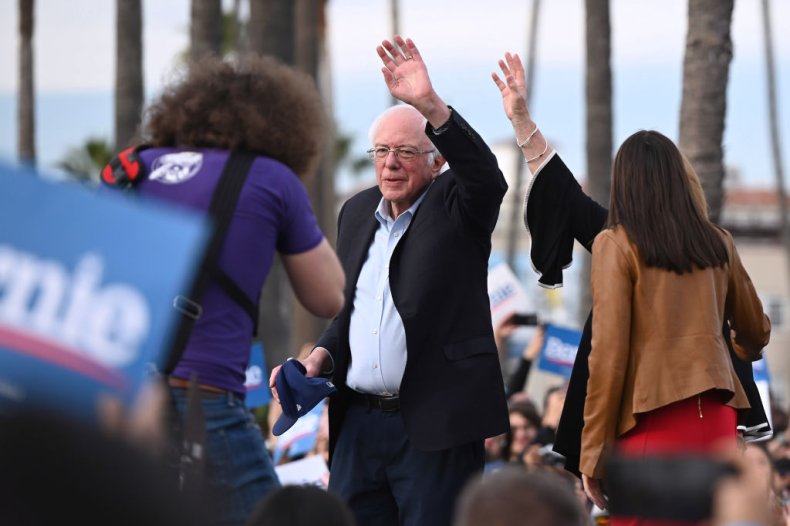 The Real Clear Politics aggregate shows Buttigieg (22 percent) and Sanders (20 percent) neck-in-neck in Iowa, with Biden close behind, at 18.8 percent. But the most recent Iowa State University poll, conducted from December 12 to 16, found Buttigieg further ahead, with 24 percent compared to Sanders' 21 percent. In that poll, Biden came in fourth, with just 15 percent, while Warren came in third with 18 percent.
In New Hampshire, Sanders (19.3 percent average) appeared to be in first place, with a slim lead over Buttigieg (17.7 percent). Again, however, the most recent poll, which was conducted by WBUR/MassINC from December 3 to 8, showed Buttigieg in the lead, with 18 percent. Sanders came in third, with just 15 percent, behind Biden at 17 percent.
Newsweek has reached out to press representatives on Sanders' campaign for comment.
Even if a majority of Democratic voters currently appear to support other candidates, Sanders appears to be the most liked, according to the recent Morning Consult data, last updated on December 23. Although Biden had a 10 point lead over Sanders (31 percent to 21 percent), with Warren and Buttigieg trailing in third and fourth place respectively, the Vermont senator scored the highest in terms of favorability among voters.
Sanders was viewed favorably by 74 percent of respondents, while Biden was viewed favorably by 71 percent. Warren came in third with 63 percent favorability, and Buttigieg trailed with just 50 percent. Meanwhile, 22 percent of respondents said they viewed Biden unfavorably, while just 19 percent said the same of Warren and Sanders. Notably, however, Buttigieg was only viewed unfavorably by 17 percent, with a large portion of respondents saying they had "no opinion" or had "never heard of" the South Bend mayor.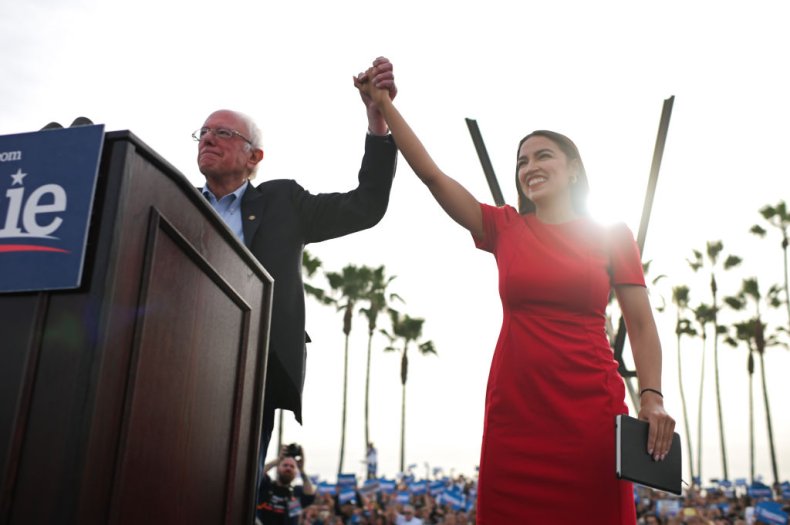 The Vermont senator has often touted his support among young Democrats, particularly in pushing back against concerns about his age. At 78 years old—and turning 79 before the election next year—Sanders would be the oldest person ever elected president in the U.S. However, fellow frontrunners Biden (77) and President Donald Trump (73) would be as well. Former President Ronald Reagan currently holds the record, having been elected to his second term at the age of 73 and 274 days.
An early December poll conducted in California by CNN showed Sanders as the clear frontrunner among voters under 45. In that demographic, 32 percent said they backed the senator from Vermont, with Warren coming in second with 18 percent and Biden trailing at just 13 percent.