Bernie Sanders' Popularity Continues to Soar While Steve Bannon Is America's Least Popular Political Figure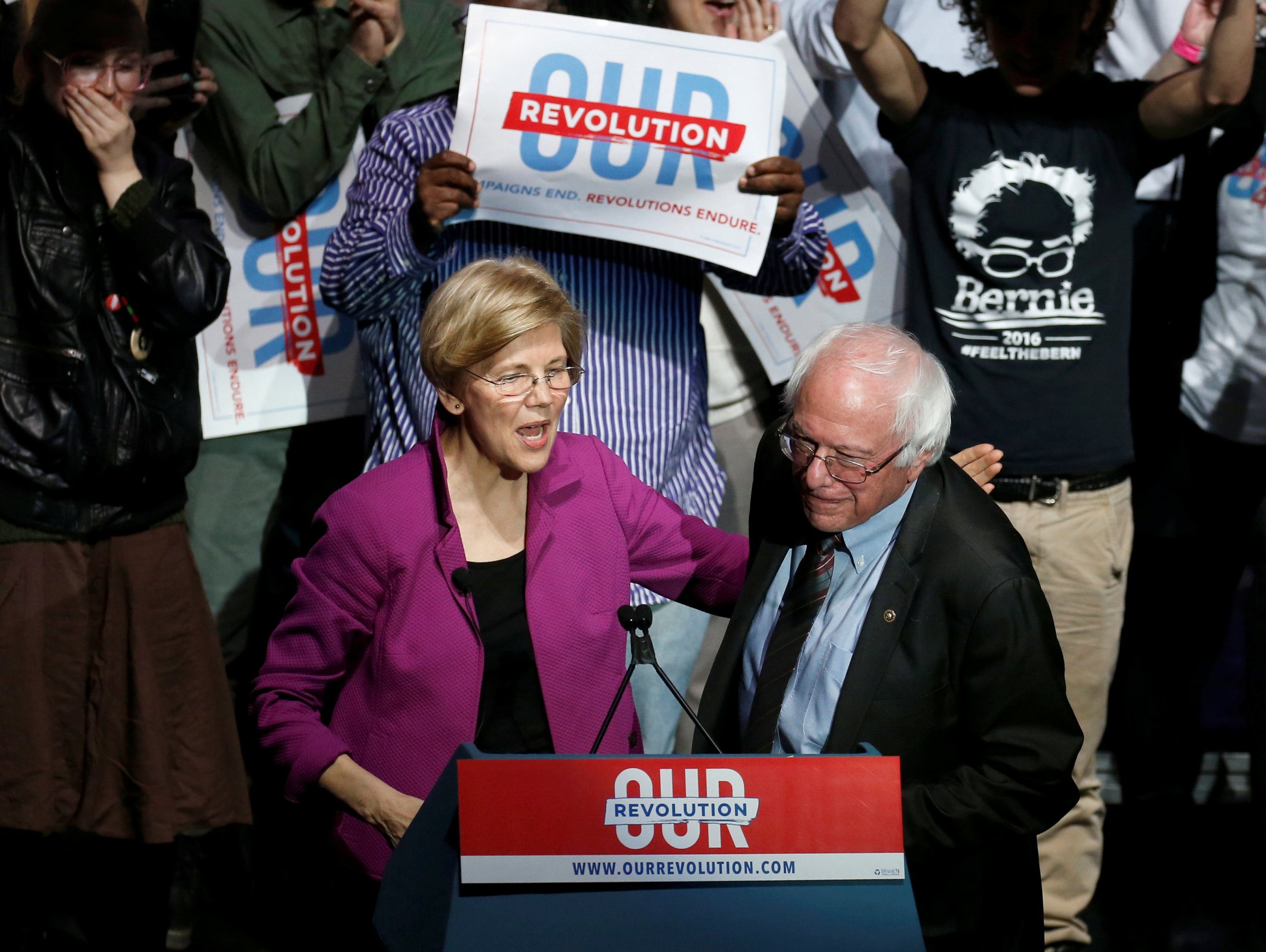 It's no wonder Democrats are so keen to embrace Bernie Sanders that they have taken him along on a party unity tour this week. The Independent senator from Vermont is not only the country's most popular active politician, he is also the only lawmaker viewed favorably by a majority of the population, according to a Harvard-Harris survey provided to The Hill Tuesday.
Related: Will Bernie Sanders' Tour Unite the Democratic Party?
Among registered voters, Sanders is viewed favorably by 57 percent, including 80 percent of registered Democrats. Only 32 percent of voters have a negative view of the 75-year-old.
The latest poll reflecting Sanders' popularity comes as he is in the midst of a nine-state tour alongside newly elected Democratic National Committee Chair Tom Perez. And it is just the latest sign of Democratic leaders embracing Sanders, who lost the party's 2016 primary to Hillary Clinton and remains committed to his independent status.
"I am an independent and I think if the Democratic Party is going to succeed, and I want to see it succeed, it's going to have to open its door to independents," Sanders said when asked if he considered himself a Democrat by MSNBC Tuesday. "There are probably more independents in this country than Democrats or Republicans and it's going to have to open its doors to working people and to young people and create a grass-roots party. That's what we need."
The percentage of Americans who consider themselves independents stood at 42 percent in a Gallup poll conducted in March, higher than both Republicans, at 26 percent, and Democrats, at 30 percent.
Sanders will be 10 months shy of his 80th birthday by the date of the next election, but he has not ruled out another run for president in 2020.
As for the man currently in the White House, President Donald Trump continues to be hit by low popularity. But the Harvard-Harris survey, conducted via an online survey of 2,027 registered voters between April 14 and April 17, indicated that on that front he was far from alone among his team. Indeed, Trump's favorability rating of 44 percent looks like a cause for celebration compared to that of his chief strategist. Steve Bannon was viewed favorably by only 16 percent of respondents, with 45 percent having a negative view of the former Breitbart News head.
"In losing to Hillary [Clinton], Bernie Sanders has floated above today's partisan politics while Bannon has, rightly or wrongly, taken the blame for the administration's failures," Harvard-Harris co-director Mark Penn said. "It is symptomatic of the Democrats increasingly consolidating to the left while the Republicans are fractured and unable to come together. Sanders is an asset to the Democrats while Bannon is a liability to the administration."
House Speaker Paul Ryan, Senate Majority Leader Mitch McConnell and White House counselor Kellyanne Conway all were viewed negatively by more than 40 percent of the respondents. McConnell was viewed positively by just 23 percent. Better news for Trump came from his newly confirmed Supreme Court justice, Neil Gorsuch, who was viewed favorably by 34 percent of respondents and unfavorably by 29 percent.
Democrats were also far from universally popular. House Minority Leader Nancy Pelosi and Senate Democratic Leader Charles Schumer had negative approval ratings, as did Clinton. In a sign of the times, Schumer invited Sanders in February to serve on his leadership team.
Of the 16 congressional leaders or Trump administration officials included in the survey, Sanders was the only one to be viewed favorably by a majority of respondents. Senator Elizabeth Warren of Massachusetts came closest to Sanders among Democrats, with a rating of 48 percent favorable and 32 percent unfavorable.