Bernie Sanders, Possible Cabinet Pick, Says Green New Deal, Medicare for All Won at the Polls
Senator Bernie Sanders of Vermont, a possible Labor secretary candidate in President-elect Joe Biden's administration, on Tuesday said public support for the Green New Deal and Medicare for All was won at the polls.
Sanders—who ran off the promise of universal health care and policies to combat climate change in the 2020 Democratic race—has insisted that widespread public support for the policies championed by progressives were apparent through the results of the presidential race.
"112 co-sponsors of Medicare for All were on the ballot. All of them won. 98 co-sponsors of the Green New Deal were on the ballot. Only 1 lost," the senator tweeted. "Supporting Medicare for All and the Green New Deal is not just good public policy. It is also good politics."
Sanders has intensified his campaign to be appointed Labor secretary in Biden's incoming administration cabinet. In recent days, the progressive senator has reportedly sought support from potential allies and top labor leaders across the country. One longtime senior labor leader told CNN that his efforts drew mixed reactions. Newsweek reached out to Senator Bernie Sanders for further comment on Tuesday evening.
Politico first reported Sanders' interest in the post in October, weeks before Trump lost reelection. Last week, Axios reported that Biden's team was considering an informal ban on allowing Democratic senators to the Cabinet, which would effectively preclude Sanders and Elizabeth Warren.
Several other names have already been floated for the Labor secretary position in Biden's administration, including Michigan Congressman Andy Levin, former California Labor commissioner Julie Su and AFL-CIO economist Bill Spriggs.
Last month, Republican Vermont Governor Phil Scott confirmed that he would appoint "a more left-leaning type of independent" who will caucus with Democrats to replace Sanders if he leaves for Biden's cabinet.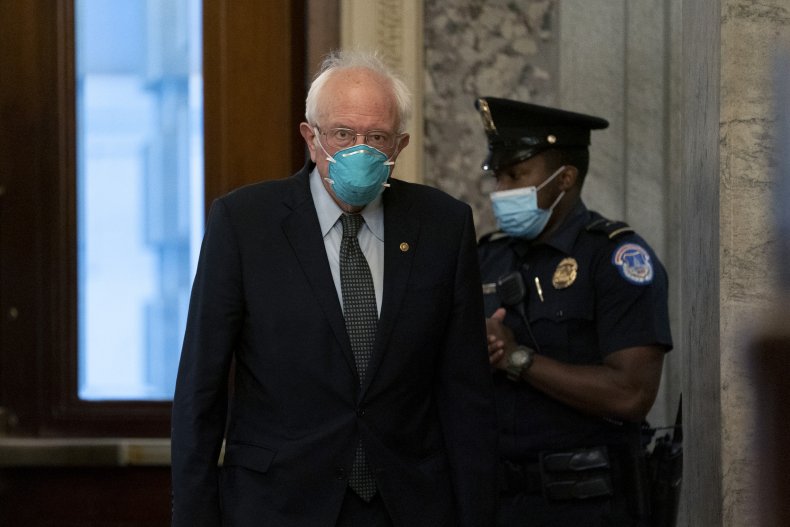 Sanders dropped out of the Democratic primary race in April, essentially handing the nomination to Biden. The Vermont senator has been campaigning for Biden's campaign over the past few months in a close race against Trump.
During the primary, progressive Sanders and moderate Biden fought repeatedly over Medicare for All. In their final debate, Biden argued that this wasn't the time for a "political revolution," prompting Sanders to insist that right now, amid a pandemic, was precisely the right time to address the issue.
Biden has secured at least 290 Electoral College votes—exceeding the 270 required to win the presidential election—but Trump hasn't conceded. The president's campaign still refuses to accept the results of the race and claims that the election was stolen. They filed a series of lawsuits in multiple swing states over the past few days alleging voter fraud, without evidence.