Bernie Sanders Projected as Nevada Caucuses Winner
Multiple media outlets projected Bernie Sanders to win the popular vote in the Nevada Democratic caucuses on Saturday night, and ultimately the 36 delegates at stake, in the contentious race for the 2020 Democratic presidential candidacy. Nevada was the third state to cast votes for the president in a primary, following Iowa and New Hampshire.
There were 36 delegates at stake in Nevada. Now, the race for the White House moves back east to South Carolina, where the Palmetto State will hold its primary in a week.
Sanders took an early lead when results began pouring in Saturday night. As of Sunday morning, here are the latest results with 50 percent of the precincts reporting, according to The New York Times:
46.6% Bernie Sanders
19.2% Joe Biden
15.4% Pete Buttigieg
10.3% Elizabeth Warren
4.5% Amy Klobuchar
3.8% Tom Steyer
Sanders won the Clark and Washoe counties, which are home to Las Vegas and Reno, respectively.
"Let me thank the people of Nevada for their support," Sanders told a crowd of supporters in San Antonio, Texas, on Saturday night. "In Nevada we have just put together a multi-generational, multi-racial coalition, which is not only going to win in Nevada, it's going to sweep this country."
Pete Buttigieg and Bernie Sanders tied in the Iowa caucuses that was held on February 3—even though the results took a few days to be known. Buttigieg and Sanders each won 26.2 percent of that state's votes, but Buttigieg took 13 delegates, compared to 12 by Sanders, according to the Associated Press.
Sanders said his success in the three states that have cast votes are a reason why he believes his momentum will continue to ramp up as more and more primaries are on the horizon.
"In Nevada, in New Hampshire and in Iowa, what we showed is that our volunteers are prepared to knock on hundreds and hundreds of thousands of doors," Sanders said. "No campaign has a grassroots movement like we do, which is another reason why we're going to win this election."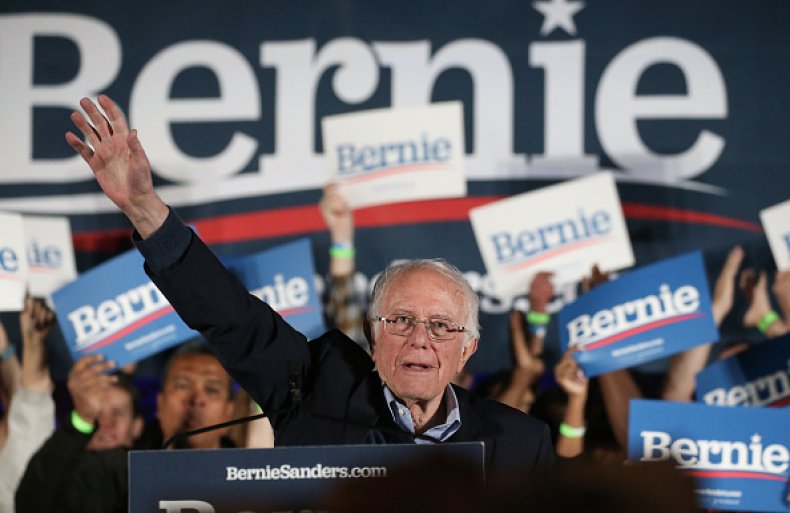 Sanders then took the New Hampshire primary by winning 25.7 percent of the vote—and nine delegates—edging Buttigieg.
The race for the White House now moves to South Carolina, which will hold its primary a week from now on February 29, 2020.
Super Tuesday will be three days later on March 3, 2020,when the following states will vote in their primary elections: Alabama, Arkansas, California, Colorado, Maine, Massachusetts, Minnesota, North Carolina, Oklahoma, Tennessee, Texas, Utah, Vermont and Virginia. The territory of American Samoa will also hold an open caucus that day, and any U.S. citizen living abroad who is part of Democrats Abroad can vote that day, with 17 delegates awarded from that group.
The Republican party opted to not hold a caucus in Nevada, per the Nevada Secretary of State website.
Updated February 23 at 8:00 a.m. ET.