Vermont Sen. Bernie Sanders is shaping up to be the most "viable" Democratic presidential candidate for Super Tuesday, David Plouffe, the political strategist who led former President Barack Obama's 2008 campaign, has said.
Speaking with MSNBC on Tuesday, Plouffe said out of all the candidates in the 2020 Democratic race, "you'd still rather be Bernie Sanders than anybody else."
His comments came as Sanders rose to victory in the New Hampshire primary contest, beating former South Bend, Indiana Mayor Pete Buttigieg by just over 1.6 percent, with 95 percent of the votes counted.
"This victory here is the beginning of the end for Donald Trump," Sanders said as he celebrated the win, with success in New Hampshire often being a good sign of things to come.
While Plouffe acknowledged that other candidates, Buttigieg and Minnesota Sen. Amy Klobuchar, who appeared to win nearly 20 percent of the vote, had performed well, he said Sanders was still the candidate best-positioned to do well on Super Tuesday.
"Even Amy Klobuchar had a great night," Plouffe said. But, he added: "It's quite possible that this is the best night of the entire campaign for her, because she's now got to put together a national campaign overnight."
"I live in California now, my ballot came to my home yesterday. People are voting in Super Tuesday states. They're organizing. [Former New York City Mayor Mike Bloomberg] is all over the airwaves," Plouffe said.
The question now, the former Obama campaign manager said, was: "Is somebody going to emerge out of this group, with Bloomberg looming, to be the person where most of the political support, the voting support and the financial support goes or does it stay muddled again?"
If anyone is going to rise as the top contender, he said, it is likely to be Sanders.
"He's got the money...He's raised not quite a historic amount of money but close to that. This will help him," Plouffe said. Also, he said, Sanders has "passionate grassroots volunteers. They've done this before they probably have as better sense of the delegate game as anybody else."
"So yeah, he's the one person you could see, on super Tuesday, who do you think will be viable in most congressional districts? Right now, you'd say Bernie Sanders is the only one."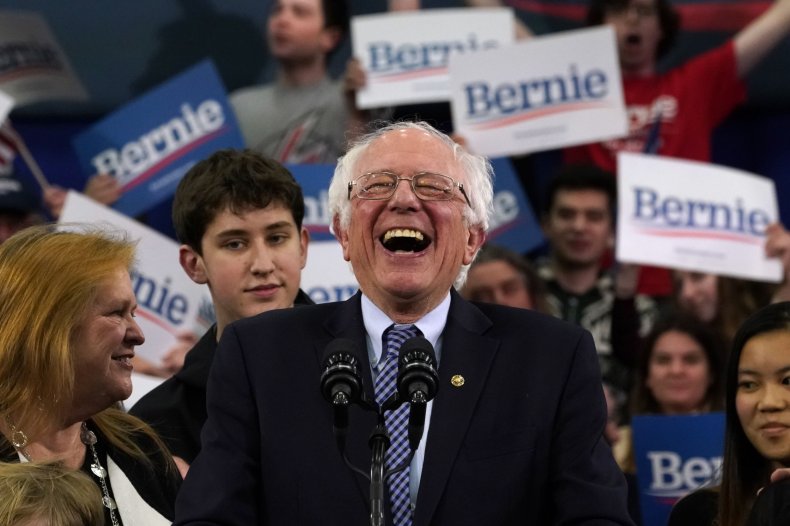 "Now, in the next 18 days, you may say, maybe Mayor Pete is able to do that or Klobuchar, but [Sanders is] the one person you'd say, he's coming out of Super Tuesday with delegates. The question is how big is the delta or will there be a delta between him and the rest of the field," Plouffe said.
One candidate the political strategist appeared to be unconcerned about was former Vice President Joe Biden, who suffered a major blow on Tuesday, pulling up in fifth place behind Warren.
"Maybe he'll surprise us and he'll drop out tonight," Plouffe said. "But I think he's got 18 days to see if he can win South Carolina. Sadly, for him, even if he does that he also doesn't have he of all the major candidates has had the most trouble raising money online. So, his operation in the Super Tuesday states is probably going to be the weakest of all."
Newsweek has contacted Plouffe and the Sanders and Biden campaigns for comment.