Bernie Sanders Pushes Biden for $2,000 Stimulus Checks as First Presidential Priority
With little over a week before President-elect Joe Biden is inaugurated, some of his Democratic colleagues are pressuring him to prioritize coronavirus stimulus checks.
On Monday, Senator Bernie Sanders said the direct payments must be the Biden administration's "first order of business."
In response to Biden's call for $2,000 stimulus checks, Sanders tweeted, "President-elect Biden is absolutely right. $600 is not enough for working class Americans who are struggling to pay the rent and feed their families. Our first order of business must be to pass $2,000 direct payments and major COVID-relief."
Biden tweeted Sunday evening that "$600 is simply not enough when you have to choose between paying rent or putting food on the table."
Increasing the price tag on individual payments emerged as a key sticking point during Congress' last-minute efforts to secure a second relief bill before the end of the year.
The stimulus bill introduced by a group of bipartisan lawmakers successfully passed the Senate only to be met with surprise news from President Donald Trump, who called on Congress to raise the individual payments from $600 to $2,000.
Trump's push for larger checks was met with praise from many Democrats and long-time critics of the president, including Sanders, House Speaker Nancy Pelosi and Representative Alexandria Ocasio-Cortez.
However, despite their push for $2,000 checks, the coronavirus relief bill signed by Trump at the end of December handed out individual payments of only $600 to Americans.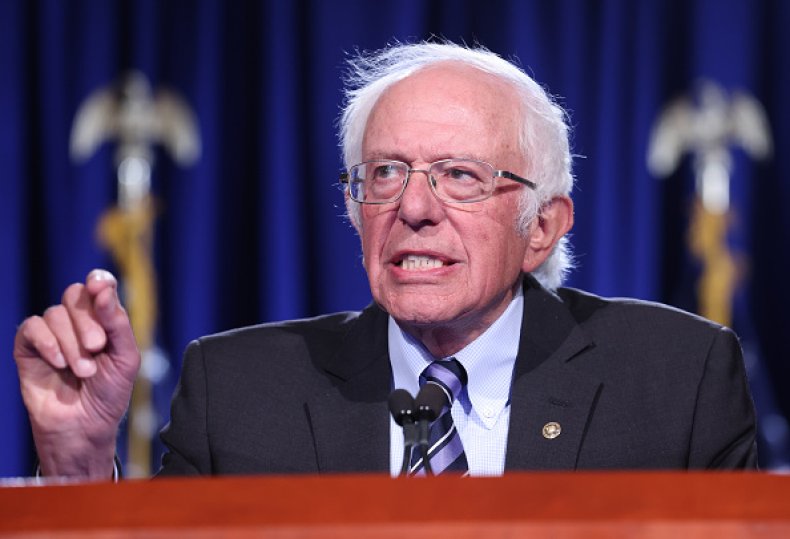 Sanders has rallied for $2,000 payments since last spring, when he first proposed the larger checks alongside Vice President-elect Kamala Harris and Senator Ed Markey.
Last month, Sanders attempted to force a Senate vote on the checks by delaying the vote on a bipartisan defense authorization bill.
"This week on the Senate floor Mitch McConnell wants to vote to override Trump's veto of the $740 billion defense funding bill and then head home for the New Year," the senator tweeted on December 28. "I'm going to object until we get a vote on legislation to provide a $2,000 direct payment to the working class."
Senate Majority Leader Mitch McConnell, who has blocked a Senate vote on the $2,000 checks, has become Sanders' key target.
On Twitter on December 30, Sanders called it "hypocrisy" that McConnell allowed tax breaks to billionaires while denying million of Americans greater economic relief. On the Senate floor, Sanders pointed out that 10 out of the poorest 25 counties in the nation are located in Kentucky, the state McConnell represents.
Now that Democrats control both chambers of Congress, Biden has promised $2,000 payments after his inauguration. But the fate of the legislation lies in the hands of the Senate's GOP members after Democratic Senator Joe Manchin stated that he will oppose the checks.
The Democratic Party will need to find at least one Senate Republican to help deliver the bill.
Three Republican senators have supported the $2,000 checks: Lindsey Graham and Marco Rubio have previously endorsed the payments, as has Josh Hawley, who joined Sanders in a bipartisan effort to provide another round of $1,200 in the second coronavirus relief bill.
Newsweek reached out to the Biden transition team for comment but did not hear back before publication.