Senator Bernie Sanders' daughter-in-law, Rainè Riggs, has died aged 48 of neuroendocrine cancer, just two days after she received a diagnosis.
According to an obituary published by the Lee & Martin Funeral Home in Burgettstown, Pennsylvania, Riggs came down with a mysterious illness three weeks ago that had hospitals "stumped". She was brought home last Sunday and was later diagnosed with neuroendocrine cancer, dying just two days later on October 5 at 9:11 p.m.
"Her last moment was spent with her No. 1 cheerleader, her mother, holding her hand and whispering in her ear how much she loved her," her obituary reads.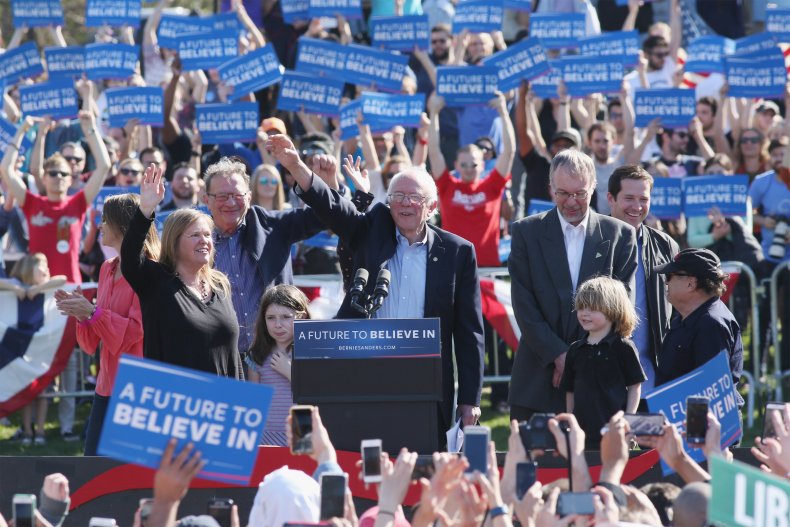 Riggs was married to Sanders' son Levi Sanders, who she met while working at an emergency food shelter. Her obituary describes her as "a truly selfless person" who was fully involved in working with the homeless—homeless veterans in particular— and volunteered at ground zero following the 9/11 terrorist attacks.
In addition to her volunteering work, Riggs achieved a master's degree in geriatric neuropsychology and clinical sleep medicine at Brown University, where she received an award from the National Institute of Health for her work on chemotherapy and its effects on the brain.
She later completed her doctorate in neuropsychology at the University of Vermont and worked for several years as the co-director of Behavioral Medicine at Dartmouth Medical School, where she founded its Palliative Care Department for Dartmouth Medical Center.
"I don't know how our family will ever get over this loss as she was loved so much," her obituary reads.
"I do know that we will continue on because we have to.... we promised her we would."
What is neuroendocrine cancer?
Neuroendocrine cancer is a rare form of tumor that develops in the body's neuroendocrine cells—cells similar to nerve cells that also produce hormones (like endocrines). The job of these cells is to take messages from the nervous system and release hormones in response.
Neuroendocrine cells can be found all over the body, including the gastrointestinal (GI) tract, the lungs, the pancreas and the thyroid. As a result, neuroendocrine tumors can develop anywhere in the body. The Mayo Clinic says they are most likely to be found in the lungs, appendix, small intestine, rectum and pancreas.
According to the American Society of Clinical Oncology, approximately 30 percent develop in the bronchial system, a further 43 percent occur in the GI and 7 percent are found in the pancreas.
The exact cause of the cancer is not known but relates to mutations in the DNA of neuroendocrine cells. Diagnosis and treatment will vary depending on the location of the tumor, how aggressive it is, and whether it has spread to any other body part, as well as its type.
Those with neuroendocrine cancer may not necessarily show signs straight away but when symptoms do occur, they can include a growing lump, pain, fatigue and unexplained weight loss. If the tumor produces an excess of hormones, patients may also experience skin flushing, diarrhea, dizziness, shakiness, skin rash, excess thirst and frequent urination, the Mayo Clinic states.
Correction: This article originally stated Bernie Sanders is a representative. He is a Senator.