Bernie Sanders Rebuffs Joe Biden's Medicare-for-All Criticism, Says He and AOC Are Working for Agenda 'America Needs'
Senator Bernie Sanders rebuffed 2020 rival Joe Biden's criticism of his Medicare-for-All health care plan, and argues that he was working alongside fellow progressive lawmakers like Congresswoman Alexandria Ocasio-Cortez to create a political agenda "America needs."
Biden had told CNN in an interview that he believes a more moderate Democratic candidate will have the best chance to take down President Donald Trump during the 2020 general election. The former vice president argued that most Democratic voters are "center-left" not "way left."
"Look, who won last time out? And by the way, I think Ocasio-Cortez is a brilliant, bright woman, but she won a primary. In general election fights, who won?" Biden told CNN's Chris Cuomo. "Mainstream Democrats who are very progressive on social issues and very strong on education, health care. Look, my North Star is the middle class. When the middle class does well, everybody does well."
Biden also swiped at Sanders' Medicare-for-All universal health care proposal, saying that he has a plan that's "rational" and will "cost a hell of a lot less." The former vice president said he would not eliminate private insurance like the Sanders proposal intends, but would offer Medicare as an option for anyone who wants to buy into the system.
Sanders quickly rebuffed Biden's criticism in a Twitter post Friday, writing he is "proud" to work with Ocasio-Cortez to craft the "agenda America needs" and the one that will take down Trump in 2020.
"I'm proud to be working with @AOC and so many other Democrats to pass Medicare for All, debt free college and a Green New Deal. This is the agenda America needs — and that will energize voters to defeat Donald Trump," he wrote.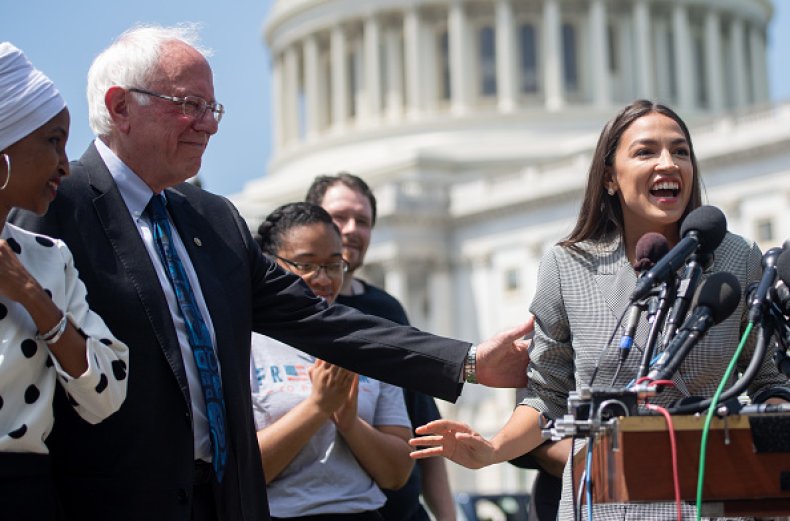 Sanders has often had to defend his socialist policies throughout the 2020 primary race. During the first Democratic debate, candidates like former Colorado Governor John Hickenlooper and Senator Michael Bennet took aim at Sanders' bold proposals like the Green New Deal and universal health care.
"The bottom line is, if we don't clearly define that we are not socialists the Republicans are going to come at us every way they can and call us socialists," Hickenlooper said.
Sanders fired back, using his relatively high poll numbers to refute the criticism that his proposals are too radical to win over American voters and defeat Trump in 2020.
"The last poll I saw had us 10 points ahead of Donald Trump because the American people understand that Trump is a phony, that Trump is a pathological liar and a racist and he lied to the American people during his campaign," he said.
Since launching his 2020 campaign in February, the 77-year-old senator has steadily ranked among the top Democratic candidates in early polls. Real Clear Politics' average of national polling shows Sanders to have 14.2 percent support, placing him in third behind former Vice President Joe Biden and California Senator Kamala Harris.