2020 Democratic hopeful Bernie Sanders released a list of "anti-endorsements" on Wednesday, becoming the first presidential candidate to loudly promote some of the criticism he's received from big businesses and wealthy executives.
"We can propose all the ideas and plans we want, but nothing will fundamentally change until we have the guts to take on the most powerful corporate interests in America," the senator's website page reads. "That is why I am proud to announce the modern-day oligarchs who oppose our movement."
The webpage also quoted President Franklin D. Roosevelt, the champion of the New Deal program, who once asked Americans to "judge me by the enemies I have made."
Sanders' anti-endorsement list includes JPMorgan CEO Jamie Dimon, Disney CEO Bob Iger, Home Depot co-founder Kenneth Langone and other prominent figures from Verizon, General Electric and Goldman Sachs.
Home Depot's Langone once compared Sanders to the "antichrist" while JPMorgan's Dimon said that just because the senator's message resonates with people "doesn't make it right."
Sanders introduced the new list in a Twitter post on Wednesday, writing that "it should come as no surprise that corporate CEOs and billionaires have united against our movement. These people have a vested interest in preserving the status quo so they can continue to exploit working people across America. We welcome their hatred."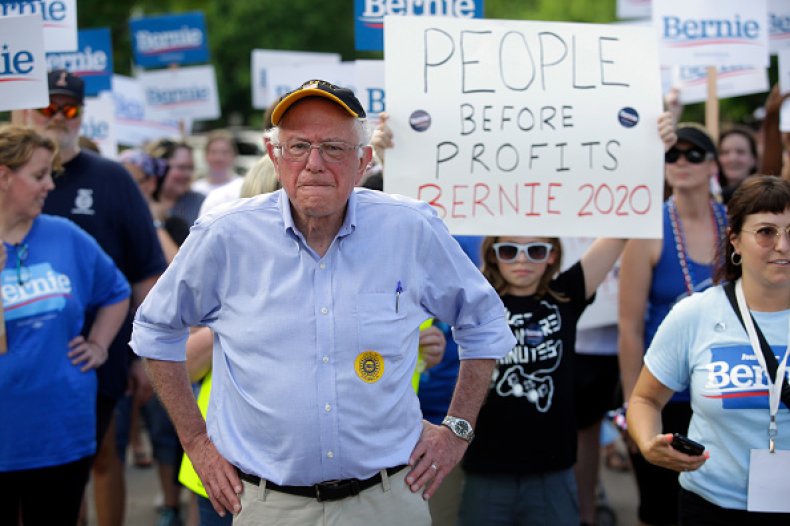 Sanders, a self-described democratic socialist, has made his battle against Wall Street a centerpiece of his 2020 presidential campaign. His policies like Medicare for All, free college tuition and taxing large corporations all aim to help rebuild the middle class.
Sanders outlined his democratic socialist vision in a speech at George Washington University last month, during which he made the case that housing, employment, health care and education are certain guaranteed rights that all Americans should have.
"We must recognize that in the 21st century, in the wealthiest country in the history of the world, economic rights are human rights," Sanders said.
He also claimed that President Donald Trump loves socialism but only for the elite. Sanders asserted that Republicans hate democratic socialism "because it benefits working people, but they absolutely love corporate socialism that enriches Trump and other billionaires."
But Sanders has also faced criticism from his fellow Democrats, who say that his ideas may be too progressive to beat Trump in the 2020 election. In the first Democratic debate, Sanders defended his policies and insisted they could win over voters.
"The last poll I saw had us 10 points ahead of Donald Trump because the American people understand that Trump is a phony, that Trump is a pathological liar and a racist and he lied to the American people during his campaign," Sanders said to his critics.
Early polling largely shows Sanders in second place behind former Vice President Joe Biden in a wide field of candidates running for the Democratic nomination, with Sanders often trailing the former vice president by double digits. However, the latest Emerson poll found Sanders to be tied for second place with Senators Kamala Harris and Elizabeth Warren.