Bernie Sanders's Wife Shown in Jail in Mocked-Up Photo From RNC Email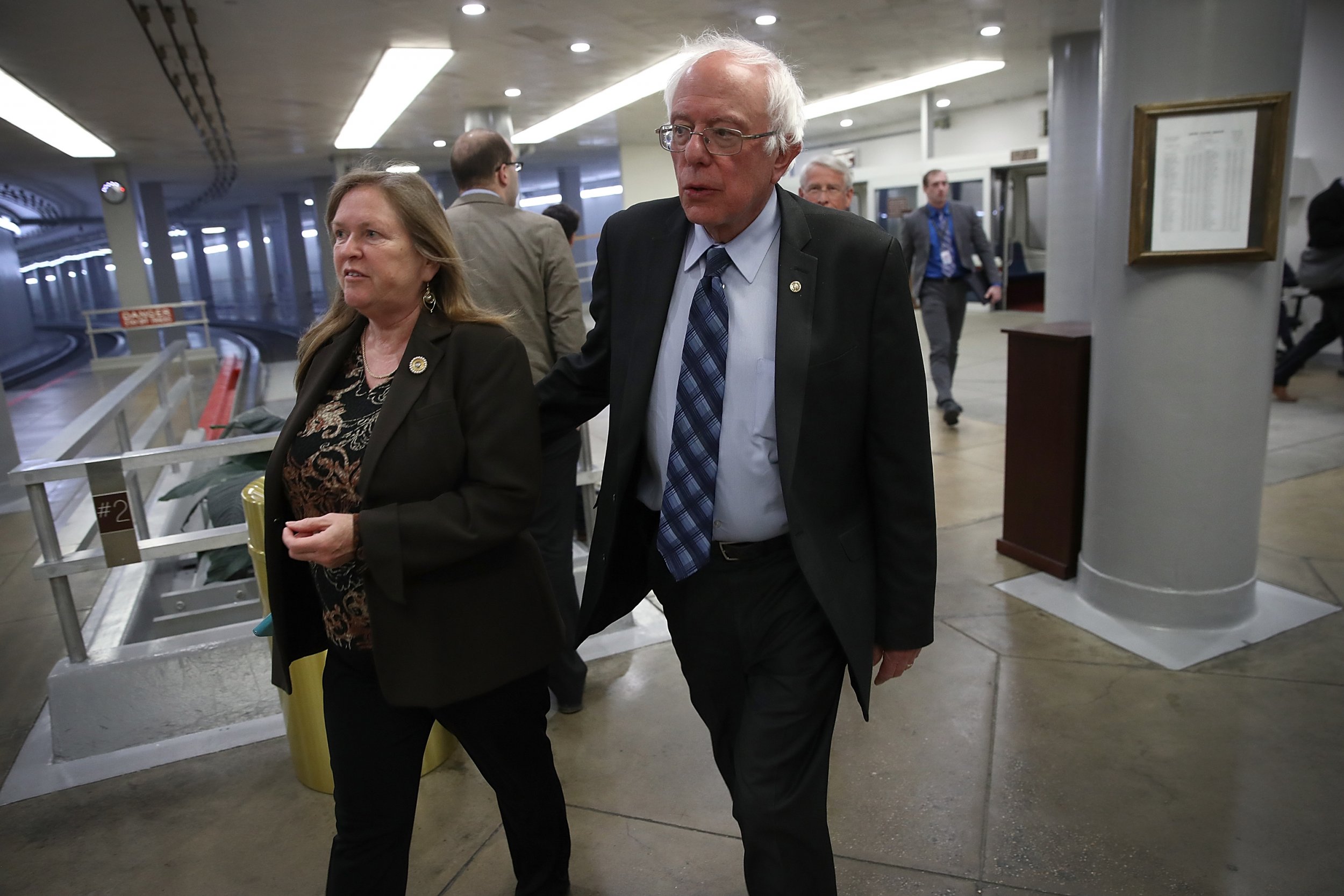 The Republican National Committee sent out an email Monday depicting Jane Sanders, the wife of 2016 presidential candidate and Vermont Senator Bernie Sanders, in jail.
The email's subject line reads "jane in jail??" and features an image of Sanders behind bars alongside a logo with the phrase "Bernie 2020" on it, alluding to a possible 2020 presidential run for the Vermont senator.
Related: Federal investigation into Jane Sanders, Bernie Sanders's wife, is getting more serious
The email also features an update on an ongoing Department of Justice investigation into Jane Sanders's time as president of Burlington College, a Vermont institution that folded in 2016.
"CONFIRMED: A grand jury has begun to hear sworn witness testimony in the case involving Bernie Sanders' wife and top political adviser, Jane Sanders," reads the RNC email.
The missive then goes on to explain the case's origins and the scope of the investigation.
"To recap: The Obama Justice Department launched a federal probe into allegations that Jane committed bank fraud while she was president of the now-defunct Burlington College, and that Bernie used his official office to grease the wheels on a loan," it adds.
The RNC email also features a link to a Vermont blog titled VTDigger, which reported in 2015 that Sanders "overstated donation amounts in a bank application for a $6.7 million loan that was used by the college to purchase a prime 33-acre property on Lake Champlain in 2010." Sanders reportedly told a bank that the college had received more than $2.5 million in pledged donations and $5 million in "likely" pledges, but records showed that the college had only received $676,000 in actual donations.
Burlington College folded in 2016, though Sanders no longer worked there. Following the school's collapse, former college president Dr. Carol Moore ripped into Sanders without naming her, blaming Sanders for problems the school faced and which led to its demise.
"BC's fate was set when its former board members hired an inexperienced president and, six years later, approved the imprudent purchase of a $10 million piece of property for campus expansion," Dr. Moore wrote in a letter to the editor in The Chronicle of Higher Education.
The investigation was ramped up in 2017, as The Washington Post reported that federal prosecutors had collected "more than a dozen boxes of records from the Vermont college" and had called "a state official to provide evidence for a grand jury."
Bernie Sanders is considered by many the odds-on favorite to win the Democratic nomination for president to face Donald Trump in the 2020 general election.
Both the senator and his wife have denied all of the charges against them, and Bernie Sanders called the investigation "pathetic" and said, about Jane Sanders, "my wife is about the most honest person I know."