Bernie Sanders Counters Joe Biden's 'Most Progressive' Candidate Claim, Cites Former VP's Iraq, Wall Street Voting Record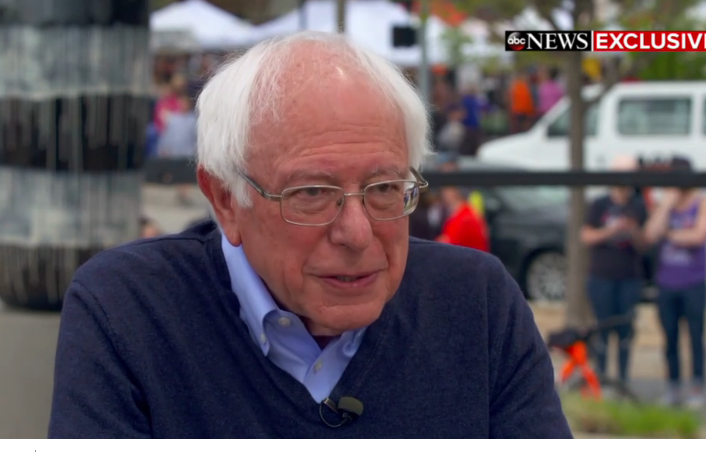 Vermont Independent Senator Bernie Sanders fired back at former Vice President Joe Biden's claim of having "the most progressive record" of the 2020 Democratic candidates.
Speaking Sunday with ABC News' Jonathan Karl in Des Moines, Iowa, as part of a two-day, six-stop tour, Sanders compared his voting Senate voting record to that of Biden to question the former vice president's progressive bona fides.
In March, Biden told attendees of a Delaware Democratic Party fundraising dinner that he can't receive criticism from "the new left" for being too moderate because, "I have the most progressive record for anybody running."
On Sunday, Karl asked Sanders to respond to this assertion.
"Joe is a good friend of mine and I'm not here to attack Joe," Sanders — who spent 16 years in the House of Representatives before being elected to the Senate in 2006 — said of the former six-term senator from Delaware. "Joe voted for the war in Iraq, I led the effort against it. Joe voted for NAFTA and permanent trade agreement, trade relations with China, I led the effort against that."
"Joe voted for the deregulation of Wall Street, I voted against that," Sanders said, continuing many of the same arguments he held against Hillary Clinton during the 2016 presidential primary.
"I think if you look at Joe's record and you look at my record, I don't think there's much question about who is more progressive," Sanders said.
Biden and Sanders have held significant polling leads over the the pack of of more than 20 Democratic presidential contenders, yet Sanders had avoided criticizing Biden in several cable news network appearances and interviews where he has instead focused on Donald Trump as "the most dangerous president in the history of this country," as he told CNN last week.
"Joe and I have very different in pasts in terms of how we have voted and we have a very different vision for the future," Sanders told CNN last month. Just as he noted Sunday, Sanders called out Biden's October 2002 vote in favor of the War in Iraq, labeling it the "worst foreign policy disaster in modern history."
In a later part of Sunday's interview with ABC News, Sanders noted he "does not fault Trump" for his handling of the North Korean regime. He added, "It is very, very difficult, but clearly they are a threat to the planet."
Biden and Sanders had, up until this point, not expressed any criticism toward one another.
Former Obama adviser David Plouffe reportedly advised Biden against running in 2016, telling the vice president that not only would he lose to Clinton, he would also likely be defeated by Sanders.
"Mr. Vice President, you've had a great career, you've been such an asset to this administration — and we love you," Plouffe reportedly told Biden. "Do you really want it to end in a hotel room in Des Moines, coming in third to Bernie Sanders?"