Bernie Sanders Returns to Washington, More Powerful Than Ever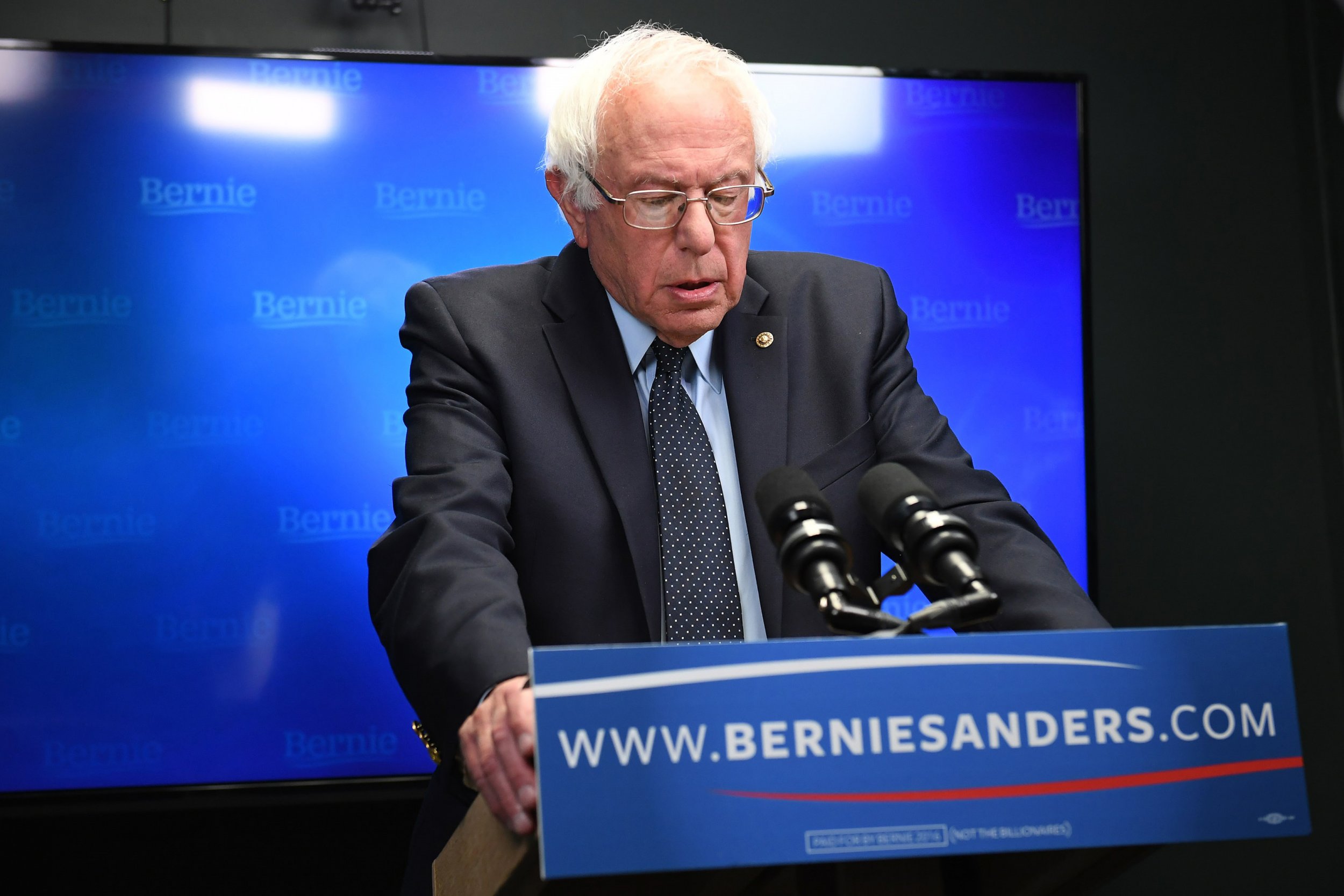 Bernie Sanders may have lost the Democratic primary contest for president (yes, it's over, even if he hasn't formally conceded), but his campaign looks to be a win-win for his career in the Senate, where he returned Monday night.
Voting for the first time since January—on a series of gun regulation proposals—the Vermont Independent attracted a crowd on the Senate floor, with colleagues from both sides of the aisle approaching his desk to give him a handshake or a pat on the back. "Welcome back, Bernie!" Arizona Republican John McCain, himself a vanquished presidential candidate, told his colleague, after the two shared a hearty embrace.
With Sanders's security detail, which he'll retain until he officially suspends his presidential campaign, and a phalanx of photographers trailing behind him, he certainly looked the part of the celebrity politician in his return to the Capitol. And he has the following, among young people and diehard progressive across the country, to match. It's a steep reversal from his decades toiling in the House and Senate, largely ignored by the Washington press corps and power brokers, as a lonely iconoclast. The really good news for Sanders is he's been able to build up this new national standing without much of the typical blowback candidates see from voters back home, one of the occupational hazards that usually comes with running for president.
Just look at his fellow losing 2016 candidates. New Jersey Governor Chris Christie is the most notorious example, with an approval rating that keeps setting new records for antipathy. A May Quinnipiac University poll found 64 percent of Garden State voters now disapprove of their governor, and 72 percent oppose him running as presumptive Republican nominee Donald Trump's vice president. In March, six New Jersey newspapers went so far as to call for his resignation. "Christie-for-President was a flop and, as far as the local folks are concerned, so is Christie-for-Vice President," Quinnipiac's Maurice Carroll said when the poll was released.
But Christie isn't the only one of 2016's also-rans whose popularity has tanked while on the campaign trail. Wisconsin Governor Scott Walker and Florida Senator Marco Rubio saw their approval ratings to their lowest levels since taking office. Even Texas Senator Ted Cruz, who has a solid base at home, watched his approval rating sink 7 points between November 2015 and February 2016, with an even steeper 9-point drop among those who strongly approved of his job performance. Rubio also took a beating in the press and from Democrats for missing so many Senate votes over the course of last year, while he was away campaigning. They are certain to bring up his record of absenteeism again if Rubio does indeed change his mind and run for re-election this fall.
It's not unusual for politicians running for national office to face a backlash—voters back home resent the time they've spent away from the state or district, not doing the work at the local level they were elected to do and instead focusing on their own political ambitions. But that's not the case in Vermont this year. Sanders missed 101 straight votes between January and June of 2016, according to the website Govtrack.us. Yet he hardly took any heat from his Vermont base. Only when he was absent from Senate Democrats' gun control filibuster on Thursday did a #WheresBernie hashtag start popping up on Twitter, drawing local and national press. Sanders also continues to top Morning Consult's ranking of most popular senators among their own constituents, most recently in April.
What's more, as the Boston Globe reported earlier this month, Vermonters want to see Sanders stay in the race through the convention. Globe reporter Akilah Johnson tells Newsweek she only encountered one Vermont resident during her reporting for that piece—a Hillary Clinton supporter—who suggested it was time for Sanders to come home. But she even said she still likes Sanders.
"The reason I think [the negativity] hasn't happened to Bernie is pretty simple," says Vermont State Senator Phil Baruth, who represents the Burlington area. He's "put in the time."
"Bernie does an incredible number of town hall events throughout the year," notes Baruth, in communities small and large, a tradition he's maintained over more than two decades in Congress. Unlike some of the young senators—Rubio and Cruz, in particular—who only spent a few years representing their states before running for president, Vermont voters know Sanders and know what he stands for. "People feel respected by the personal contact," says Baruth, so they're not holding a one-year absence against him.
And then there's the Vermont pride. Baruth points to a popular bumper sticker in the Green Mountain State that symbolizes the mindset. Featuring an outline of Vermont, it reads "one small state can lead the nation."
"There's a tradition of Vermonters viewing themselves as at the forefront of progressive policy," explains the state senator. "So to the extent that Bernie Sanders becomes our Paul Wellstone, our Daniel Patrick Moynihan, a figure that's recognized nationally for the power of his ideas, we take great and justifiable pride in that."
When he returns to the Senate full-time, Sanders will certainly enjoy the kind of stature he couldn't have even dreamt of before his presidential run. Not only has he become a national spokesman for issues like reining in income inequality and big money in politics, but he's also proven he has a magic touch with millennials and small-dollar fundraising, things that plenty of other Democratic politicians would love some help with. No wonder so many colleagues were welcoming him back with open arms on Monday night.
Middlebury College Professor Emeritus Eric Davis notes Sanders could also be eligible to become a committee chairman again if Democrats win back control of the Senate, perhaps even head of the Senate Budget Committee. That would be an ideal perch for Sanders to continue to champion his progressive causes, advocating for more spending on things like social security and health care, says Davis. "I think Vermonters would appreciate that."
Correction: This story was updated to reflect that Vermont State Senator Baruth's first name is Phil, not Paul.
Bernie Sanders Returns to Washington, More Powerful Than Ever | U.S.