Vermont Senator Bernie Sanders on Sunday said that Joe Biden's 2020 campaign made him feel "very welcome," while Hillary Clinton's 2016 campaign "tolerated" him because they wanted his support.
Sanders, an independent, ran as a presidential candidate in the Democratic primary last year against Biden. Following a string of losses in March, the progressive candidate ceded to Biden and suspended his campaign in April. He then hit the campaign trail for Biden, who successfully ousted former Republican President Donald Trump in November.
In an interview with CNN, host Gloria Borger asked Sanders, "Can you talk to me about how welcome they made you feel?"
"Very welcome," Sanders said.
"It was a little different from Hillary Clinton in 2016," Borger said, to which Sanders responded: "Yes, yes it was."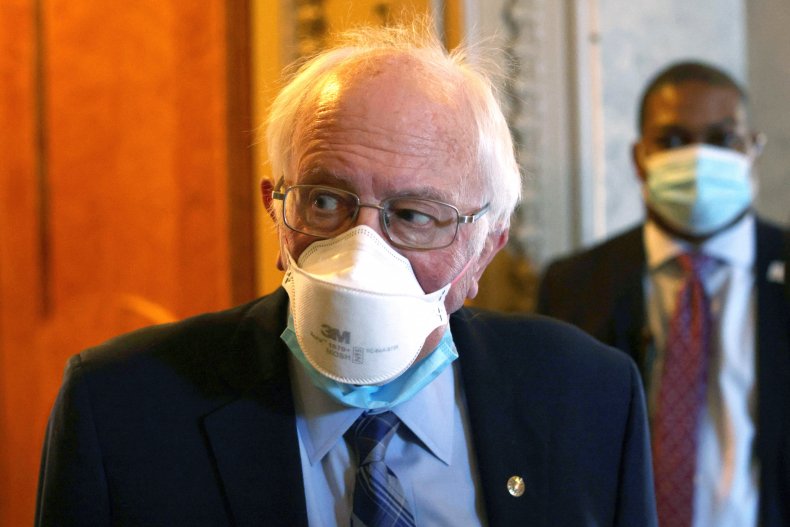 "You weren't welcomed?" Border pressed.
"I was tolerated," Sanders replied. "My support was... they wanted my support, obviously."
In 2016, Sanders ran for the Democratic presidential nomination against Clinton, who secured enough delegates that June to clinch the nomination and become the first woman in the U.S. to lead the presidential ticket of a major political party. After his defeat following a hostile primary battle, Sanders filled his schedule with campaign stops for the Clinton campaign.
Clinton has taken numerous swings at Sanders since losing to Trump. Last January, she told The Hollywood Reporter that she won't commit to backing Sanders if he secures the 2020 Democratic nomination because of "his online Bernie Bros and their relentless attacks on lots of his competitors, particularly the women."
In response, Sanders said, "My focus today is on a monumental moment in American history: the impeachment trial of Donald Trump. Together, we are going to go forward and defeat the most dangerous president in American history."
On Sunday, Sanders praised Biden for being receptive to progressive policies. He also noted that Biden reached out "for a private chat or two" and offered some "very useful conversations and friendly conversations" during his 2016 campaign.
The president "does things sometimes that I think are really not a good idea," Sanders continued. "But I understand why he does it. Because he's made promises to people and he wants to keep his promises."
Sanders also said Biden has a "very strong sense of loyalty, which I like and respect."
"We are going to have our differences," he added. "But I ultimately trust you, and you are going to trust me. We are not going to double cross each other. There will be bad times, but we are going to get through this together."
Newsweek reached out to Hillary Clinton via the Clinton Foundation for comment. This story will be updated with any response.